Statement from Kresge Foundation CEO and President Rip Rapson on the Life and Career of the Honorable John Dingell, Jr.
The Kresge Foundation mourns – alongside all Michiganders – the loss of the inimitable Honorable John Dingell, the longest-serving Member of the U.S. House of Representatives. We extend our deepest sympathies to Congresswoman Debbie Dingell and the entire Dingell family.
No one person has better personified the graceful essence and fighting spirit of our great state than Congressman Dingell, a deservedly legendary figure in Michigan and across our nation.
John Dingell was witness to and a full participant in so many countless significant events in our nation's history, that it defies belief. His life and career spans from when he served as a young U.S. House Page to military service during World War II to his 59 years as leader of the Michigan delegation in Congress.  We simply will never see the likes of him again, and we're grateful for the lifetime of tireless public service he gave.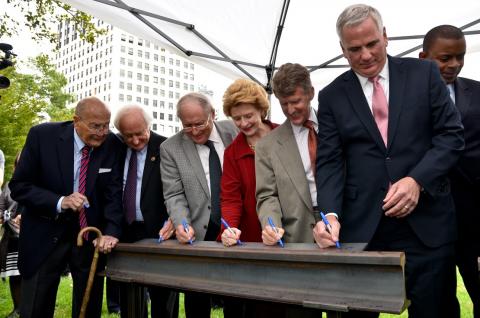 Throughout his public career, Congressman Dingell distinguished himself as an eloquent and dedicated statesman who always put first the needs of working people and of those less fortunate. Congressman Dingell was also terrifically funny, which younger generations got to experience firsthand via his witty Twitter musings. He always moved with the times to make himself a relevant and incisive public servant.
I witnessed first-hand Congressman Dingell's talents when he stepped forward to champion the creation of our streetcar in Detroit. His tenacity and his principled advocacy played a significant role in helping the Obama Administration find its way to bringing the project to fruition.
John Dingell is Michigan, and Michigan is John Dingell. We at the Foundation cannot express enough how much we will miss him.