Report: Solar+storage technologies hitting stride, need strategic grants and investments to reach low-income communities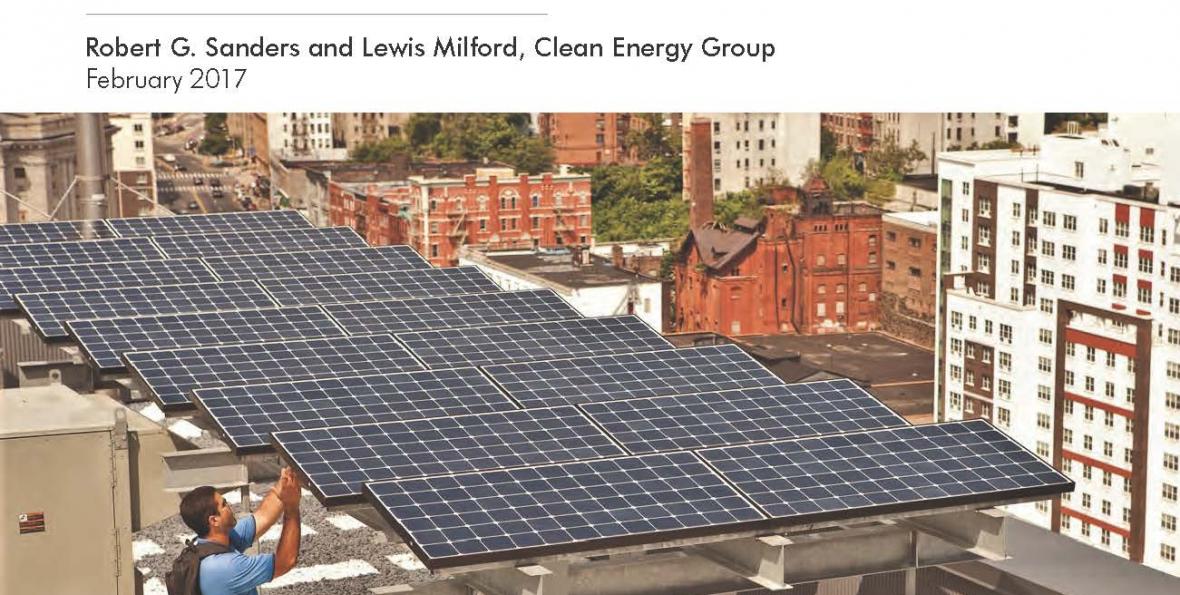 The holy grail of solar+storage technology – the sun's energy stored in batteries – is taking off like never before, but the right mix of investments and grants is needed to ensure it reaches the low-income communities that need it the most, according to a report released today by The Kresge Foundation and prepared by the nonprofit Clean Energy Group.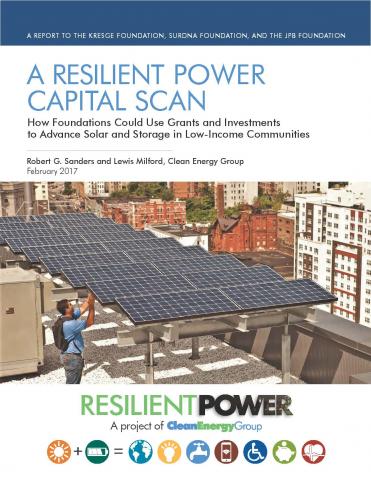 "A Resilient Power Capital Scan: How Foundations Could Use Grants and Investments to Advance Solar and Storage in Low-Income Communities" concludes that solar+storage is reaching a robust market acceleration phase as costs decline and batteries become cheaper, more efficient, and able to slash electric bills. But the technology is currently serving mostly high-end commercial markets. It has barely penetrated low-income neighborhoods where it could reduce utility costs, reduce harmful emissions, curb climate pollution, and strengthen resilience in the face of disruptions to the electricity grid.
The report identifies market barriers to deploying solar+storage in low-income markets, and proposes more than 50 grant and investment opportunities that socially minded investors can use to target those barriers. It was commissioned by The Kresge Foundation, the Surdna Foundation and The JPB Foundation.
"The costs of solar panels and battery storage have declined to the point where resilient power systems can play a significant role in making low-income communities stronger and better able to weather the severe storms, floods, and other impacts of a changing climate," said Lois DeBacker, managing director of Kresge's Environment Program. "A concerted push in the form of strategic grants and capital investments may be all that is needed to generate unstoppable momentum that will spread these systems throughout our nation's urban centers."
The report details how, for the first time, renewable technologies like solar are outpacing the installation of fossil fuel generation. The costs of battery storage are expected to follow the rapidly declining costs of solar panels. Many experts expect the cost of battery storage to fall by half during the next four years.
The emerging market growth in high-end communities has created momentum that can support the installation of solar+storage projects in low-income communities that need resiliency and utility bill savings immediately.
"Cost savings alone would be a compelling reason to bring the free fuel of solar energy to low-income neighborhoods," said Kim Dempsey, deputy director of Kresge's Social Investment Practice. "But these systems have the added advantage of providing stored electricity to power life-sustaining systems in the midst of storms, floods, and other events that can cripple the power grid. Installing these systems in facilities like schools, fire stations, medical care facilities, and senior citizen housing would be a huge step forward in protecting communities from the accelerating risks of a rapidly changing climate."
The report identifies five market barriers to integrating solar+storage in low-income communities. They are:
The need for an integrated development finance model to overcome finance gaps in underserved markets.
Lack of internal capacity of portfolio owners, advocates, and public officials to develop solar+storage projects.
Insufficient energy data collection, policy research, and economic analysis to understand the development of solar+storage technology in low-income markets.
Insufficient capacity of technical service providers, project developers, and nonprofit intermediaries to reach underserved communities.
Inadequate market rules, incentives, and regulatory policies to advance new technologies in low-income markets.
"These barriers are real, but surely surmountable with the right policies and investments," said Clean Energy Group President and report co-author Lew Milford. "More than 50 recommendations in the report create a philanthropic roadmap for moving past these hurdles and integrating solar+storage throughout communities."
For example, financial incentives should be created to encourage owners of affordable housing to implement solar+storage solutions as they renovate their properties or plan new ones.  Also, data documenting the potential of these solutions to reduce electricity bills, particularly in affordable housing and community facilities, should be developed and published. Both the development of these types of platforms and the collection and analysis of the data are funding opportunities.
Other critical needs include predevelopment funding or credit enhancement to support the identification and development of appropriate sites and projects, and funding to build capacity to capitalize on opportunities in low-income communities. 
The Kresge Foundation recently gave a boost to solar+storage with a $3 million program-related investment to Connecticut Green Bank through the foundation's Kresge Community Finance initiative. The investment supports the installation of systems in affordable housing and other community facilities in that state's urban and coastal communities.
"This is a critical time for philanthropy to support community energy resilience in ways that harness market forces while acknowledging the market's limitations," said Clean Energy Group Senior Finance Director and report co-author Robert Sanders. "Risk-reducing capital investments and market-enabling grants form a powerful stimulus that's essential for growing solar+storage in low-income communities."
The report was commissioned by the funding foundations as part of the Resilient Power Project, a joint venture of Clean Energy Group and Meridian Institute. The project works to expand the use of clean, distributed power generation for critical facilities to avoid power outages, build more community-based clean power systems, and reduce the adverse impacts on poor and vulnerable populations.
****
The Kresge Foundation is a $3.6 billion private, national foundation that works to expand opportunities in America's cities through grantmaking and social investing in arts and culture, education, environment, health, human services, and community development in Detroit.
Clean Energy Group is a leading national, nonprofit advocacy organization working to advance clean energy and mitigate climate change through innovation in policy, technology and finance.
The Surdna Foundation seeks to foster sustainable communities in the United States -- communities guided by principles of social justice and distinguished by healthy environments, strong local economies, and thriving cultures.
The JPB Foundation strives to enhance the quality of life in the United States through transformational initiatives that promote the health of our communities by creating opportunities for those in poverty, promoting pioneering medical research, and enriching and sustaining our environment.