Report shares insights and lessons on two community-arts pilot initiatives
In a report for The Kresge Foundation, Ann McQueen and Julia Gittleman examine two pilot initiatives launched at the time of the Great Recession in the U.S.
The foundation's Arts & Culture Program launched a pair of initiatives – Community Arts and College Arts – as a way to challenge communities to use art and culture as a tool to address broader community issues in underinvested urban neighborhoods.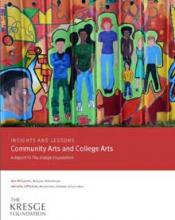 After the completion of the multiyear initiatives, Kresge commissioned a report on the effort.
The qualitative analysis offers lessons about variations on the theme of art-based civic dialogue and community revitalization. 
"We hope the report is valuable to other funders and to the field at large," says Alice Carle, managing director of the Arts & Culture Program.