Renderings revealed, design and construction teams announced for new state-of-the art early childhood education center coming to Marygrove campus
Design principles for exterior, interior plans and service offerings shaped by community input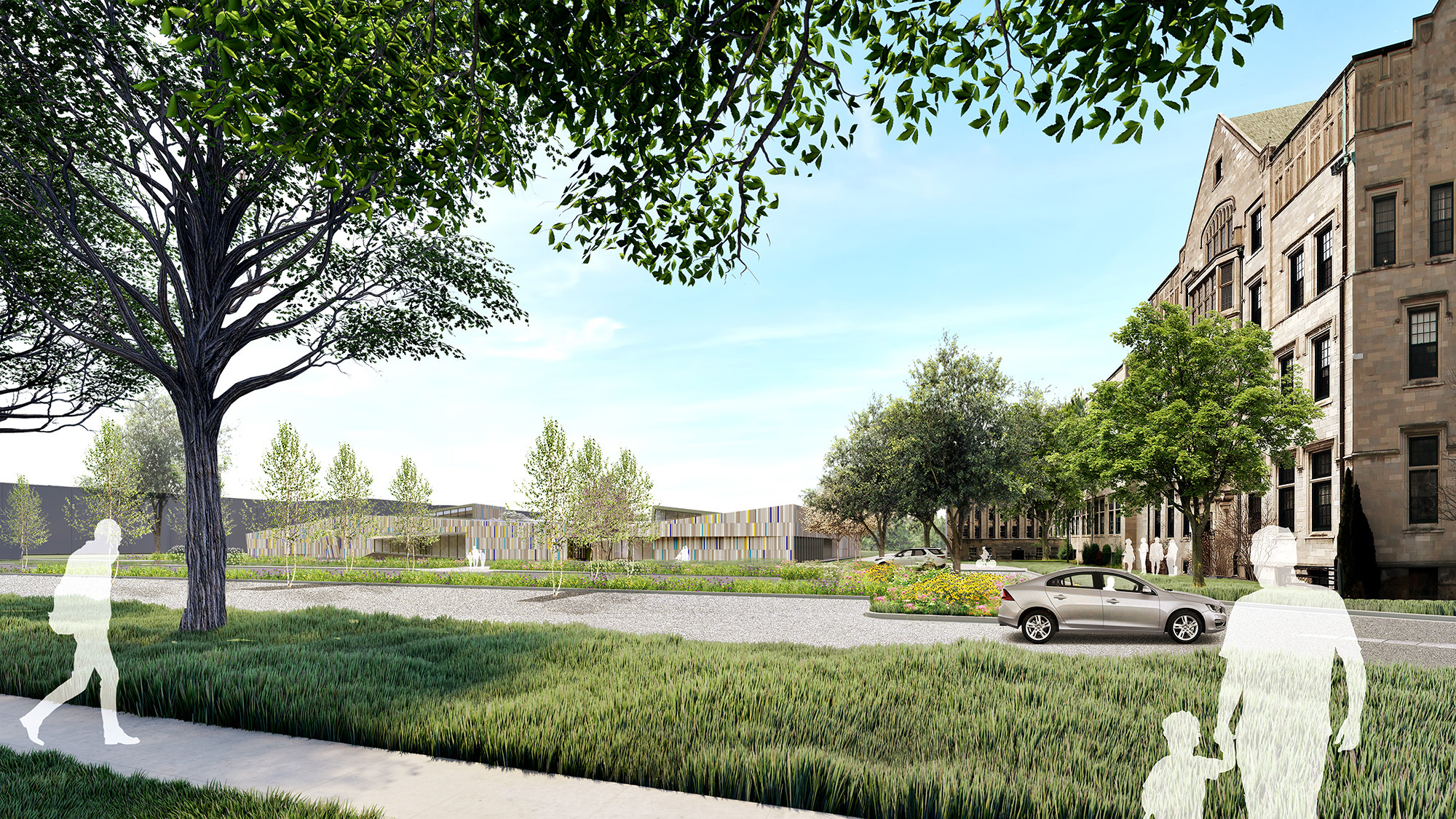 During a community barbecue in northwest Detroit on Saturday, representatives from the Marygrove Conservancy and its partners in an emerging P-20 cradle-to-career vision for the campus revealed renderings of the new, state-of-the-art early childhood education center that will soon break ground.
More than 200 children, parents, interested community members and local business owners attended the picnic, which featured food and entertainment, as well as information about the center and other educational programming and family services that will be offered on the campus.
Designs revealed for leading-practice early childhood education center
Developers expect to break ground by spring 2020 on the new, $15 million early childhood center which will be constructed on the 53-acre Marygrove College campus. Renderings of the facility from architect of record, Marlon Blackwell Architects, based in Fayetteville, Arkansas, were on display at the picnic. The renderings illustrate how the architects incorporated research-designed principles to ensure natural light, connections to the outdoors through interior courtyards, and play space in a natural setting designed around an existing grove of oak trees. When complete, the 28,000 square foot center will also include 12 spacious and stimulating classrooms, a library and health therapy rooms.
"The detail, scale and presence of Marygrove within the community is remarkable," said Marlon Blackwell, a principal of his namesake firm. "The existing buildings provide a substance to the campus in which we seek to establish a condition of resonance between old and new, crafting an early childhood center with purpose that is uniquely attuned to the physical and cultural particulars of its context," he said.
Blackwell said he and his team drew inspiration from the physical and cultural legacy of Marygrove College and its significance in the neighborhood for nearly a century. "Marygrove has been a beacon of educational values in the community since its founding. The conservancy's work to extend the vitality of the place into the future is laudable."
The center, which is expected to open in fall 2021, will serve approximately 144 children ages 0 to 5 and provide integrated health and human services to serve families of all income levels, with a particular focus on those residing in the surrounding northwest Detroit community.
The center will be operated by Starfish Family Services, an Inkster, Michigan-based early childhood provider with extensive experience working with Detroit children and families. The center's curriculum and child-centered services are being jointly developed by Starfish, University of Michigan School of Education and Marygrove College.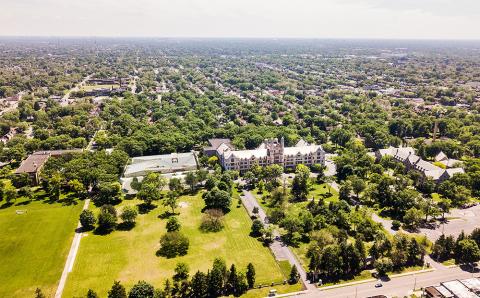 "Starfish has been a champion for children across our community for more than 55 years.  We're thrilled to partner in this unique collaboration which puts children and education at the center of neighborhood and economic redevelopment," said Starfish CEO Ann Kalass.  "This is truly a transformational project on all levels – from facility design to curriculum to how we will develop and support our teachers and to the all-in-one campus culture." 
The new center will anchor the cradle-to-career campus and will exemplify the principles of comprehensive, high-quality facility design and programming that were identified in the Hope Starts Here framework. The city's first framework for a coordinated, high-quality early childhood education system was developed through a yearlong community engagement that included more than 18,000 Detroit parents, caregivers, educators and community members. Once the early childhood education center at Marygrove is fully operational, the physical design and program offerings will strive to reflect the framework priorities.
Community input influences early childhood center design
During the past 11 months, IFF, the facility's developer, and Starfish, with the support of community engagement facilitator Detroit Collaborative Design Center, have met with parents, care givers and existing childcare providers in the neighborhood to solicit input on the center's design aesthetic and service offerings. The feedback has helped developers shape design principles for the center and has informed planning discussions between the architect (Blackwell), the operator (Starfish) and the project funder, The Kresge Foundation, to ensure the facility design and programming serve as a national exemplar for early childhood education. 
IFF brings extensive early childhood education center development experience to the Marygrove P-20 campus. In its more than 30-year history, IFF has developed 28 early childhood education facilities across the Midwest and has consulted on more than 170 facilities, supporting the creation of more than 5,000 early education slots in high-quality facilities. Additionally, IFF has provided more than $60 million in direct financing to early education facilities in the region.
"IFF is a strong advocate of quality facilities for early learning and is committed to supporting area providers," said Kirby Burkholder, president of IFF's Social Impact Accelerator. "This center will serve as a national exemplar, but it is equally important that it exceptionally serves this community. We know from research, including conversations with area providers, that many high-quality providers already exist in this community but demand for those spots still far exceeds the current supply. It's our hope that this new center helps fill that gap and serves as a hub for area providers to convene and share knowledge."
Burkholder characterized the providers in the area as predominately women-led small businesses that have been dedicated to serving children for years. "Providers are important and valued contributors to kindergarten readiness and the overall community ecosystem. It is imperative that providers have a space to convene, share knowledge, and access resources that position them for growth and success."
IFF will host a Provider Network meeting on July 30 at 6 p.m. on the Marygrove campus. For more information and to RSVP visit IFFs Detroit Provider Network page.
Groundbreaking set for early 2020
Metro-Detroit based Barton Malow will serve as the construction manager for the new, $15 million early childhood education facility. Following a spring 2020 groundbreaking, construction is expected to be complete by mid-2021; Starfish will open the center to approximately 144 infants, toddlers, preschoolers, and their families in fall 2021.
Barton Malow Senior Project Director Steve Lorenzo said the firm has a proven approach to engage diverse and disadvantaged businesses on countless projects in Detroit and nationwide. "We have established a construction spend goal of 20% with minority-, veteran- and women-owned (MVWBE) businesses for our work on the Marygrove campus," he said. Lorenzo said the firm employs a strategic bid strategy to ensure trade packages are right-sized for firms of all sizes, actively seeks diverse contractors and suppliers through national, regional and local diverse-owned business associations, and validates diverse status through certified compliance agencies.
Lorenzo also said that Barton Malow will seek to employ area residents, including those in the surrounding Fitzgerald and Bagley neighborhoods, through the Barton Malow Boot Camp. "Our boot camp is a paid work training program for youth age 18-24, in partnership with the city's Grow Detroit Young Talent program, which exposes and prepares young people for a career in the construction trades," he said.
Inaugural 9th grade students to begin classes in September
Renovations are underway this summer on the campus' Liberal Arts Building to prepare for the inaugural class of 9th graders at the School at Marygrove, which will open in September. Operated by Detroit Public Schools Community District (DPSCD), the new social justice-themed public school has been designed to develop critical thinkers and community-minded citizens who have the skills and knowledge to be makers and leaders creating a more just and equitable future. DPSCD and the University of Michigan School of Education have co-developed a project- and place-based engineering and design thinking curriculum that will empower students to identify, collaborate and solve complex problems found in our city and in our world.
Superintendent Dr. Nikolai Vitti recently shared with district board members that 97% of the accepted students to the School at Marygrove are Detroit residents, and 50% of the students are returning to DPSCD from suburban districts and charter schools. He also confirmed that 75% of the accepted students live within the 2-mile catchment area of Marygrove.
As students transition to 10th grade in the 2020-21 school year, a new 9th grade class will be added. The elementary school will commence with kindergarten students in fall 2021 and will add one grade level per year until all grades K-12 are established. At full capacity, the School at Marygrove will serve approximately 1,000 students.
The district recently hired a principal and seven educators to staff the new school and instruct students in engineering, English language arts, integrated physical science, math, U.S. history and Spanish. Also beginning in September, the U-M School of Education will launch a new Teaching Residency program modeled after medical training programs to prepare and train Detroit's next generation of educators. Newly certified teachers who have successfully completed U-M's undergraduate or graduate teacher preparation program will be eligible to serve as a resident and teach alongside veteran educators in the primary and secondary schools.