Remembering the pioneering urban affairs writer Neal Peirce
Kresge Foundation President and CEO Rip Rapson issued the following statement regarding the recent passing of the urban journalist and scholar Neal R. Peirce on Dec. 27, 2019.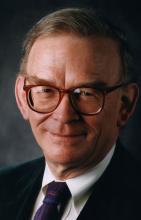 Urban America – and the nation at large – lost one of its most knowledgeable observers and proponents with the recent passing of Neal R. Peirce. Neal stood on the shoulders of classic urbanist writers such as Lewis Mumford and Jane Jacobs, as The New York Times noted in its obituary. Moreover, in books, keynote addresses and 38 years of newspaper columns, he linked those pioneers to successive generations of thinkers, writers and practitioners. Neal "blazed the trail of urban journalism," said Richard Florida, one of the most prominent urban scholar-writers on the current scene in a tweet.
When others were writing obituaries for big cities like Detroit, Kresge's hometown, Neal continued to see potential amid daunting problems. He was prescient almost 30 years ago in titling one of his many books How Urban America Can Prosper in a Competitive World. Writing from a conference in Detroit a decade ago, he asked if cities were nearing "a golden age': "Is it time to see them not as dragging anchors but rather as key national assets, the defining centers of our metro regions, essential climate change progress, new technologies, creative arts and growing vibrant, livable communities?"
Neal clearly believed the answer to that question was a resounding "yes" and embraced the redefinition of the "Rust Belt" urban centers of the Great Lakes and Northeast as "legacy cities." He saw, too, that new civic engines bringing together government, business, nonprofits and neighborhood organizations would be essential to revival.
I had the pleasure of interacting with Neal in a number of settings over the years. Just watching him process complexity was like a mini-master class in urban policy and journalistic excellence. The 26 reports he coauthored with urbanist Curtis Johnson from 1986 to 2011 on the economies and mechanics of American cities are still the gold standard for all of us who care about improving cities.
Those of us who crossed paths with Neal personally, no less than his legion of readers, will never forget his passion and perspective as we continue to face the challenges he chronicled.