Reconciling the past with our present: Reflections on a visit to Montgomery, Alabama
Site visits to the National Memorial for Peace and Justice, the Legacy Museum and the SPLC were powerful reminders of the importance of fighting for civil rights and racial equity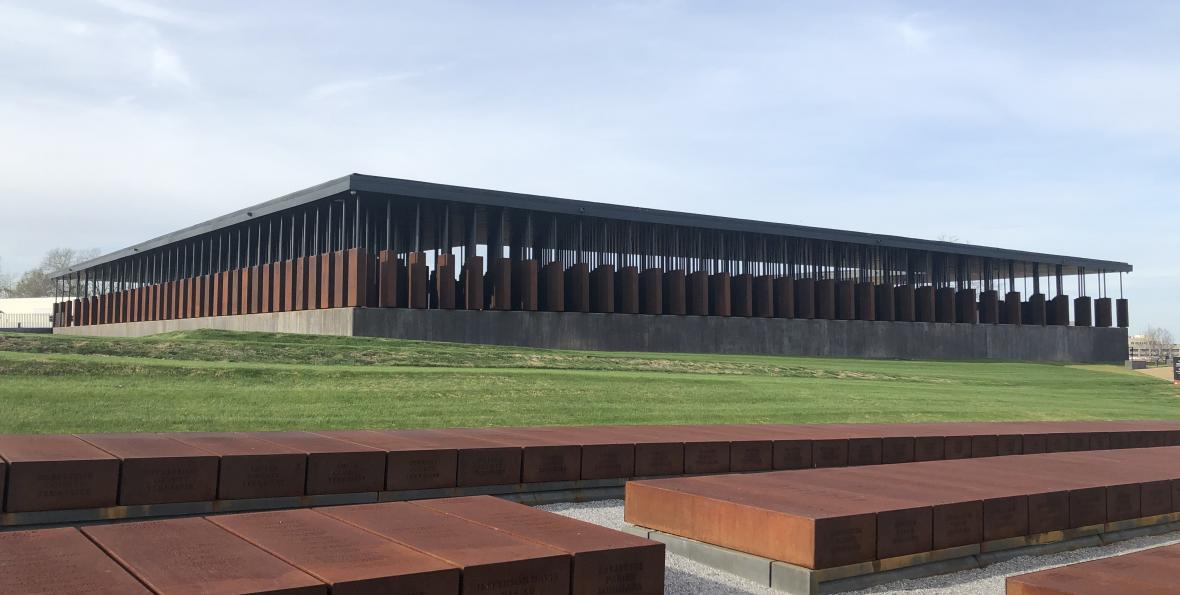 In January, Kresge's Opportunity Fund and "Learning and Evaluation Champions" visited Montgomery, Ala. – known as the "the cradle of the confederacy" and as the birthplace of the civil rights movement – to further engage and learn from two grantees based in this city: The Equal Justice Initiative (EJI) and the Southern Poverty Law Center (SPLC). These nonprofits are among the nation's most important and path-breaking organizations dedicated to advancing civil rights, promoting racial healing and tolerance, ending mass incarceration, reforming our justice systems and countering racism and hate.
Both organizations seek to change understanding of and the narrative around the legacy of racism and racial injustice in the United States – and how this history impacts us very much in the present.
To spark a new national conversation about race and racial injustice in the United States, EJI conducts historical research, produces data, policy reports and films and books. But its most ambitious efforts to date include creating public spaces, markers and memorials that address the legacy of slavery, lynching and racial terror and segregation, all of which unfortunately reverberate today.
These spaces are wholly unique in the Unites States and an ingenious approach to enable healing and an accounting and a reckoning with our nation's past.
Kresge staff first visited EJI's newly created Legacy Museum: From Enslavement to Mass Incarceration and then subsequently toured the National Memorial for Peace and Justice, both of which, EJI argues, "are designed to help visitors meaningfully confront America's difficult racial history and to promote a more hopeful commitment to racial equality and just treatment of all people." More than 650,000 people from all fifty states and more than two dozen countries have visited these sites since they've opened.
The memorial is described as "a sacred space for truth-telling and reflection about racial terror in America and its legacy." The National Memorial for Peace and Justice sits on a six-acre site – the highest point in Montgomery – and features a memorial square with more than 800 six-foot steel monuments, one for each county in the U.S. where a racial terror lynching took place.
As the following images, video and reactions from Kresge staff demonstrate, the National Memorial for Peace and Justice is an affecting and powerful experience that moves and propels those who visit to continue the fight for civil rights and equity.
"I could not ask for a more meaningful experience. From visiting The National Memorial for Peace and Justice to engaging with grantees to listening to passion and emotion of my colleagues, our trip to Montgomery provided us the opportunity to strengthen the connection of our minds and hearts to our work. As our nation continues to struggle to confront our legacy in racial terrorism, I am extremely proud that The Kresge Foundation and the Opportunity Fund support tremendous efforts in fighting hate, challenging racial injustice and protect basic human rights through our grantees' work." – Dexter Mason, special assistant to the president
"The National Memorial for Peace and Justice offers an architecturally imaginative and emotionally devastating experience of an era that is too often overlooked in American history – the era of racial terror lynchings.  These lynchings were public spectacles meant to terrorize not just families but entire communities.  In many cases, they changed the demographics of cities and counties for generations, as African American residents fled racially-motivated violence as part of the Great Migration.  The Memorial immerses visitors in the sheer scale of the carnage, and no one can emerge from the experience without being deeply affected." – Chris Kabel, senior fellow
"Our discussions and visits to the Legacy Museum, the National Memorial for Peace and Justice and SPLC's headquarters left profound impressions upon me. The ingeniousness of these organizations is that not only are they at the forefront of reforming our justice system through litigation and representation of clients, they are also changing hearts and minds about racial injustice and how we understand and re-learn our national history. That is hugely important work that is making a difference in how we reckon with our past and make amends for a better future for all." – Christine Jacobs, deputy communications & external affairs director
The SPLC is entering this new era of civil rights advocacy by entering into a new era as an organization and new leadership. The group just named a new president and CEO, Margaret Huang. She discusses how she views her new leadership role in this video: 
Kresge staff toured SPLC's Civil Rights Memorial and had a dialogue about the organization's priorities and vision for this next era of the civil rights movement.
Much of the discussion centered on SPLC's Southeast Immigrant Freedom Initiative (SIFI), which Kresge has supported in the last two years. SIFI is a pro bono legal representation effort in six states in the Deep South. This program enlists and trains volunteer lawyers, translators, and law students to work on cases at remote, rural detention centers. It's one of the only efforts like it in the nation and serves as an important model for how to counter the various moves by the Trump administration to punish, imprison and detain communities of color who are here seeking a better life.
This site visit to Montgomery is an important first step of many for Kresge to deepen its learning, sharing, appreciation of and engagement in supporting civil rights organizations.  
This grantee spotlight is part of a month-long celebration of Black History Month and our grantees who are leading the way to ensure greater equity for communities of color.