Participants tap energy of FreshLo food-and-culture initiative during lively kickoff convening
Convening brought together organizations awarded Kresge grants to create strategies that strengthen economic vitality, cultural expression and health outcomes in neighborhoods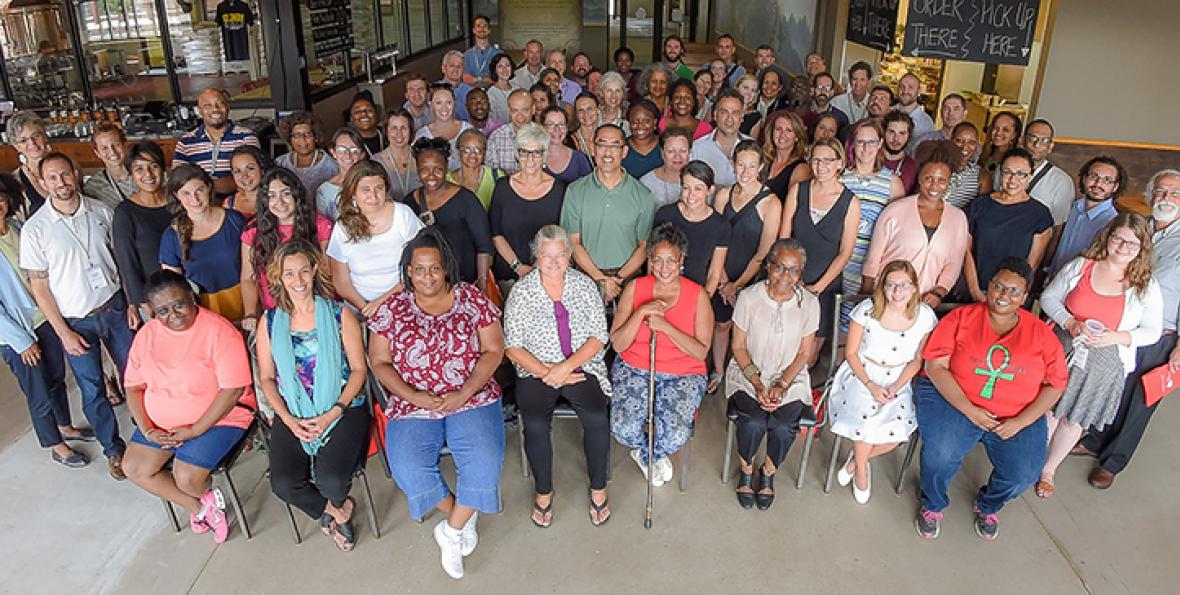 Community leaders, innovators and doers tapped collective energy from kindred spirits across the nation last week during the first convening of grantees from The Kresge Foundation's groundbreaking Fresh, Local and Equitable (FreshLo) grant initiative.
The three-day event in Cleveland brought together more than 80 people including representatives from 26 organizations awarded Kresge grants to create strategies that strengthen economic vitality, cultural expression and health outcomes in urban, low-income communities.
They cultivated a shared sense of purpose, buoyed by connections with allies across the United States who share similar struggles, dreams and aspirations.
"(The convening) was so welcoming and inviting," said Joy Persall of Minneapolis-based Dreams of Wild Health, which is planning an indigenous food network reflecting Native American cultures, values and cuisine. "It inspired me to learn more about similar work in other cities and to discover the deep, rich culture we share."
Grantees were selected in May from more than 500 hopefuls for the FreshLo program – the most applicants for a single grant opportunity in the foundation's 92-year history. Kresge is the first national funder to intentionally and equitably integrate food, art and community to drive neighborhood revitalization at this scale. Several grantees said it seemed like FreshLo was written just for their organization.
"When we saw FreshLo, we thought, 'finally, a foundation has caught up with the way we've been trying to do business!" said Michelle Otero, from Partnership for Community Action in Albuquerque, NM. The partnership is developing a community project to integrate food tables and gardens as the hub of a food-oriented development plan in a Hispanic community.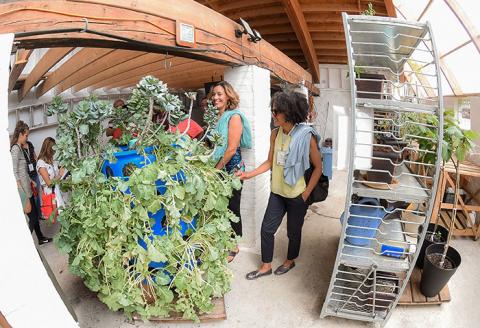 Other grantees came from places including Lafayette, LA where organizers are developing a Creole Food Arts & Culture District; Omaha, NE where repurposed shipping containers are part of a planned marketplace in an underserved community; and from just up the road in Cleveland where hip-hop artists and black playwrights are part of an integrated plan for food-oriented development.
During the convening participants toured several inspirational community projects making a difference in low-income communities.
Edwins Leadership and Restaurant Institute, a unique approach giving formerly incarcerated adults training in culinary arts and the support network (child care, transportation, etc.) to help ensure successful re-entry. The program's French restaurant, Edwins, opened in 2013 and founder, Brandon Chrostowski was named as a 2016 CNN Hero.
The Vineyards and BioCellar of Chateau Hough, an urban vineyard employing community workers including formerly incarcerated persons tending to cold-weather grapes on almost 300 vines.
The Goldhorn Brewery, with its Slovenian-themed murals and dimpled copper-top bar, part of the Hub 55 complex, aimed at invigorating Cleveland's Superior-St. Clair neighborhood.
Attendees also were treated to inspirational keynote remarks from comedic storyteller and community engagement specialist Robert Farid Karimi who used fresh mint leaves and sprinkles of turmeric to drive home a message about the culture, history and importance of food in family and community.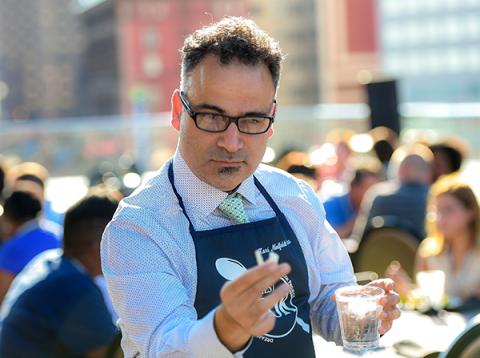 FreshLo initiative is a joint effort by Kresge's Arts & Culture Program and Health Program. It merges the goals of both programs – reducing health disparities that lead to poor health outcomes embedding Creative Placemaking – the intentional integration of arts, culture and design into community development – into neighborhood revitalization. It embodies The foundation's philosophy that catalytic change to improve opportunity for low-income persons in America's cities requires a multi-layered approach – not simply one program or sector working alone.
Ari Simon, vice president with The Kresge Foundation, said FreshLo is part of a commitment to creating stronger neighborhoods by braiding cross-sector, cross-disciplines into powerful community initiatives.
"The way we divide up the world is not the way that people divide up the world, and it doesn't make for good community development," said Simon. "We want to change that."
Malini Ram-Moraghan, a principal at DAISA Enterprises, the national program office of FreshLo, said the FreshLo projects will be more challenging than traditional grant work because of the multi-discipline approach.
"It's very messy, chaotic, not linear, working across sectors," Ram-Moraghan told the attendees. "It's exhausting, but that's the cost of doing innovative work."
The planning grants support project management, partnership development, community engagement, strategic communications, policy development and other activities directly related to successful outcomes.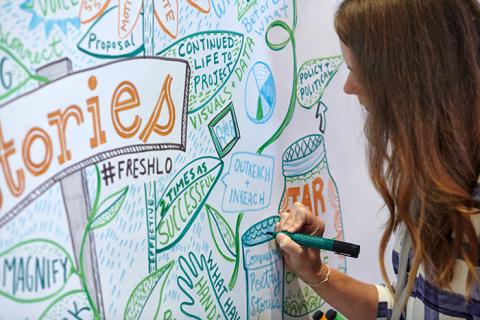 Following the one-year planning grant phase, Kresge intends to offer implementation grants for qualifying projects and conduct a comprehensive suite of learning and evaluation assessments to help measure the impacts of the FreshLo initiative and to export learnings to other organizations and community development professionals.
The initiative is guided by an advisory committee comprised of experts from fields including sustainable food development, creative placemaking and community development.
"It was more than I expected," said Annette Artherton from the Omaha Economic Development Corporation. "Between the conversations with other grantees and learning how they do their business, and the Kresge team, I really get the impression that we're part of the whole process, all in this together."
Organizations awarded planning grants to develop food-oriented initiatives in their cities are:
Asian Economic Development Association,  Saint Paul, Minn.
Athens Land Trust,  Athens, Ga.
Binghampton Development Corporation, Memphis, TN
Center for Great Neighborhoods of Covington,  Covington, Ky.
City of Pittsfield, Pittsfield, Mass.
City of Providence, Providence, R.I.
Cooperative Community of New West Jackson,  Jackson, Miss.
Dream of Wild Health,  Minneapolis, Minn.
Elijah's Promise, New Brunswick, N.J.
Environmental Health Watch,  Cleveland, Ohio
Focus: HOPE, Detroit, Mich.
Fresno Metro Ministry, Fresno, Calif.
Green Opportunities,  Asheville, N.C.
Inner-City Muslim Action Network, Chicago, Ill.
La Mujer Obrera, El Paso, Texas
McComb-Veazey Neighborhood Coterie, Lafayette, La.
Montbello Organizing Committee, Denver, Colo.
Omaha Economic Development Corporation, Omaha, Neb.
Partnership for Community Action,  Albuquerque, N.M.
Placeful Company, Inc.,  New York, N.Y.
Planting Justice,  Oakland, Calif.
Rainier Beach Action Coalition,  Seattle, Wash.
RiverStone Health Foundation,  Billings, Mont.
Riverworks Development Corporation,  Milwaukee, Wisc.
Sankofa Community Development Corporation,  New Orleans, LA
Sprout Urban Farms, Inc.,  Battle Creek, Mich.