'Parallel Visions' exhibition showcases work from 10 years of Kresge Artist Fellows
Works of artists from the first decade of the Kresge Artist Fellows initiative are on display through August 24 at Detroit's Wasserman Projects in Eastern Market


A new art exhibition, "Parallel Visions" features selected works from the past decade by various Kresge Arts in Detroit (KAID) Fellows.
The exhibition seeks to take one on a journey that travels simultaneously backward and forward, celebrating the nonlinear evolution of each of the artists' works as they explore the past, present and future.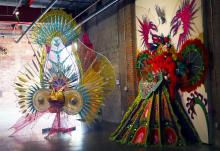 The showcased art is a diverse range of mediums from painting to sculpture, sound, performance and installation. The exhibition was curated by Wasserman Projects and is co-produced by the art gallery and KAID.
The exhibition is open to the public from Friday, July 12, through August 24, 2019 at Wasserman Projects.
The exhibition will include the work of the following Kresge Artist Fellows from the first 10 years of the program (2009 – 2018):
A "sneak preview" of the exhibit was held on Thursday, July 11 at an award reception for the newest cohort of KAID Fellows and 2019 Gilda Award recipients. 
This year's KAID Fellows event included remarks from Donald L. Tuski in his first public appearance as president of the College for Creative Studies. He noted, "Detroit has been a center of art and design for many, many years because of its rich art, craft and design as well as auto history and because of the great support of foundations like Kresge. I feel very lucky and excited to be a part of Detroit's next phase of creativity." 
Adding to this sentiment, Rip Rapson, CEO and president of The Kresge Foundation, celebrated Detroit's artistic community's continued contributions to the city's resurgence: "Artists have been instrumental in changing the nation's sense of the Motor City, from a city living in the shadow of its past, to a city celebrating its roots and traditions while also creating new possibilities for its future. Myriad benefits flow outward from the individual artists to networks and circles of fellow artists, to art scenes, to arts communities and to the grand art community…and on to the metro Detroit community writ large and…yes…to the world."
The Kresge Artist Fellowship program is administered by the KAID office of the College for Creative Studies. Since 2009, Kresge Arts in Detroit has awarded 198 Kresge Artist Fellowships, 12 Gilda Awards, and 11 Kresge Eminent Artist Awards for a total of more than $5.5 million. 
Wasserman Projects is one of Detroit's pre-eminent galleries, whose mission is "to promote the work of outstanding practitioners based locally and around the globe by hosting exhibitions, conversations, and supporting creativity wherever we can be useful."
For more information on "Parallel Visions," please see https://tinyurl.com/y487pvxu. Further information on the 2019 Kresge Artist Fellows and Gilda Awardees can be found here.