'The Other College Guide' takes a fresh approach to guiding students to success
New Kresge-supported book aims to demystify the process of choosing and applying to college, especially for middle-class and low-income youth.
High school students determined to find a college that will improve their lives – not simply saddle them with debt – now have a powerful new resource: "The Other College Guide."
Traditional college guides rank schools using a combination of opinion surveys and data that generally fail to consider outcomes. This guide is different. A collaboration of two Kresge-supported organizations, Washington Monthly magazine and the nonprofit publisher The New Press, "The Other College Guide" focuses on data points such as graduation rates, student loan default rates, the percentage of students receiving Pell grants and the percentage of applicants admitted.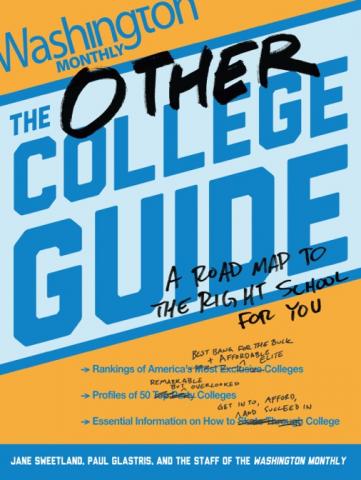 "I honestly think that if you can get a kid to read this book or at least get their guidance counselor or teacher or mom or dad to read this book … you would transform college-going in America," says Paul Glastris, editor in chief Washington Monthly and one of the authors. "It really does give them the best advice for making the best of a problematic system."
Washington Monthly has reported extensively about problems in higher education including tuition costs that have little relationship to whether students graduate or go on to successful careers.
In 2005, the magazine started ranking schools by how well they contribute to the greater good and, in 2012 it unveiled its "Best Bang for the Buck" measure that sorted schools by graduation rate, student loan default rate and the average net price students pay to attend after scholarships and loans are factored in.
The new book expands on that approach and aims to help low- and moderate-income families and students navigate the fast-changing college admissions process.
"For many students – particularly those with limited college advising and whose parents and other family members aren't familiar with higher education – the lack of admissions and financial aid information creates a major barrier to getting to and through college," says Kresge's Bill Moses. "Given a college degree's significant labor market value, the information in this book can have a lifetime impact for innumerable students, their families and their communities.
 "It's not a stretch to say that empowering students to make better choices that result in more Americans earning more degrees has implications for all of us," says Moses, managing director of Kresge's Education Program.
Kresge works to expand opportunity in America's cities. Its Education Program promotes post-secondary access and success for low-income, first-generation and underrepresented students.
The new guide is billed as "a road map to the right school for you." It expands the Washington Monthly's rankings and breaks them down by region. Private and public institutions – community colleges included – are ranked and discussed in the book.
Readers will learn that Kentucky's Berea College, where the average student pays $1,225 after scholarships and loans are factored in, is ranked the best deal in the South. That's compared to the worst deal in the South, the for-profit University of Phoenix, where students on its Chattanooga campus pay $22,415 on average.
The guide's rankings of "affordable elite" schools reveal that UCLA and Harvard offer the best deal for students with top grades and test scores.
It names North Carolina's Elizabeth City State University as the best choice for students interested in historically black colleges and says Minnesota's Saint Paul College is the nation's best community college deal.
The guide also has words of caution for students who assume they'll be able to transfer community college credits to four-year schools. Transferring from a community college can often be a frustrating challenge for students and the book offers advice on how to make the most of the transfer process.
"The Other College Guide" is designed to demystify the college-going process for middle- and low-income kids, says coauthor Jane Sweetland, a former dean at California State University Channel Islands. "A lot don't know the questions to ask … they get recruited by colleges and some are above board and some are really frankly predatory," she says. "We wanted to be able to put students in the driver's seat by giving them knowledge."
Sweetland and other contributors from Washington Monthly wrote profiles of 50 interesting schools that rank well on the Best Bang for the Buck list.
They included chapters advising students on the world of financial aid and working with their parents during the application process. There's also a chapter on ways idealistic students can make money or get student loan relief by serving their country in the government, the military or in community service.
One counselor looking forward to using the book is Joshua Steckel, who guides high school students through the college selection and admission process at Brooklyn School for Collaborative Studies. Many of his students are the first in their families to go to college.
The author of another book from The New Press, "Hold Fast to Dreams," Steckel knows the challenges students like his face in getting on the path to a college degree. The new book can help, he says: "This is straight talk. Where am I going to be able to go and … not have to borrow more than the maximum available in student loans?"