New study finds 14 percent of college students homeless, 1 in 3 are hungry
Wisconsin HOPE Lab, ACCT unveil results from largest study on college students' basic needs
The Wisconsin HOPE Lab, in collaboration with the Association of Community College Trustees (ACCT), today announced the release of Hungry and Homeless in College, a new research report on food and housing insecurity among community college students, supported by The Kresge Foundation.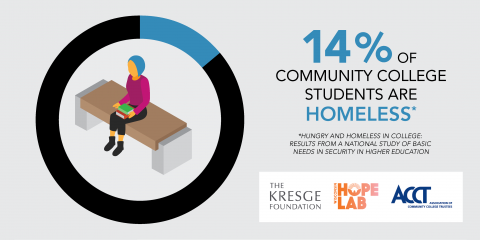 Authors Sara Goldrick-Rab, Jed Richardson and Anthony Hernandez conducted a survey of more than 33,000 students at 70 community colleges in 24 states— the broadest survey of its kind — that describes the extent to which students are adversely affected by unmet basic needs while pursuing higher education.
Two-thirds of the students surveyed struggle with food insecurity, and one-half with housing insecurity. One-third are hungry, and 14% are homeless.
"Proper nutrition and safe and stable housing are not only basic human needs," said ACCT President and CEO J. Noah Brown. "Students' academic performance can suffer tremendously when these needs are not met. This is a humanitarian concern as well as a priority for all community colleges."
Among the findings, to be presented on Wednesday afternoon in Washington, D.C. at a town hall event hosted by George Washington University:
There is surprisingly little geographic variation in hunger and homelessness among community college students. The issue is not isolated to urban or high-poverty colleges, and is prevalent in all regions of the country.
This is the first study to consider foster youth. Thirty percent (30%) of the former foster youth surveyed were homeless.
One-third of students experiencing food or housing insecurity were both working and receiving financial aid.
Sixty-three percent (63%) of parenting students were food insecure and almost 14% were homeless, but only about 5% received any child-care assistance
Homeless community college students are more likely to work long hours at low-quality jobs, and get less sleep.
Hungry and Homeless in College expands on the Wisconsin HOPE Lab's pilot survey of 4,000 students from 10 community colleges in seven states that was conducted in 2015. The Kresge Foundation's Education and Human Services programs supported the expanded survey.
Kresge's Education Program works to promote post-secondary access and success for low-income, first-generation and underrepresented students living in the United States and South Africa. Its Human Services Program supports the advancement of human services to accelerate social and economic mobility for people with low income in America's cities.
"We believe all people should lead self-determined lives and participate in the economic mainstream," said William F. L. Moses, managing director of Kresge's Education Program. "High quality affordable education is the greatest economic equalizer—and we believe that every student should have access to higher education without compromising his or her living conditions and safety, and without skipping meals."
Colleges and universities around the country have expressed interest in assessing the basic needs security of their students. To support them, next month the HOPE Lab will release a guide for institutional researchers aiming to measure food and housing insecurity, and this fall will offer the opportunity for institutions around the nation to join the next national survey. More information can be found on the HOPE Lab's website.
A community of policy and practice is rapidly forming to address these challenges, and on October 23 and 24, 2017 the HOPE Lab will host the second #RealCollege convening at Temple University in Philadelphia, bringing together leaders from around the nation.
"Students around the country are sharing their stories and revealing the severity of the college pricing crisis," said Goldrick-Rab, Professor of Higher Education Policy and Sociology at Temple University and the College of Education, and founder of both the Wisconsin HOPE Lab and the HOPE Center for College, Community, and Justice. "We have a moral obligation to act on our research studies, find solutions, and help every student secure their right to a college degree."