New complex helps keep seniors in Detroit
Kresge-backed development aimed at moderate- and middle-incomes adds to neighborhood revival
Jewels and Billy Gines make room on the couch for China, an affable Chihuahua, to wiggle her way between them as they discuss the decades-old desire that has brought them back to Detroit, where their hearts are most alive.
"I played golf all over the city, and I kept asking about new real estate developments close to my old neighborhood," says Billy, 84.
"Then I saw a brochure for Hartford Village, and I knew this would be perfect for us," says Jewels Gines. At that, China barks, as if in agreement.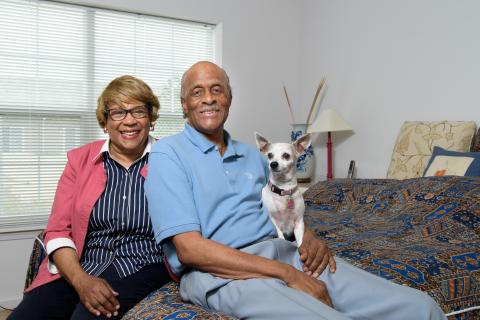 In November 2016, the Gineses joined neighbors at the new Hartford Village, a gated, 84-unit, mixed-income senior community – with 39 cottages and an apartment building with 45 independent living units – in the Bagley neighborhood of Northwest Detroit. Here the Gineses take turns walking China along streets and lanes with names out of Detroit history, such as longtime U.S. Rep. John Conyers and the late Motown Records exec and Motown Museum founder Esther Gordy Edwards.
Hartford Village, which has an official ribbon-cutting Thursday, is a $17 million nonprofit collaboration between its namesake Hartford Memorial Baptist Church and Presbyterian Villages of Michigan. Supporters include the U.S. Department of Housing and Urban Development, Wayne County, the Community Foundation of Southeast Michigan, the city of Detroit and The Kresge Foundation's Detroit Program. Kresge's Detroit Program engages, supports and collaborates with civic, nonprofit and business partners to promote long-term equitable opportunity in the foundation's hometown, particularly in its neighborhoods. 
Before Hartford Village, the city had less to offer active seniors like the Gineses, especially if they sought new housing.
In 1995, the Gineses left a large ranch house – about a mile away from their new location – for a large suburban condo. Billy, a retired union representative at Ford Motor Company, could play more of golf and spend less time on lawn care, but he missed his hometown.
He and Jewels kept looking for the right-size, one-floor home in the city, something smaller and more modern.
"We both fell in love the minute we saw this place," says Jewels, a retired Detroit middle school teacher. Active in the retiree chapter of the Detroit Federation of Teachers, and president for a year, she often came to the city. She wanted to be a part of the renewed vitality she saw.
Hartford Village fulfilled her dream – cathedral ceilings, chrome appliances, granite counters in the kitchen and bathrooms. The deal-sealer was the one-and-a-half car garage with room enough to store patio furniture through the winter.
"Kresge recognized the mission of Presbyterian Village to retain moderate- and middle-income seniors as residents of the city of Detroit," says Paul Miller, president of the Presbyterian Villages of Michigan Foundation, which has 30 senior complexes across the state and eight others in Detroit. "Too often seniors leave the city because their homes are too large, require too much maintenance or have too many stairs to climb."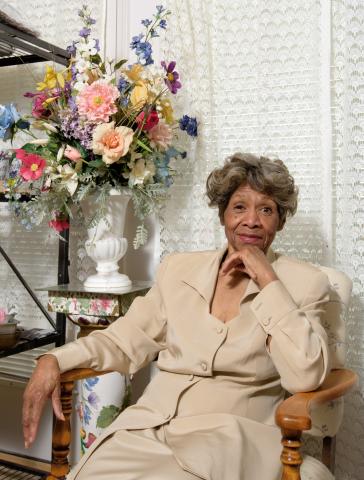 And while some residents, like the Gineses, are returning to Detroit, others relocate from elsewhere in the city, notes Miller, including residents who have moved from historic homes nearby in the University District, or the Marygrove College or Bagley neighborhoods.
Significantly, 80 percent of the units are rented at market rate and 20 percent are subsidized to make them affordable for lower-income residents. That's a major advance for the city of Detroit where, for years, senior developments – including Presbyterian Villages' city developments – have focused on low-income residents.
"We expect this breakthrough to jump-start the market for other market-rate senior developments," says Miller. "This could be a game-changer for the city of Detroit."
Kresge Detroit Program Co-Managing Director Wendy Lewis Jackson points out that Hartford Village aligns with a number of the program's objectives in addition to retaining residents and allowing them to "age in place" in city neighborhoods. The Detroit Program gave $250,000 to the Hartford Village project.
"Our top priority is to support Detroit residents in reinvigorating city neighborhoods," says Jackson. "Hartford Village will further catalyze economic and social development in Northwest Detroit, including work to revitalize the nearby Live6 area and the McNichols Corridor. The village is strategically located within a short walk of the Northwest Activities Center. It's within a mile of such community institutions and anchors as the Schulze Academy, Marygrove College and Sinai Grace Hospital. Partnerships with those institutions can build a culture that breaks down the isolation of generations from one another."  
"What I'm most proud of with Presbyterian Villages is its tenacity, its resilience, because we're going to get things done and we'll do it the right way," Miller says, adding proudly that Presbyterian Villages, founded in 1945, was named the best-managed nonprofit of 2016 by Crain's Detroit Business. "We provide impact to the population we serve."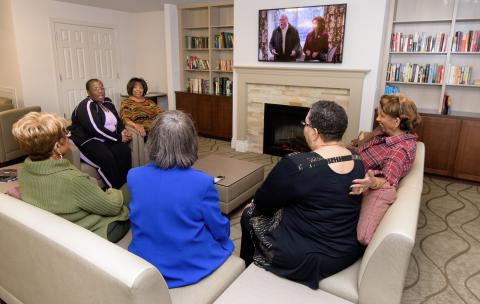 Resident Delores Brown, 83, who moved from a 2,800 square-foot home in the University District, is another resident who appreciates that impact.
An active member of Hartford Memorial Baptist Church, she decorates her new apartment with angel figurines and glittery dresses hung as art objects. "Pastor Charles Adams prayed about it, he knew it could be done with faith," she says, referring to Hartford Memorial's longtime leader.
The former Ford Motor Company seamstress lost both her daughters and her husband over the last six years and sees the senior apartment building as a chance to start fresh. New appliances are quiet and reliable; the porch is big enough to grow a little garden this spring.
When she is lonely she can go downstairs to a community room and play cards, watch a 70-inch-screen television on comfortable couches or use one of the computers dedicated to residents. Gena Edwards McCullough, the resident manager hopes to arrange weekly dinners and outings as residents settle in.
"Just enough room for me," says Brown as she turns on her radio and fills the apartment with gospel sounds. "I bless my good fortune every day."