New book offers framework to overhaul a higher education system that 'perpetuates the gilded class'
The Merit Myth: How Our Colleges Favor the Rich and Divide America delivers a telling examination of the nation's higher education system and explores how some colleges drive the inequities they are meant to remedy. The book's authors Anthony P. Carnevale, Peter Schmidt and Jeff Strohl offer a framework for system-wide change.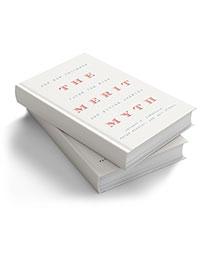 The Merit Myth  is the latest offering in a higher education book series from the nonprofit publisher The New Press. A 2011 Kresge grant to the publisher supported the development of the series which has explored key reform issues in postsecondary education, questions of access and success for under-represented students, and the role of higher education as an engine of social mobility in the 21st century.
"The Merit Myth delves deeply into the rampant dysfunction of higher education today and critiques a system that pays lip service to social mobility and meritocracy, while offering little of either," writes The New Press. "Through policies that exacerbate inequality, including generously funding so-called merit-based aid rather than expanding opportunity for those who need it most, U.S. universities—the presumed pathway to a better financial future—are woefully (and in some cases criminally) complicit in reproducing racial and class privilege across generations."
Carnevale, director of the Georgetown University Center on Education and the Workforce, and Strohl, research director at the Center, study the links between education, career qualifications, and workforce demands. Schmidt is a veteran education writer.
In a recent MarketWatch op-ed, the authors describe how recent federal supports to colleges could be used to spark institutional policy changes that make admissions and financial aid more equitable.
"We need to overhaul a system that perpetuates the gilded class and bars the door to almost everyone else," the authors write. "We can do this by transforming who goes to top colleges, the way universities are funded, and how they distribute financial aid."
The proposed framework for system-wide change includes reforming standardized admissions test usage; measuring colleges outcomes, not inputs; developing affirmative action plans informed by the relationship between race and class; and guaranteeing every student a public K–14 education (K-12 and two years of postsecondary education).
Other books in The New Press series include The Other College Guide, Lower Ed,  Never Too Late and the soon to be released Won't Lose This Dream. 
Kresge's Education Program works to promote postsecondary access and success for first-generation and underrepresented students, and students from low-income households, living in cities in the United States and South Africa.
"The promise of higher education as a path to increased social and economic mobility is one that should be kept for all students, not simply for white or well-resourced ones," said Bill Moses, managing director of Kresge's Education Program. "The reform framework outlined in The Merit Myth is a timely addition to discussions of how to address centuries of embedded racism and structural inequities, and restore higher education's promotion of social mobility."