New book explores dire impact of for-profit colleges on low-income students
The New Press publishes second book in Kresge-supported series
A new book exploring how the rise of the for-profit college sector has played a role in advancing inequality in the United States is available for purchase now from Kresge partner The New Press.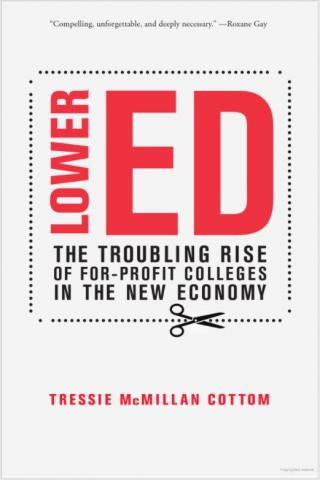 In Lower Ed, debut author Tressie McMillan Cottom – who at one time worked as a recruiter at two for-profit colleges -- examines the big-money industry and discloses the shrewd recruitment and marketing strategies at work in it.
Lower Ed's publication was supported in part by a $590,000 grant from Kresge's Education Program made in 2011 to nonprofit publisher The New Press to publish and promote a book series dealing with key reform issues in postsecondary education, focusing on questions of access and success for under-represented students and the role of higher education as an engine of social mobility in the 21st century. The first book, The Other College Guide, was published in 2015.
More than 2 million students are enrolled in for-profit colleges.
"McMillan Cottom delivers a comprehensive view of postsecondary for-profit education by illuminating the experiences of the everyday people behind the shareholder earnings, congressional battles, and student debt disasters," according to New Press. "The relatable human stories in Lower Ed -- from mothers struggling to pay for beauty school to working class guys seeking "good jobs" to accomplished professionals pursuing doctoral degrees -- illustrate that the growth of for-profit colleges is inextricably linked to larger questions of race, gender, work, and the promise of opportunity in America.
"Drawing on more than 100 interviews with students, employees, executives, and activists, Lower Ed tells the story of the benefits, pitfalls, and real costs of a for-profit education. It is a story about broken social contracts; about education transforming from a public interest to a private gain; and about all Americans and the challenges we face in our divided, unequal society."
Kresge's Education Program works to promote postsecondary access and success for low-income, first-generation and underrepresented students living in cities. Heavy student debt, as the book documents, is one of the major obstacles to student success,
"Without a strong regulatory environment, too many vulunerable students, especially those with low incomes, turn to the for-profit college system, where they accrue huge debts and start degree programs only to find weak support that ultimately leads to poor completion rates and dreams deferred," says Bill Moses, managing director of the Kresge Education Program, "We hope this book by the talented McMillan Cottom is a wake-up call for all who care about higher education outcomes for people with low incomes in our country."
The New York Times called it the "best book yet on the complex lives and choices of for-profit students."
Lower Ed is available for purchase now at bookstores and online retailers including Indiebound, Amazon and Powell's.