New $90M initiative will advance equitable infrastructure investments
Six regions across the U.S. will receive funds to ensure infrastructure investments help make their communities places where everyone thrives
Six metropolitan areas around the U.S. will share $90 million in grants and financing capital to fund investments in infrastructure and climate-resilience projects benefiting low-income communities as part of the Strong, Prosperous And Resilient Communities Challenge (SPARCC). SPARCC is a three-year initiative intended to amplify locally driven efforts to make communities more equitable.
Organizations in Atlanta, Chicago, Denver, Los Angeles, Memphis and the San Francisco Bay Area will each receive $1 million in direct grant and technical assistance funds over the next three years, along with access to an estimated pool of $70 million in financing capital and $14 million in additional programmatic support.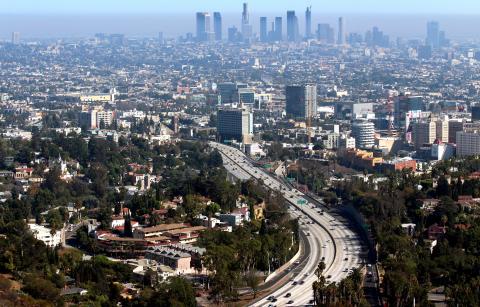 In each region, coalitions of community residents and public- and private-sector partners will lead the work funded by SPARCC. While each site is unique, all have proposed strategies to make their communities more prosperous and equitable, from influencing regional transit expansion and revitalizing existing transit hubs, to reshaping housing and land use. In each region, the SPARCC work will be led by multidisciplinary groups who are bringing together community residents, the public and private sectors, and local government to make sure that new infrastructure investments help make their communities places where everyone thrives.
Along with the work in the six regions selected, SPARCC's intention is for other cities and regions to adopt similar approaches in their communities and use successful projects in the initial six sites as models.
SPARCC is an initiative of Enterprise Community Partners, the Federal Reserve Bank of San Francisco, the Low Income Investment Fund, and the Natural Resources Defense Council, with funding support from the Ford Foundation, The JPB Foundation, The Kresge Foundation, the Robert Wood Johnson Foundation and The California Endowment. 
Over the next decade, trillions of dollars of public and private sector funding will fuel new investments in infrastructure, transit, housing, health, and preparing for the challenges of climate change. In the past, local and regional infrastructure investments have been made in ways that divided neighborhoods and limited opportunities for people of color and low income communities which is why these organizations have come together to ensure all people benefit from these major investments, regardless of race or income. 
More information on the initiative is available on the SPARCC website. You can also follow @SPARCCHub on Twitter.