Nearly 150 letters of inquiry on Opportunity Zones pour into Kresge, Rockefeller foundations
Foundations will move forward with select partners to support emerging Opportunity Zone funds
TROY, Mich. – The Kresge Foundation and The Rockefeller Foundation received 141 responses from fund managers from across the nation who are creating Opportunity Zones (OZ) funds and attempting to raise billions in new capital to spur a range of community development investments via this new tax benefit. The foundations issued a call for letters of inquiry related to work in designated Opportunity Zones back in June with the aim of finding projects that align with their institutional missions to ensure positive outcomes for America's low-income communities.
The funds will land in low-income census tracts across the United States that have been designated as Opportunity Zones by governors of the states. Investors can receive a reduction in capital gains tax plus additional economic benefits when they invest in OZ funds.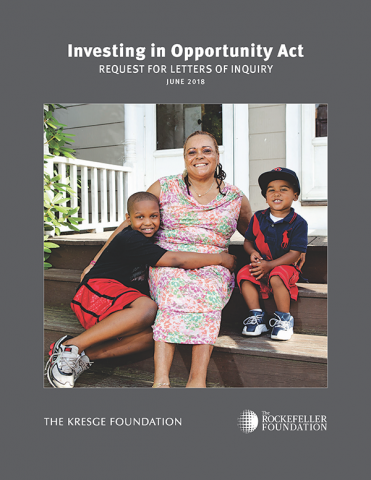 "We issued this request for letters hoping to receive a few dozen or so responses," said Kimberlee Cornett, managing director of Kresge's Social Investment Practice. "The amount of interest from fund managers open to partnering with philanthropy was far higher than we anticipated. At Kresge, our goal is to identify funds that are focused on truly driving positive outcomes in low-income communities and on shaping the Opportunity Zones market to be one that is mutually beneficial to investors and residents of these communities. We're continuing to work toward that goal."
"The number and quality of the responses is a testament to the enormous market interest and energy that exists around Opportunity Zones," said Lorenzo Bernasconi, senior associate director for Innovative Finance at The Rockefeller Foundation. "We are very excited to move forward with a select group of organizations to develop and showcase the potential of Opportunity Zones to drive new investment and measurable impact in areas of need across the United States."
The inquiries represented work in a broad spectrum of asset classes including real estate, venture, small business, private equity, green energy, infrastructure and more. Geographically, 20 applicants represented national funds, 11 were targeting regional investments, and 113 were looking to work at a state or local levels.
As of today, Kresge and Rockefeller have responded to all applicants indicating whether they will move forward to potentially receive either grant or impact investing support.
The foundations are designing a package of technical assistance that will allow selected organizations to receive advisory services on legal, accounting, reporting and capital raising issues relating to their proposed OZ Fund. In the first cohort, Kresge has identified five organizations to receive that package of support, and more may be added in the future. Additionally, the foundations will work with 15 applicants to further explore their social objectives and capital raising strategies related to OZ funds. 
In addition, Rockefeller and Kresge have engaged the Beeck Center at Georgetown University to write a report informed by the applications that identifies key trends and emerging themes to share with the broader community development field. It will be released in winter 2019.