National leaders share insight and best practices for delivering inclusive growth at "Building Opportunity for All" convening in Philadelphia
On October 15 in Philadelphia, elected officials, policymakers, experts, business and community leaders from across the country convened to deliver insights, best practices and shared experiences into creating inclusive economic growth. Held at The Kimmel Center, 'Building Opportunity for All,' was the first of several public summits hosted by The Atlantic and the Shared Prosperity Partnership, which is a collaborative effort of The Kresge Foundation, The Metropolitan Policy Program at Brookings, the Urban Institute and Living Cities, that seeks to promote growth in U.S cities equitably.
Margaret Low, president of AtlanticLIVE, welcomed guests to the event. Brookings vice president Amy Liu offered the keynote address, encouraging those in attendance to make inclusive economic growth not just a tagline, but the result of real efforts, noting that in an economy that prizes human capital every young person and adult is an asset.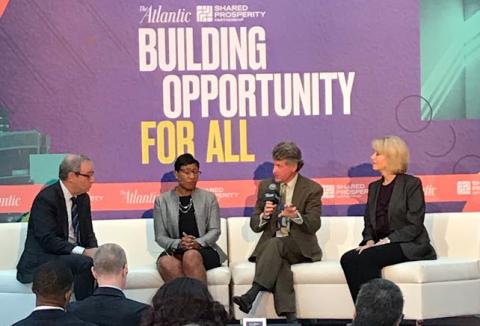 Kresge President and CEO Rip Rapson, in a panel about the role of philanthropy in creating opportunity, emphasized the importance of philanthropy balancing its role between working with the public sector yet maintaining an objective critical distance.
The event featured a discussion between The Atlantic senior editor Ron Brownstein and Philadelphia Mayor Jim Kenney which centered on how elected city leaders can work with the private sector and philanthropy to advance shared economic growth, prosperity and inclusion while also preparing the modern workforce for the coming wave of disruption brought on by automation.
Additional panels held throughout the morning examined the economic argument for the private sector to increase access to opportunity with participants from Siemens, SAP North America, and the Good Jobs Institute; training the future workforce and arming them with new skills for increasingly new jobs; and Rodney Sampson, Chairman and CEO of The Opportunity Hub joined a panel moderated by The Atlantic's assistant editor Priscilla Alvarez to discuss investing in entrepreneurs and innovation, with a focus on HBCUs.
John Fry, president, Drexel University and member of Kresge's Board of Trustees, concluded the morning's event in a conversation with author and journalist Kathleen Koch to talk about the role universities can play in transforming neighborhoods, delivering opportunity and supporting innovation. Fry also provided some insight on the upcoming Schuylkill Yards project and the part Drexel University played in helping to shape its development as an anchor institution within the community.
You can watch the full event video archive at: www.buildingopportunityforall.theatlantic.com
To learn more about the Shared Prosperity Partnership, visit www.sharedprosperitypartnership.org and follow on Twitter @SP2cities.