National health advocate David Fukuzawa to retire after 20 years at Kresge
Champion for working at the intersection of multiple programs to create opportunity for all people to achieve health and well-being
The Kresge Foundation today announced that David Fukuzawa, managing director of its Health Program, will retire next year after serving the organization for 20 years. Since joining Kresge in 2000, Fukuzawa, 68, has led the foundation's Health Program, which focuses on building equitable systems of health to create opportunities for all people to achieve well-being.
"When I joined Kresge in 2006, David most clearly articulated the need to stretch from our original capital challenge funding model into a foundation that could use its full spectrum of philanthropic capital to help nonprofit organizations tackle society's most intractable challenges," said Rip Rapson, Kresge president and CEO.
Starting his career as a youth worker and community organizer in Detroit and Chicago, Fukuzawa learned firsthand how the conditions of communities, schools and the environment in which people live affect their health and well-being. Those lessons informed his efforts to build out Kresge's holistic approach to health grantmaking.
"David recognized the undeniable impact that housing, education and the environment had on individual and community health. He has been a champion internally and across the philanthropic sector to elevate those intersections and to help communities provide safe, affordable housing, fresh food, clean air and primary care to support healthy communities," Rapson said.
One issue that Fukuzawa tackled early in his tenure at Kresge was the environmental health hazard that lead exposure posed to children. Under Fukuzawa's leadership, Kresge initiated a two year, $4 million "Getting-The-Lead-Out" campaign to raise national awareness of lead exposure risks – specifically developmental delays – for children. The campaign also supported ongoing community efforts in Detroit, Oakland, California and Newark, New Jersey for lead testing, abatement, advocacy and data collection.
Fukuzawa continued to build out the concentric circles of forces affecting individual and community health issues, and soon focused the program's grantmaking on the social determinants of health – the conditions in which people are born, grow, work, live and age, affecting their individual and neighborhood health outcomes.
"David is one of the most audacious and expansive thinkers I have ever known, let alone had the privilege to work with, said Ariel Simon, Kresge vice president and chief program and strategy officer. "His vision of philanthropy has married field-shaping insights – around moving health upstream and making the link between social determinants of health and economic development – with a profound moral core. That vision has produced a legacy that will continue to influence both the field of public health and the philanthropic sector for years to come."
While leading Kresge's Health Program, Fukuzawa has overseen the investment of more than $340 million in grants and loans to national and local organizations working to create social and physical environments that promote good health for their residents.
Fukuzawa has played a pivotal role in countless initiatives at Kresge, anchored by the Health Program's areas of strategic focus: partnering with communities to drive locally determined solutions and policies that create equitable conditions and improve well-being; accelerating the building of integrated health and human services systems to more seamlessly advance social and economic mobility; and supporting institutional investments in community health to contribute to healthy communities.
Some of his most significant contributions include:
Special Opportunities Initiative – In 2002, Fukuzawa helped establish the foundation's Special Opportunities Fund, which focused on building the capacity of high-impact organizations that reached underserved populations but were uncompetitive in the foundation's prior bricks-and-mortar funding strategy. He went on to manage the initiative, which can be seen as a precursor to Kresge's work today.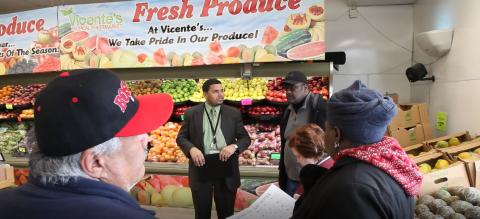 Healthy Futures Fund – In partnership with Kresge's Social Investment Practice, Fukuzawa encouraged the Local Initiatives Support Corporation (LISC) to develop affordable housing and Federally Qualified Health Centers (FQHCs) together in underserved areas. Knowing the obstacles that people with low-incomes face in accessing affordable primary health care, Fukuzawa wanted to make clinics a part of the landscape of where people live. To improve community health in this way, Kresge joined forces with LISC and Morgan Stanley to form the $200 million Healthy Futures Fund (HFF). "LISC hadn't done this before – conjoining health and housing," Rapson said. "And it was a real turning point for the foundation to use social capital in this new way. It was effective beyond imagination."
Multidisciplinary grantmaking – Fukuzawa became an early champion of multidisciplinary grantmaking due to his ability to envision how systems overlap and interweave. Kresge is among several foundations increasingly investing at the intersection of multiple programmatic perspectives, through initiatives such as Fresh, Local and Equitable (FreshLo). A collaboration of Kresge's Health and Arts & Culture programs, FreshLo funds neighborhood-scale projects demonstrating creative, cross-sector visions of food-oriented development. The Kresge Foundation is the first national funder to intentionally and equitably integrate food, art and community to drive neighborhood revitalization at this scale. "David's visionary sense of how systems intersect and connect to community development helped lay the groundwork for initiatives like FreshLo," Rapson said.
Integrating health and human services – A catalyst for cross-sectoral change, Fukuzawa partnered with Kresge's Human Services Program to encourage investments that bridge the health and human services sectors. His goal is to create more seamless, effective and sustainable interventions that advance social and economic mobility and improve the health and well-being of people and communities with low-incomes. 
Before retiring in 2020, Fukuzawa will assist in the leadership transition of the Health Program to a new managing director and will provide other leadership support to the broader foundation. Kresge will begin a national search for Fukuzawa's replacement this fall.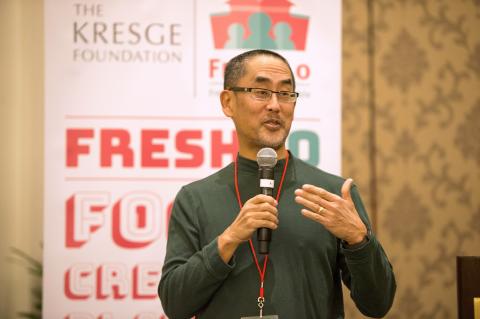 Prior to Kresge, Fukuzawa was a program officer at The Skillman Foundation in Detroit where he focused on child and youth health and was responsible for a major initiative to address the lack of safe and accessible out-of-school opportunities for Detroit youth, a major factor in the city's incidence of violence, delinquency and substance abuse. In that role, he also helped develop Michigan's first statewide childhood immunization registry.
Prior to his career in philanthropy, Fukuzawa served as director of human needs at New Detroit, Inc. (NDI), where he was responsible for policy analysis and development, particularly in the areas of welfare reform and health care reform. He drafted NDI's policy statement for health care reform and was the organization's liaison to the Michigan Legislature on various health-related issues. He also administered a Robert Wood Johnson Foundation grant, which established the first school-based health centers in the Detroit Public Schools.
A Yale University graduate, Fukuzawa also holds a master of divinity degree from Catholic Theological Union in Chicago and a master of science in administration degree from Central Michigan University. He has published dozens of articles about urban issues and population health in leading philanthropic and peer-reviewed journals, including "Reconnecting Health and Housing: Philanthropy's New Opportunity" – with former Kresge senior fellow and housing expert Fred Karnas – in the June 2015 edition of Environmental Justice.