Monograph celebrates life and art of Kresge Eminent Artist Gloria House
House has been an activist and educator while penning 'poems of perseverance, praise and protest'
"A Life Speaks," a monograph on the life and art of the 2019 Kresge Eminent Artist Gloria House, has been released by the foundation.
The monograph includes an overview of House's "immense five-decades-deep legacy as a poet, human and civil rights activist, organizer and educator."  House was part of the Free Speech Movement at the University of California, Berkeley and a civil rights worker in the Deep South before moving to Detroit where she has become a force as a poet, an educator and a progressive activist.
"She is celebrated for poems of perseverance, praise and protest while leading a life in constant pursuit of justice and healing," writes Nichole Christian, the book's creative director, editor and lead writer. She quotes House saying, "I'm not able to separate the artist's work from the political work. It's where the poems come from."
In January, House became the 11th metropolitan Detroiter named as a Kresge Eminent Artist in recognition of lifelong contributions to their art form and to the region's cultural community. In addition to the creation of the monograph and a video, the award comes with a $50,000 cash prize. (Read the announcement of her award.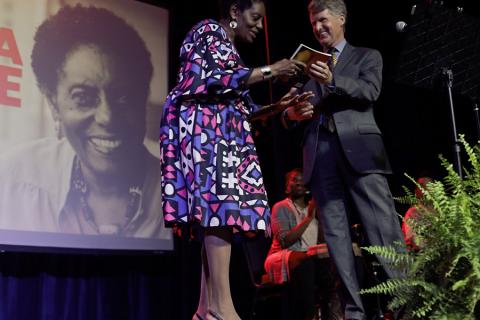 Photo by Cybelle Codish for The Kresge Foundation.
At a book release party at Detroit's Garden Theater Thursday night, Kresge President Rip Rapson called attention to the fact that House sets a high standard for the second decade of the Kresge Eminent Artist program, just as the inaugural awardee, visual artist Charles McGee, set the bar high for the first decade. (The other awardees to date have been playwright Bill Harris, late trumpeter Marcus Belgrave, poet-publisher Naomi Long Madgett, impresario David DiChiera, photographer Bill Rauhauser, textile artist Ruth Adler Schnee, photographer Leni Sinclair, harpist-educator Patricia Terry-Ross and jazz saxophonist Wendell Harrison.)
House read from her poetry at the event with piano accompaniment of Pamela Wise and percussion by Aisha Ellis. (Wise and Ellis, respectively, have received a Kresge Artist Fellowship and a Gilda Award. Both awards for Detroit-area artists are funded by The Kresge.) The applause was enthusiastic, sometimes breaking out mid-poem.
The monograph was created by the team of Christian and art director-graphic designer-photographer Patrick Barber under the supervision of Kresge's Communications and External Affairs Department. Christian has written for a number of papers including The New York Times and Detroit Free Press. Barber's career has included managing the art department for Timber Press. 
The book also includes essays by journalist Larry Gabriel , writer-poet Leslie Reese and artist-organizer Ill Weaver/Invincible – in addition to a selection of House's poems and short appreciations from a range of artists, activists and others.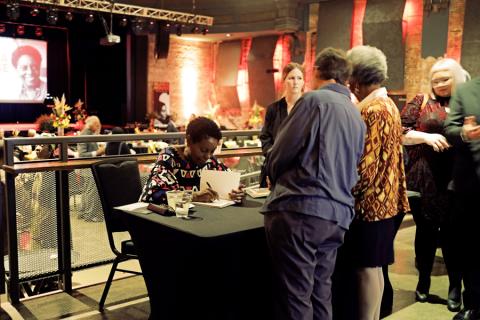 Photo by Cybelle Codish for The Kresge Foundation
In one of those appreciations, Juanita Moore, former president of Detroit's Charles Wright Museum of African American History, writes, "People around the country know her work and her words, and the way she's put her life on the frontline of important movements, all so that others could see the importance of their voices and their own potential to change communities, maybe change the country."
The monograph is available for download and can be requested at no cost while supplies last by sending an email to monographs@kresge.org. All past monographs are available for download and some are still available in hard copy here.