Mission, Money & Markets: Investment in Cincinnati authority supports micro commercial redevelopment
In 2016, Kresge made its first investment into a Development Finance Agency, with a $5 million program-related investment to the Greater Cincinnati Redevelopment Authority.
This week, Kresge Social Investment Managing Director Kimberlee Cornett interviewed GCRA's President and CEO Laura Brunner to find out how this unique organization became a recipient of an impact investment and how it views its role as both an industrial and business developer as well as a neighborhood developer in Cincinnati.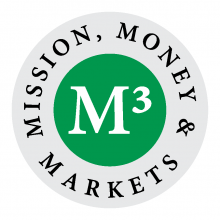 KIMBERLEE: The Greater Cincinnati Redevelopment Authority is legally a port authority. But your organization operates differently and takes on things that are unusual for most port authorities.
LAURA: Port Authorities' legislation differs across the country. In Ohio, the legislation expanded originally from maritime to include operations of airports and then public finance and then ultimately to a very broad definition of tools to create economic development.
When I started at the Redevelopment Authority five years ago, we had a relatively blank slate. We had resources and broad power, and we set out to determine how to make the biggest impact in our region. For the first three years, we focused on the management of our county land bank and its powers to clean up blight and to restore real estate back to productive use. There were many properties locked in tax and mortgage foreclosure because of the recession, which brought down so many neighborhoods across the country.
Cincinnati didn't suffer as much as Detroit or Cleveland, but we had a significant need and set out to raise approximately $10 million dollars of funding for demolition capacity in our county. We focused on being good stewards of those funds, and we began to invest in the redevelopment of those neighborhoods to expand opportunity and restore prosperity.
KIMBERLEE: If we drove through those neighborhoods today, what would we see that has changed during your investment?
LAURA: In the neighborhood of Evanston, the community had significant concentrations of foreclosure and vacancy. There had not been a private home sale for nine years. There were no sales comps. The people there couldn't sell their homes and couldn't borrow money to fix their homes, which obviously perpetuates neighborhood decline.
We worked to develop a plan for 10 years. Using the land-bank tools, taking tax-delinquent properties and acquiring others, we amassed an inventory of about 30 homes. Our goal and belief was that once we redeveloped those 30 homes, the private sector would fall in behind us – we will have catalyzed the private market again.
On a parallel path, we worked with police and identified where crime hot spots were in the commercial district. There, we acquired properties, redeveloped them and put them back on the market or demolished them, putting the land on the back burner for future development.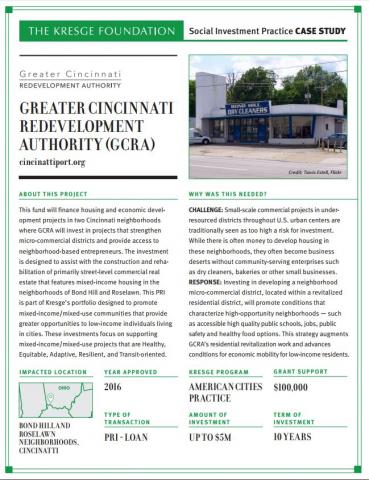 During the last three and a half years, we have completed 20 homes. These homes are a century old, 3,000-square-foot homes that we have completely taken apart and put back together so that they'll last another 100 years. Our first house sold for $80,000; we lost $120,000 on that house. And our 20th house, we just closed recently for $272,000. We have brought a market back. There are comps. Now, when you drive through, there are for-sale signs.
KIMBERLEE: What does the commercial side of your redevelopment efforts look like?
LAURA:  In Bond Hill, a community five miles north of downtown, the housing market was relatively stable. But there was a high concentration of blighted commercial properties. We purchased a 440,000 square-foot mall originally owned by a church. The property had become a stranglehold on the church due to delinquent taxes and deferred maintenance. We purchased that property and demolished it. We have 25 acres that we are patiently marketing to attract the right buyer or tenant that will be an asset to the community.
Using our DREAM (Driving Real Estate to Accelerate Microenterprise) Loan Fund that was seeded by the Kresge investment, our next big move in that community is to build a 10,000-square-foot, high-quality retail space in the business district, supporting mixed-income, mixed-use projects.
KIMBERLEE: You are thoughtful about the types of commercial tenants you bring a community. Talk a bit about that.
LAURA: We will attract neighborhood-serving businesses, such as the coffee shops, laundromats, a bakery, and arts and cultural organizations – those types of small business. We can make it a place for entrepreneurs to root. In most of these business districts, the retail space that we are taking out is more square feet then we're going to put back. We're trying to increase community spending back into the neighborhood and provide places for people to work. We're recruiting the entrepreneur who may already be in the neighborhood and is community-minded.
KIMBERLEE: I think the authority is unique among development finance agencies for the types of project you take on. How did you get your board to buy in?
LAURA: We framed it as 'Go big or go home.' We decided to go after the largest impact for opportunity in the region and then figure out where the funding was going to come from. We debated for a long time whether industrial revitalization and neighborhood redevelopment fit together, whether we should do just one or the other. I really tied it together as being about bringing back the middle class in our region. Manufacturing built the middle class, and it's unfortunate that we lost those jobs. But the people stayed in these neighborhoods. I've heard a rallying cry that we've got to go to those places that we purposely left behind through disinvestment and federal policy like redlining. It's one thing to go in to clean up a neighborhood, but you're not actually helping the people who live there if you're not providing jobs.
Kimberlee Cornett is The Kresge Foundation's managing director, Social Investment Practice.