LIFT Talent Funder Convening Report shares how 21 foundations are supporting nonprofit leaders' DEI capacity
​Editor's note: A new Foundation Review case study, co-authored by Kresge's Caroline Altman Smith and Carla Taylor of Community Wealth Partners, takes a deep dive into the FUEL (Fostering Urban Equitable Leadership) Program and why funders should invest in grantees' talent and leadership development.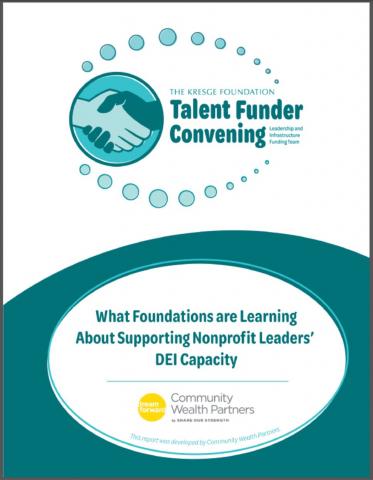 The Kresge Foundation recognizes nonprofits must have strong leaders who are equipped to advance racial equity in order to achieve meaningful outcomes in their organizations and communities.
To gain greater awareness of how funders across the country are helping to build grantee capacity around talent and leadership development with a racial equity lens, Kresge's Leadership and Infrastructure Funding Team (LIFT) hosted a Talent Funder Convening in December of 2019. A total of 21 funders met to share peer learnings and discuss their efforts to support nonprofit leaders' diversity, equity, and inclusion (DEI) capacity building.
Download the LIFT Talent Funder Convening Report
Community Wealth Partners, a social sector consulting firm, facilitated the convening and developed the evaluation report to summarize key takeaways from funders. It includes recommendations and examples from a variety of approaches, as well as challenges and ongoing questions the field is grappling with.
"We wanted to host this convening to help share what we've learned through our FUEL (Fostering Urban Equitable Leadership) Program, and learn from other foundations' experiences," said Caroline Altman Smith, deputy director of Kresge's education program. "It can feel like a luxury to step back and take time to reflect on the work, and we are gratified that so many funders were willing to travel to Detroit to have frank conversations about how they structure capacity building support, discuss what's working, and identify what big questions remain about how to be most supportive of grantees."
Smith also noted the convening is in direct response to feedback from grantees.
"Our grantees understandably wonder sometimes if funders operate in a vacuum," she said. "They have asked directly if we all talk to one another. And yes – we do. This convening is one example of that collaboration and shared learning space. Even though we all come at the work a bit differently, we're still coming together to share peer feedback and advice on strategies that impact our decision making."
Key Findings
While funders explored and shared learnings on their approaches to support talent and leadership through a racial equity lens, six common recommendations emerged from the Funder Convening:
In Work with Grantees
Right-size outcome expectations to be commensurate with the amount and duration of support provided. Advancing equity inside organizations is complex, ongoing work. Set reasonable expectations for what an organization might accomplish in a grant cycle, and help grantees set reasonable expectations for themselves.
Create space for sharing and learning about what's working and what's not. Funders can use their convening power to facilitate learning among grantees, service providers, and other funders to help deepen understanding of promising practices and helpful tools.
Trust that grantees know best what support they need and what difference it is making. As with any capacity-building support, grantees should have a voice in deciding what they need, what changes they hope to see as a result, and how they will know if the work is having the desired effect.
Share openly and honestly with grantees about your internal equity work. This is critical for building trust and credibility with grantees. Funders should show humility and vulnerability if they expect the same of their grantees.
In Internal Work
Continue making the case for greater investment in building DEI capacity. Some described current levels of investment in grantees' DEI capacity as "a drop in the bucket," so more case-making could yield greater investments.
Consider who is receiving support and who is not. Is the foundation working to advance equity among current grantees, regardless of who they are? Does the foundation want to correct for historical inequities by giving resources to those who have previously not had a seat at the table? Or, are both approaches required to achieve the foundation's goals?
In a recent blog published by Community Wealth Partners, President Sara Brenner reminds funders that efforts to invest in strengthening leaders and organizations have merit as research has shown capacity building of all types can produce positive, long-term financial results for nonprofits.
"What would it look like to have a healthy capacity-building program ecosystem? How would our approach to capacity building be different?" Brenner asked readers. "The Kresge Foundation's Fostering Urban and Equitable Leadership program – made up of a group of courageous capacity builders and nonprofits – is beginning to work toward an ecosystem like this."
Read Community Wealth Partners' blog: 4 Emerging Practices to Build a Strong Capacity-Building Program Ecosystem