Learn about our recent Opportunity Zones investments in upcoming webinar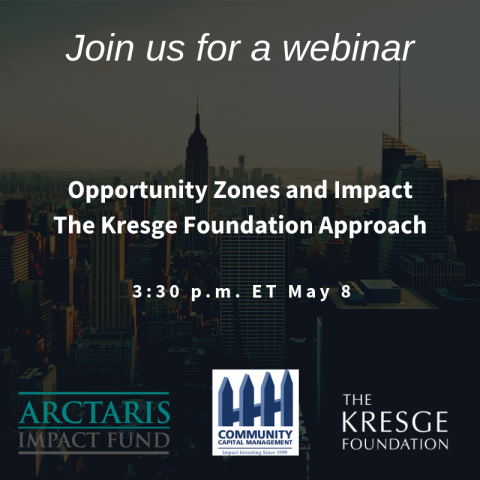 Learn how Kresge has partnered with two impact investing firms – Arctaris Impact and Community Capital Management – to support Opportunity Zones funds that are setting the standard for putting positive community impact at the front of their efforts. In March, Kresge's Social Investment team made two guarantee commitments totaling $22 million to back the two firms' Opportunity Zone funds, which together are expected to raise $800 million in capital to invest in low-income communities. 
In exchange for Kresge's guarantee protection, the two firms agreed to covenants around transparency, community involvement and impact, and metrics and reporting that are yet unseen in the Opportunity Zones space. See an example term sheet here. 
Speakers will share the path they walked to get this partnership off the ground and offer insights and advice to other philanthropic and market leaders who are eager to see similar impact-certified funds take shape in their communities.
Krege speakers include Kresge's Social Investment Managing Director Kimberlee Cornett and Social Investment Officer Aaron Seybert. They'll be joined by Jonathan Towers, founder and managing partner at Arctaris Impact, and David Sand, cheif impact strategist at Community Capital Management. 
Register for the webinar, which will take place from 3:30 to 4:30 p.m. ET on Wednesday, May 8 here: http://bit.ly/OppZoneWebinar
Participants will have the opportunity to ask questions. The webinar will be recorded and shared on Kresge's YouTube page for future viewing. Have a question? Share it with us by emailing Krista Jahnke at kajahnke@kresge.org. Follow the Social Investment team on Twitter @kresgesocinv.