Leaders gather to discuss strategies for advancing equity and inclusive growth in cities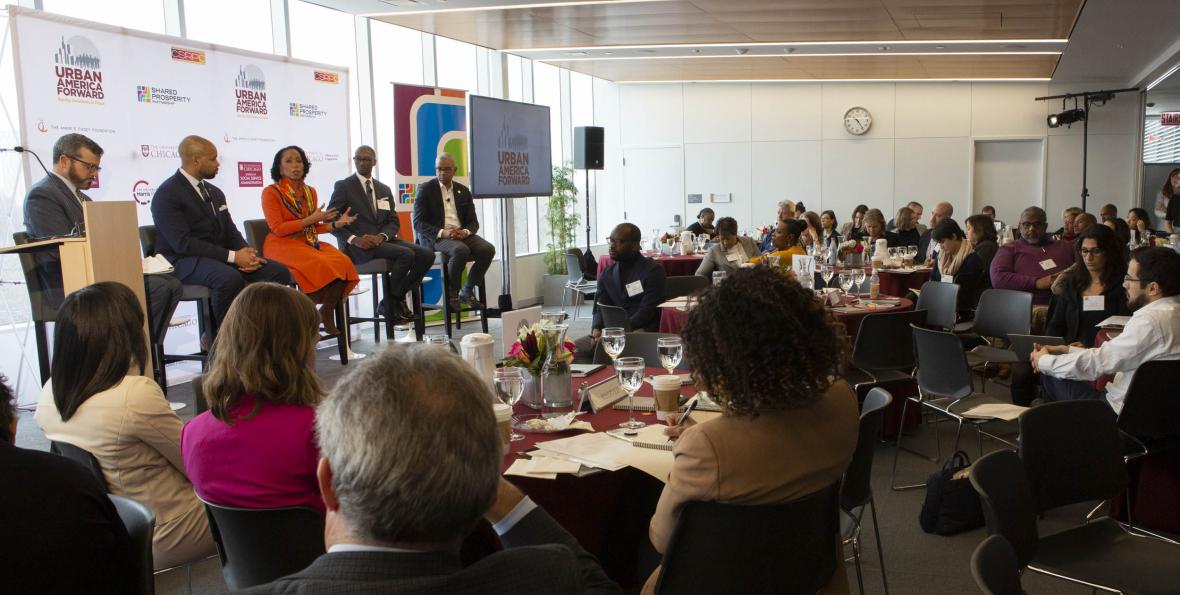 Beth Rooney for University of Chicago Office of Civic Engagement
Civic, community development, business, and philanthropic leaders from around the country gathered for the Urban America Forward: Equity Solutions in Place conference at the University of Chicago on November 19 and 20. The two-day event featured in-depth, candid exchanges of insights, methods and tools for increasing equity and improving economic mobility in cities.
Among the 80 attendees were representatives from each of eight Shared Prosperity Partnership cities: Arlington, Va.; Chicago; Cleveland; Fresno; Kansas City, Mo; Memphis; Milwaukee; and Minneapolis-St. Paul.  Equity Solution in Place featured a series of panel discussions and TED-style talks delivered by city leaders, researchers and equity practitioners. Attendees also participated in solutions workshops designed to solicit insights to take back to their communities.   
During her talk, Tawanna Black, founder and CEO of the Minneapolis-St. Paul based Center for Economic Inclusion, described the need to disrupt systems in order to achieve sustained equitable economic progress in distressed communities. "We need to start by calling out institutional structures that can't get it done. The status quo isn't working," Black said.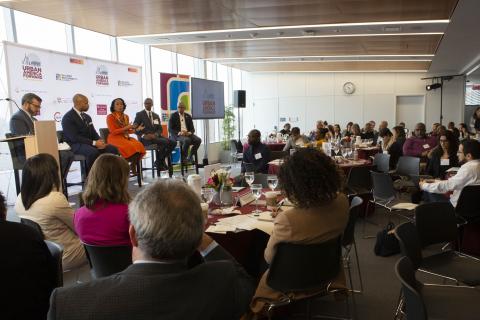 Beth Rooney for University of Chicago Office of Civic Engagement
The Center's Indicators of an Inclusive Regional Economy provides a multi-dimensional illustration of economic inclusion in the Minneapolis-St. Paul region by disaggregating key measures by race, place, and income.
Jennifer Owens, president and CEO of the Arlington Community Foundation, described how her community engages the private sector in efforts to advance shared prosperity. "The speed of business requires us to be nimble and to know what we want," Owens said.
In April, as part of its Shared Prosperity initiative, the Arlington Community Foundation hosted a roundtable discussion with local business and community leaders to discuss, among other topics, strategies to improve access to affordable housing. Last week, the foundation announced plans to use a $3 million donation from Amazon, which will locate its second headquarters in the city, to create committed affordable apartments for Arlington households with an annual income of $36,000 or less.
The Shared Prosperity Partnership—a collaboration of The Kresge Foundation, the Brookings Metropolitan Policy Program, the Urban Institute, and Living Cities—convenes local leaders to spark dialogue about challenges to inclusive growth and to support locally-driven solutions. National partners then work alongside city representatives over a period of time to provide data, research, and access to national experts, networks, and financial resources. 
The Shared Prosperity Partnership is supported by Kresge's American Cities Program.
In opening remarks, Chantel Rush, senior program officer with Kresge's American Cites Program, described the foundation's support for place-based efforts to advance shared prosperity. "We do this work because we firmly believe that while America is a land of plenty, there simply is not enough in the hands of many Americans," Rush said. "This is an issue in every city in America. It negatively impacts every one of us."
Attendees also included representatives from Southern Cities for Economic Inclusion, a cohort of seven cities dedicated to advancing economic equity for low-income communities and communities of color. The cohort is supported by the Annie E. Casey Foundation.
The Urban America Forward program is a partnership between the University of Chicago Office of Civic Engagement, Center for the Study of Race, Politics and Culture, School of Social Service Administration and Harris School of Public Policy. Urban America Forward combines a racial equity framework with evidence-informed urban policy and practice.