Kresge's in-class visit garners interest for internship program
After just a year, The Kresge Foundation Investment team's guest lecture program at Wayne State University is already paying dividends.
It began as an effort to share information with students about opportunities in the institutional investments community and has evolved into an analyst recruiting tool. Last fall, members of the Investment team visited Professor Brandon Tasco's Security Analysis and Portfolio Management class, where KeVaughn Jackson, a senior, was enrolled. Afterward, Jackson followed up and applied for Kresge's summer internship program, and the Investments team welcomed him as a summer intern in early June.
John Barker, a managing director in the Investment Office, says the team hired Jackson because of his academic success and analytic skill.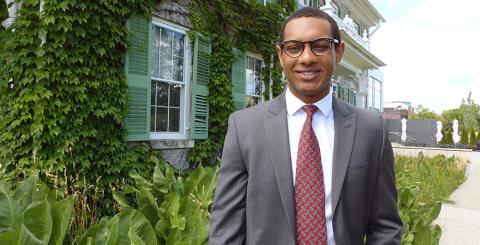 "We were immediately impressed with his thoughtful questions and interest in the investment world," Barker said.
Jackson, originally from Grosse Pointe, Michigan, is pursuing a double major in finance and accounting. The 22-year-old was interested in the 10-week internship program because it could expose him to a broad range of specialties. He is spending the summer researching crypto-currencies and completing an analysis of fees paid to the foundation's public equity managers. He's also attending meetings with hedge fund and private equity managers, and learning the soft skills of the investing business.
Additionally, Jackson says he's gaining a better understanding of philanthropy and grantmaking. He's also interested in gaining experience in the foundation's use of social investments, specifically how they can be applied to help cities.
Jackson says working in southeast Michigan is important to him. His previous internship in the Detroit Mayor's Office gave him more insight to the city's inner workings, including some partnerships with Kresge. Jackson says he wants to be a part of the continuing change.
"I've seen a tremendous shift in attitudes and ideas, but I think the work being done and ideas can only go so far," Jackson said. "There has to be some financial backing, and I think Kresge is kind of a leader in that space, especially in Detroit."
Barker says it's thanks to the well-received WSU lecture series that the foundation has connected with up-and-coming investment students like Jackson.
"It's a tremendous recruiting tool for us," Barker said. "We not only have a chance to interact with the top finance and economics students at Wayne State each semester, we're also able to showcase the truly unique opportunity our analyst program offers to recent graduates."