Kresge welcomes Richard Buery Jr., architect of NYC's Pre-K for All, as a foundation trustee
Statement from Kresge President and CEO Rip Rapson
The Kresge Foundation is proud to share the news that Richard Buery Jr. has joined our Board of Trustees.
Richard brings a wealth of experience and broad perspective on a number of issues to the board, with a particularly deep interest in early childhood education and higher education access and success. He promises to be a superb steward of our endowment, mission, and legacy.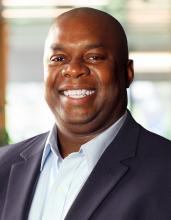 Richard is currently chief of policy and public affairs at the KIPP Foundation, which trains and develops outstanding educators who teach nearly 100,000 students at the early childhood, elementary, middle, and high school levels across a network of 224 public charter schools in 20 states and in the District of Columbia. Among Richard's responsibilities is advocating for policies that make it easier for students to afford college and overcome other barriers to success. 
Prior to joining KIPP in 2018, Richard served as a deputy mayor to New York City Mayor Bill de Blasio. He led the launch of Pre-K for All, a free, full-day Pre-K program for every 4-year old in the city, and ThriveNYC, a comprehensive effort to improve the mental health of New York residents. (Politico magazine hailed Pre-K for All as Mayor de Blasio's biggest achievement of his first term.)
Richard's involvement in advancing quality educational opportunities traces back to his days as a Harvard undergraduate, when he founded a summer enrichment program in Roxbury, Massachusetts; he also taught fifth grade at an orphanage in Zimbabwe.
Following graduation from Yale Law School and a brief stint as a civil rights attorney, Richard founded or co-founded a succession of initiatives: iMentor, a national college access program; Groundwork, which supports the education of public housing residents in Brooklyn, New York; and Children's Aid College Prep Charter School in the South Bronx. 
Our Board Chair, Elaine Rosen, observed of Richard: "He has not only bolstered the efforts of existing institutions, but also identified gaps along the way and created platforms to ensure young people have an equitable path to an education." 
The Board search committee – led by Trustee Cynthia Kresge, great-granddaughter of our founder Sebastian S. Kresge – concluded that Richard's combination of experiences, passion, temperament, and skills made him a perfect addition. He will serve a 4-year term, which, per our governance rules, may be extended to a maximum of 16 years.
"As it was for me, I believe education is still one of the surest ways to upward mobility in our society," Richard told us. "I'm excited for this opportunity to support The Kresge Foundation's efforts to achieve greater equity and opportunity for all."
If my tone hasn't made it clear, the excitement is mutual.