Kresge shares innovative approaches to create opportunity at grantmakers gathering
A suite of innovative approaches for using social investments, arts, food and culture as tools to create opportunity for low-income communities was shared by The Kresge Foundation during the recent  Grantmakers in the Arts (GIA) annual conference.
Kresge-led sessions included exploration of the foundation's record-shattering Fresh, Local & Equitable initiative and a separate session on how social impact investments can help accelerate opportunities for vulnerable populations through Creative Placemaking activities.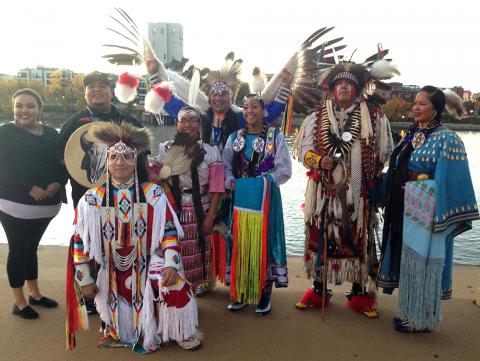 The conference, held Oct. 16-19 in St. Paul, Minn., drew more than 400 arts grantmakers, representatives of the private and public sectors to explore issues as varied as support for individual artists, infusing racial equity into arts grantmaking and using arts as a tool to help solve civic problems.
"We were happy to both share some of the exciting work we're doing, and to learn from our arts funding peers across the country," said Regina R. Smith, managing director of Kresge's Arts & Culture Program.
A full-to-capacity session, "Social Impact Investing: Lessons for the Field," was moderated by Kim Dempsey, deputy director of Kresge's Social Investment Practice. More than 50 representatives from private, community and family foundations as well as arts councils participated in the workshop. It explored how investment tools like low interest loans and guarantees can be critical to advance Creative Placemaking – which is the focus of Kresge's Arts & Culture Program – and attract additional capital that strengthens operations and scales up programs.  
Panelists included Kate Barr, executive director, Nonprofits Assistance Fund (NAF); Douglas Craven, director of corporate advancement for the Economic Community Development Institute (ECDI) and DeAnna Cummings, CEO of Juxtaposition Arts.  Both NAF and ECDI are grantees through Kresge's C4 program:  Catalyzing Creativity and Culture through CDFIs; an initiative co-developed by Arts & Culture and Social Investments in partnership with the Surdna Foundation.  NAF was recently approved for a follow-on program-related investment to grow its initiative, which provides nonprofit Creative Placemaking organizations with needed working capital, while helping to build and stabilize those same nonprofits' financial strength.  Juxtaposition Arts is a grantee of the Arts & Culture Program and provides innovative programming that infuses arts and culture into community development activities in and around the organization's North Minneapolis neighborhood.
A much different but equally innovative approach was explored during the Kresge-led session "Fresh, Local and Equitable (FreshLo), Food as a Creative Platform for Neighborhood Revitalization." Close to 50 people heard how, through FreshLo, Kresge is the first national funder to intentionally and equitably integrate food, art and community to drive neighborhood revitalization at significant scale.
Some 26 organizations received planning grants this year to design initiatives merging health and arts and culture into neighborhood revitalization. The goal is to reduce health disparities and embed Creative Placemaking – the integration of arts, culture and design into community development – into catalytic local projects.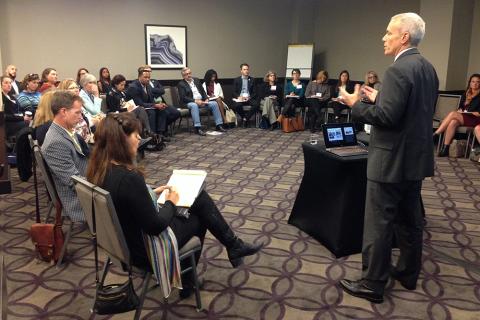 "Our Arts & Culture and Health teams noticed that around the nation organizations were blending health and arts," said panelist Chris Kabel, senior program officer with Kresge's Health Program. "The response to the FreshLo opportunity was overwhelming." The 528 applications for FreshLo support shattered Kresge's all-time record for responses to a grant opportunity.
Lyz Crane, deputy director of ArtPlace America, who moderated the panel said, "For many people, food and culture have always been inextricably linked. But foundations haven't often made that link." Until now.
The FreshLo team is working to share lessons learned to the broader health and arts fields, including applicants whose projects were deserving, but not selected for the initial FreshLo grants said panelist Christa Drew of DAISA Enterprises, a consultant to Kresge on the initiative.
In addition to Drew and Kabel, the panel included David Chavis of Community Science, which is doing evaluation for FreshLo.
At the close of the conference, Smith and George Jacobsen, Senior Program Officer of Kresge's Detroit Program, announced that Detroit would be the location for the 2017 GIA Conference.