Kresge provides $1.35 million to Michigan College Access Network, supports efforts to boost college access and completion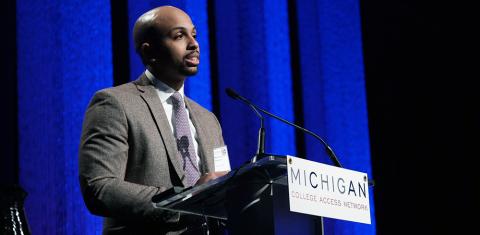 A $1.35 million Kresge Foundation grant to the Michigan College Access Network (MCAN) will support the organization's efforts to help Michiganders pursue and succeed in postsecondary education. Edward Smith, program officer with Kresge's Education Program, announced the grant at MCAN's ninth annual conference in Lansing, Michigan recently.  
"There is no question that MCAN's strategic efforts to expand college access and success throughout the state have helped boost Michigan's postsecondary attainment rate," said Caroline Altman Smith, deputy director of the Education Program at The Kresge Foundation. "MCAN is an outstanding organization and we're proud to invest in its dynamic statewide efforts on behalf of all students."
Since 2010, MCAN has worked to increase college readiness, participation and completion rates in Michigan, particularly among low-income, first-generation and minority students. As Michigan's only college access coordinating body, MCAN is the leading convener, capacity-builder and advocate for a comprehensive college-going agenda. MCAN's track record of impactful programs and its focus on low-income and underrepresented students has made the organization a critical partner in Kresge's home state of Michigan. 
In 2008, 35.7 percent of Michigan's working-aged adults possessed at least an associate degree. Today, 45 percent have a postsecondary credential (high-quality certificate, associate, bachelor's, or advanced degree). That still trails the national average of 47.6 percent.
"We are honored The Kresge Foundation recognizes and believes in our core mission to increase the number of students pursuing higher education in Michigan," said Brandy Johnson, MCAN executive director. "We believe postsecondary education is a necessity and are grateful for The Kresge Foundation's continued generosity. This grant will help us strengthen existing programs and propel us even further over the next two years."
Today's announcement builds on previous grantmaking  from Kresge and will support MCAN's core programs and operations. The two- and one-half-year grant will begin in April 2019.