Kresge powers new investment course at Oakland University
Business students manage $2M portfolio to gain real-world investment experience.
The Kresge Foundation and Oakland University officials announced a $2 million student-managed investment fund that complements a new course designed to teach the essentials of portfolio management, stock selection and portfolio evaluation. One of the largest of its kind in Michigan, the fund has been carved out of Kresge's $3.5 billion investment portfolio and is intended to provide real-world investment experience to OU undergraduates while exposing them to local career opportunities in investment management.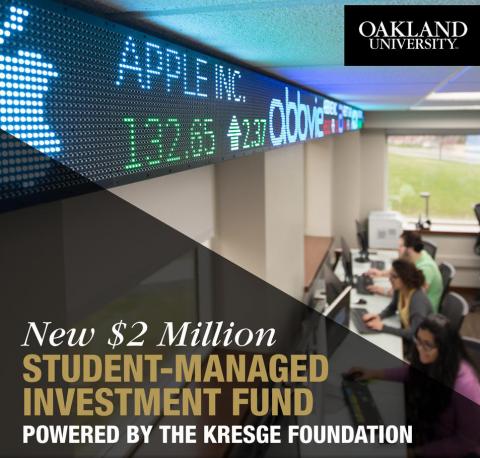 The 400-level business course, Managing Investment Funds, commenced this fall semester at OU's main campus in Rochester, Mich. The class is held in the university's data analysis lab, which is equipped with professional financial tools that include 10 dual-screen Bloomberg terminals and a real-time stock market ticker. Finance Professor Ranadeb Chaudhuri will teach securities-analysis techniques and investment approaches used by professional investors. Students will also learn how to use the Bloomberg online trading platform system to study individual equities, stock market indices, fixed-income securities, currencies, commodities, futures and foreign exchange rates.
Students will apply their coursework by researching and analyzing publicly traded securities listed in the S&P 500 Index, and will formally present their investment recommendations to a class advisory board. The board, made up of investment professionals from Kresge and Detroit-area companies, will serve as a sounding board to review, challenge and fine tune the students' recommended portfolio.
Rob Manilla, Kresge's vice president and chief investment officer, said the foundation created the student-management investment fund to bolster a talent pipeline of candidates to fill local investment jobs.
"The curriculum and hands-on experience offered in this class will better prepare OU graduates for the job market," he said. "And by exposing students to a broader range of investment roles, we are optimistic that we will be able to retain our locally trained talent – who typically head to New York City for their first professional experience – to explore and fill the many rewarding job opportunities that exist within metro Detroit's public, private and philanthropic sectors." Manilla holds a bachelor's degree in finance from OU and is a member of its School of Business Administration's Board of Visitors.
Students will monitor the portfolio throughout the semester and make buy, sell and hold recommendations to Kresge based on the performance of their selected stocks. Advisory board members will also supplement the class curriculum by serving as guest lecturers and sharing personal experiences in the asset-management profession. A member of Kresge's investment team will officially conduct the stock transactions.
"This collaboration with Kresge will allow us to provide Oakland business students with an outstanding real-world experience," said Michael A. Mazzeo, dean of OU's School of Business Administration. "The challenging curriculum will combine the very best blend of investment and portfolio management theory with the experience of working as a member of an investment team. We thank The Kresge Foundation, and know that this partnership is yet another way Oakland business students can get the resume-quality experience that gives them a distinctive edge in launching their careers."
"Today's announcement illustrates Kresge's commitment to use a variety of financial tools to address upstream constraints – in this case, the small population of investment graduates available to fill local job opportunities," said Kresge Foundation President and CEO Rip Rapson.  Earlier this month, the foundation established a $350 million pool dedicated to provide debt, equity, guarantees and deposits to investment projects that further the foundation's mission and national programmatic priorities. "Our Investment Office's creativity to attract students to local careers in asset management, and OU's ingenuity to craft a curriculum that prepares students for real-life opportunities, is a great example of how philanthropic capital can support communities."
To learn about the student-managed investment fund, curriculum and data analysis lab, please visit oakland.edu/business.
Read remarks by Rapson and Manilla at the announcement of the fund.