Kresge named winner of Council of Foundations, HUD award for public-private partnership
Foundation awarded for its work on single-family mortgages in Detroit
The Council of Foundations named The Kresge Foundation one of 10 winners in the 2017 Secretary's Award for Public-Philanthropic Partnerships at its annual conference in Dallas.
Kresge was recognized for its role in the Detroit Home Mortgage initiative, which seeks to help increase the number of home buyers who can purchase a home using a mortgage and to close appraisal gaps in neighborhoods across the city.
The Department of Housing and Urban Development (HUD) Secretary's Award for Public-Philanthropic Partnerships recognizes excellence in cross-sector partnerships that increase the quality of life for low- and moderate-income residents across all American geographies – urban, suburban and rural.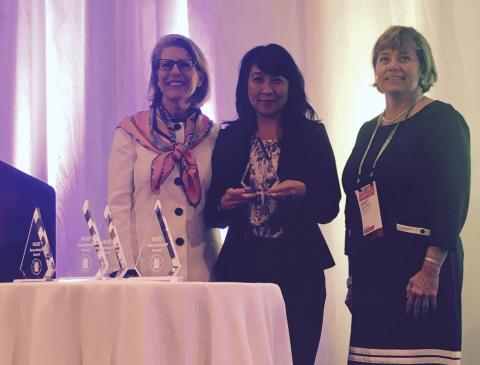 HUD Associate General Deputy Assistant Secretary for Housing Janet Golrick and Vikki Spruill, president and CEO of the Council on Foundations, presented the awards Tuesday.
"The 10 initiatives being honored are an inspiring reminder that when philanthropy and government work together and lead together in cross-sector partnerships, their collaborations can achieve incredible results for the communities we collectively serve," said Spruill. "On behalf of the council, I congratulate each of the outstanding foundations being awarded today."
Detroit Home Mortgage launched in February 2016 and gives qualified buyers a first mortgage of up to the appraised value of the home and a second mortgage of up to $75,000 for needed renovations. Kresge issued a $6 million guarantee, its largest guarantee to date, on the second mortgages and also contributed $1 million in grant funds to the program.
Other DHM partners include six regional banks that originate the mortgages; the Ford Foundation, which offered grant support; the Michigan State Housing Development Authority, which offered its own guarantee; and the Community Reinvestment Fund, which manages and operates the program.
In the fund's first year, mortgages were up 25 percent across the city, and Detroit Home Mortgage generated one-third of those leads.
"Solving a problem like the Detroit housing market, where only 12 percent of home sales came with traditional mortgages in 2014, is something that will take years and the efforts of many aligned parties," said Kimberlee Cornett, managing director of Kresge's Social Investment Practice. "It's an honor to receive this award, which we share with all of the partners who made Detroit Home Mortgage possible. We're buoyed by the early success of DHM and know that with continued commitment to this issue, we will see appraisal gaps close in Detroit."
Ten awards were given to place-based funders for completed or ongoing projects that are executed in partnership with a local, regional, or federal government agency. The full list of winners is available from COF.
To learn more about Detroit Home Mortgage, visit its website.