Kresge launches energy partnership with … the Sun
The Kresge Foundation launched a strategic partnership with the Sun early this summer, capturing energy from the hot, gaseous star and converting it to electrical power for use in the foundation's Troy, Mich. headquarters.
The 40-kilowatt system will generate 140 kilowatt-hours of electricity daily, reducing the foundation's electricity bill by an average of 12 percent. It complements many sustainable systems on the 3-acre Kresge campus including geothermal heating and cooling, a native plant prairie landscape and energy-saving mechanical and structural systems.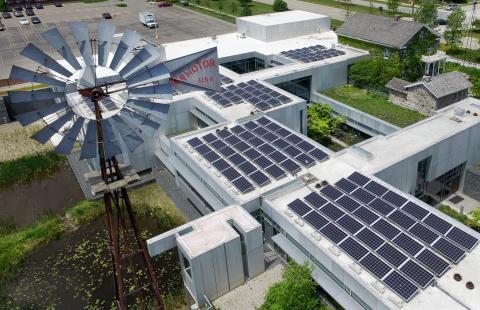 Srinergry, a Michigan-based solar solutions company, installed 144, 280-watt solar panels this spring. Over the 25-year lifetime of the system, it is expected to generate the equivalent of almost 2,000 barrels of oil and avoid the release of 819 metric tons of heat-trapping carbon dioxide.
The foundation is working to track and display real-time energy generation from the array on its sustainability dashboard near the foundation's visitor entrance. That dashboard measures cumulative and real-time electricity consumption foundation-wide and includes educational materials about the campus' sustainable systems.
Solar is on a roll in the United States, with solar installations expected to double in 2016 compared to the previous year according to the Solar Energy Industry Association. While it still accounts for only 1 percent of U.S. electricity generation, that is expected to rise to 3.5 percent by 2020.