Kresge Eminent Artist Leni Sinclair discusses her photography, life and times with acclaimed Detroit radio host Ann Delisi
Interview excerpts online cover escape from East Germany, activism in Michigan, photos of icons from the MC5 to John Coltrane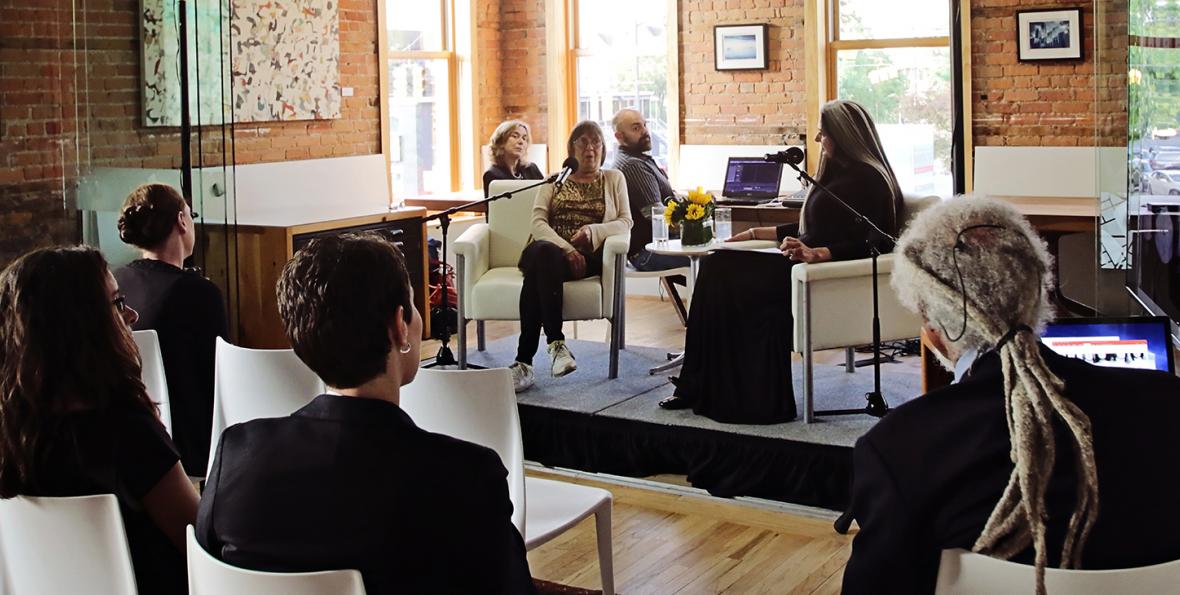 On June 16 Kresge partnered with NPR's Detroit affiliate, WDET, to host a live interview with 2016 Kresge Eminent Artist Leni Sinclair by the station's music show host Ann Delisi.
The well-attended, invitation-only crowd of WDET supporters and Kresge guests at the foundation's downtown Detroit office heard the two delve into Sinclair's life – from her early years in communist East Germany to her escape to a new life in the Detroit area, her subsequent cultural and political activism, and, of course, her photography.
Delisi edited the interview down to four roughly 20-minute segments, which aired on her weekend program, "Ann Delisi's Essential Music," on consecutive Sundays, concluding, Aug. 28.
Those interview segments are available online:
The final show concentrated on a number of Sinclair's photos, including her iconic images of John Coltrane and Nigerian superstar Fela Kuti, as well as lesser-known pictures of the civil rights movement. A slide show of photos discussed in the final segment is below.
Essential Conversation with Leni Sinclair and Ann Delisi

In the fourth installment of excerpts from their live conversation, Ann Delisi asked Leni Sinclair about the stories behind her some of her photographs, including those of Jimi Hendrix, Prince, John Coltrane and the civil rights movement.

Photo by Cybelle Codish

Jimi Hendrix at Detroit's Masonic Temple, 1968

"Our guitar god Jimi Hendrix," Sinclair calls him. "We looked forward to Jimi Hendrix so much. We were living with the [band the] MC5 in a commune, and we were so enamored when his first album came out. So when he came to Masonic Auditorium – Masonic Temple – of course, I was there."

Prince at Detroit's Cobo Hall, 1980

At age 12, Sinclair's daughter Sunny was, in Sinclair's words, "such a Prince fanatic" that Sinclair had to take her to see him. "I wasn't that much into Prince, but when I saw him and Dez Dickerson play guitar together, I said, 'Whoa.'" As with her beloved MC5 in the '60s, it was music "that just takes you off to the stratosphere."

John Coltrane at Detroit's Drome Lounge, 1966

Sinclair said she attended six nights of John Coltrane's stay at the Drome Lounge in Detroit in 1966. "That's the only good picture I got because the place was totally dark. There was one little red lightbulb over the stage. Just to get that picture is miraculous. … I would never have dared used flash in a jazz concert, you know."

Fela at Detroit's Fox Theatre, 1986

Sinclair captured Nigerian superstar Fela Kuti during his stop in Detroit in 1986: "If I have one iconic photo, it's that one, because when you go to Lagos, Nigeria, you see that photograph on T-shirts and billboards. At the Shrine, (the club) where Fela used to play, they have it on top of the building, and they used my photo as an illustration for a movie, 'Finding Fela,' and they used my photo in the poster."

Civil Rights workers, 1963

In 1963 Sinclair went to the National Student Congress in Bloomington, Ind. "These people are civil rights workers from the South that had come to the conference to talk to the students, mostly white students from the North, about the struggles to register voters in the South," she says. From left to right: Hollis Watkins, Bob Moses and Lawrence Guyot.

'We Shall Overcome,' 1963

"That's how people used to sing 'We Shall Overcome,' by crossing their arms like this. People forgot about that. It's not about holding hands, but it's making a stronger bond by crossing your arms and holding hands like that," says Sinclair. Taken at the National Student Congress in Bloomington, Ind.

Sinclair, her husband, John Sinclair, and a "bunch of hippies," came to downtown Detroit's Kennedy Square to protest marijuana laws. Leni Sinclair, nine months pregnant at the time, and John also happened to be wearing identical muumuus she had sewn. "I must have been a sight," she says. "I just wonder if somebody will ever see that picture and says, 'Oh, that's me."