Kresge contributes $1.3 million to support plaza, community spaces in Motown Museum expansion
$2.3 million in year-end gifts put project closer to goal for major expansion
The Motown Museum on Thursday announced year-end grants totaling nearly $2.3 million including support from The Kresge Foundation for the museum's public plaza and other community spaces.
The museum – which opened in 1985 in two of the Detroit houses where the now-legendary label began ­– announced a major expansion plan in 2016 to create a 50,000-square-foot world-class entertainment and education tourist destination featuring dynamic, interactive exhibits, a performance theater, recording studios, an expanded retail experience and meeting spaces designed by renown architects and exhibit designers.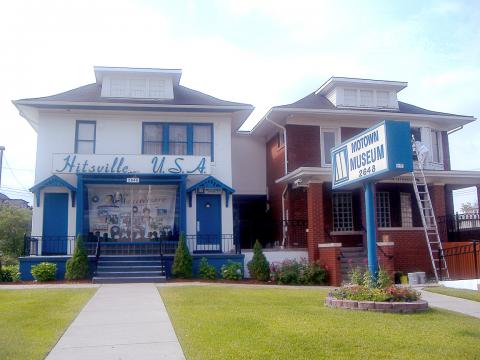 Photo by Chris Butcher, courtesy Wikimedia
When completed, the new museum campus is intended to have a transformative impact on the surrounding Detroit neighborhoods, providing employment, sustainability and community pride by serving as a catalyst for new investment and tourism in the historic area.
Kresge's $1.3 million gift supports development of the museum's public plaza as a community gathering place and renovation of three buildings near the museum for education and community programs.
The grant from the foundation's Detroit and Arts & Culture programs reflects their commitments to integrate arts and culture in community revitalization and to expand long-term, equitable opportunity in Kresge's hometown.
"The Motown Museum campus promises to be both a world-wide attraction and a unique community space that contributes to the revitalization of the immediate area," says Wendy Lewis Jackson, managing director of Kresge's Detroit Program.   The Kresge in 2016 granted the Museum $160,000 to expand its fundraising capacity in preparation for the current campaign.
Robin R. Terry, CEO and chairwoman of the Board of Trustees of Motown Museum, on Thursday also announced:
A $225,000 contribution from the AARP, the first non-locally based organization to support the expansion. AARP also contributed $200,000 to the museum's expansion in 2016 when the project was first announced, but which is only now being made public as part of this year-end roundup. (Meanwhile, the year-end issue of AARP The Magazine features singer Smokey Robinson on the cover and eight pages dedicated to the history of  Motown and the unjustly obscure Motown back-up group the Andantes.)
A $500,000 gift from the metro Detroit-based Elaine & Leo Stern Foundation, reflecting Elaine Stern's interest in promoting the arts and education in southeast Michigan.
A $55,000 gift from the State of Michigan Council for Arts and Cultural Affair awarded through the council's peer-review process. (The museum was one of more than 560 applications to compete for fiscal 2019 funding.)
"This has been a stellar year for our expansion campaign, with the momentum we've experienced continuing to serve as a powerful sign of the significance of this movement and the meaningful impact the Motown story has both here in Detroit and around the world," Terry said. "These groups continue to recognize the importance of our mission to tell more stories from the Motown legacy and inspire the next great generation of artists, musicians and entrepreneurs."