Kresge awards $550,000 to study effectiveness of basic needs interventions at community colleges
The Kresge Foundation's Education and Human Services Programs announced today a $550,000 grant to support a series of research studies led by Temple University, designed to help identify effective approaches to secure postsecondary students' basic needs, so more students can stay on track to graduate.
Today, the project's lead researcher, Temple professor Dr. Sara Goldrick-Rab published a research brief, "Addressing Basic Needs Security in Higher Education" that outlines the three evaluations the project will support. 
Goldrick-Rab created the Wisconsin HOPE Lab and is soon launching the HOPE Center at Temple. Her previous studies have found an estimated 56 percent of community college students are food insecure and half are housing insecure, with 14 percent indicating signs of homelessness.
The evaluations supported are:
Bunker Hill Community College near Boston will provide first-year students with access to needed food through vouchers. Participating students will receive a $25 voucher each week and funds are placed onto a debit card that allows students to buy food that is offered in the BHCC food service venues. Over the academic year, this translates into $750 in additional food support.
In Houston, the Houston Food Bank is partnering with Houston Community College to offer food scholarships to low and moderate-income students. Rather than cash, the food scholarships provide access to nutritious groceries twice per month at designated food pantry locations near the college.
A cross-sectoral partnership between the Tacoma Housing Authority and Tacoma Community College will provide community college students with access to subsidized housing in a unit located across the street from the college. This program has been recognized by the U.S. Department of Housing and Urban Development as a promising practice.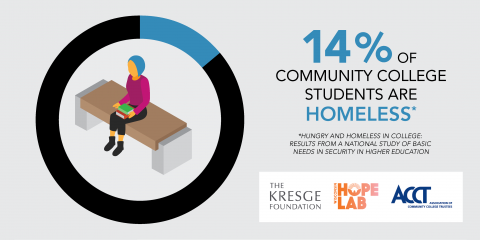 All these programs will be rigorously evaluated with randomized controlled trials.
"We know too many students abandon their path to a degree because they are dealing with issues of hunger or homelessness," said Bethany Miller, program officer at The Kresge Foundation. "The higher education and human services sectors need to find solutions to these basic needs issues that are effective and scalable. We hope the information produced will be useful to colleges as well as to social service and housing agencies, policymakers, student affairs professionals, and many others."
Kresge's Education Program works to ensure more low-income, under-represented students get to and through college. This work is supported through its strategy to align and strengthening urban higher education ecosystems, which includes a focus on addressing issues from factors outside of the classroom or campus that affect students' ability to persist to graduation. The Kresge Human Services Program supports the advancement of human services to accelerate social and economic mobility for people with low income in America's cities.
Dr. Goldrick-Rab will be joined by a team of experts, including Dr. Katharine Broton of the University of Iowa, Dr. Daphne Hernandez of the University of Houston, and Temple's Clare Cady, who is also the director of the College and University Food Bank Alliance. All of the researchers are also with the Wisconsin HOPE Lab.
See the full research in the Kresge library and on the Hope Lab's website.