Kresge Arts & Culture grantees gather to share, learn and help move Creative Placemaking forward on a national scale
Kresge Foundation Arts & Culture Program partners gathered last week to explore strategies for effectively blending arts, culture and design into local development plans and projects across the nation.
The foundation hosted representatives of nine grantee organizations and other partners from its Arts & Culture Program National Networks focus area for a two-day workshop in Detroit.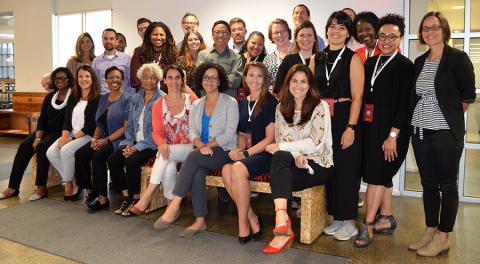 "It's important for us to help you do your work," Regina R. Smith, managing director of the program said at the outset of the gathering. The program aims to assist the grantees in in bringing Creative Placemaking to scale across the United States – from full adoption at the enterprise level, to the development of programs, to spreading the concept and new tools across a national network. Creative Placemaking is the integration of arts, culture and community-engaged design into equitable community development and urban planning.
Each organization is committed to helping communities integrate Creative Placemaking in disinvested neighborhoods to help strengthen core areas including housing, transportation, land use and public spaces.
That is a departure from development-as-usual in the communities, and a challenging cultural and professional shift in focus within many of the organizations leading the work. A facilitator provided a suite of exercises and tools to help the attendees better understand how to manage change – both internal and external – and to support and empower the people who are affected.
"This was an extraordinary gathering of strong and visionary leaders," said Michelle D. Johnson, program officer with the Arts & Culture team. "We wanted them to exchange their ideas and experiences, and to learn about strategies for helping move the Creative Placemaking field forward in the communities with which they work."
Participating grantees and partners included ArtPlace America, Transportation for America (Smart Growth America), Local Initiatives Support Corporation (LISC), The Trust for Public Land, Urban Land Institute, EcoDistricts, Center for Community Progress, Enterprise Community Partners, NeighborWorks America and PolicyLink.