Kresge Artist Fellowship applications open Dec. 2
Awards of $25,000 will be made to 18 metro Detroiters in literary and visual genres; $5,000 Gilda Awards to be named also; guidelines now available
Metropolitan Detroit artists are invited to apply for a 2020 Kresge Artist Fellowship. Fellowships are funded by The Kresge Foundation and administered by Kresge Arts in Detroit at the College for Creative Studies.
These are the key dates:
Friday, Nov. 1, 2019:  Application Guidelines Available
Monday, Dec. 2, 2019:  Online Application Opens
Thursday, Jan. 16, 2020 by 11:59 p.m.: Application Deadline
Now in its 12th year, the program will award 18 fellowships – nine in Live Arts and nine in Film & Music – to artists living and working in the tri county area (Wayne, Oakland, and Macomb counties).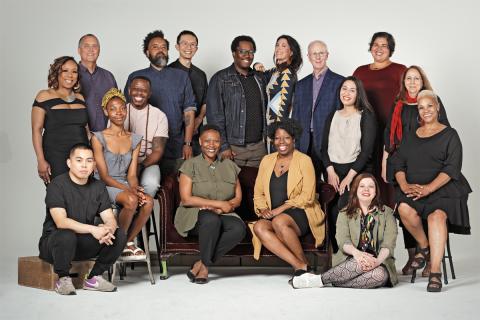 "Artists have been a consistent wellspring of vitality in metro Detroit; they are essential to defining us and our place in the world. Our artists fellowship initiative is one way our foundation seeks to help them continue – and advance – in their work," says Wendy Lewis Jackson, managing director of The Kresge Foundation's Detroit Program. "Along with the rest of the community, we look forward to June of each year when we can see the display of talent that Kresge Arts in Detroit brings our community through its rigorous outreach and selection process."
Artists working in the following disciplines are eligible to apply for a 2020 Kresge Artist Fellowship:
Live Arts: Dance, choreography, theater directing, playwriting, performance art, interdisciplinary work
Film & Music: Film directing, screenwriting, animation, music composition, music performance, sound art, interdisciplinary work
Kresge Artist Fellowships are no-strings-attached $25,000 awards, plus professional development support. Artists at all career stages are invited to apply. "In Detroit and nationally, there are very few opportunities for artists to receive unrestricted financial support," says Kresge Arts in Detroit Director Christina deRoos. "I'm grateful to The Kresge Foundation for their bold and unwavering commitment to individual artists."
Fellowships are awarded on the basis of a demonstrated track record of artistic achievement and high-quality work, the potential to grow and advance in one's career during the fellowship period, and the potential to reflect, enhance, or impact communities within metro Detroit. Emilio Rodriguez, playwright, co-founder of Black and Brown Theater, and 2017 Kresge Artist Fellow, encourages all eligible artists to apply, noting, "There's nothing to lose from applying. Whether or not the award is received, the true reward is looking back at all you've accomplished and putting it into words which you can use for your own website, grants, fellowships or other applications." 
In addition, two Gilda Awards, $5,000 no-strings-attached prizes solely for emerging artists, will also be awarded – one in Live Arts and one in Film & Music.
Gilda Awards recognize artists who are early in their careers, are gaining momentum, and who demonstrate exceptional potential through creative risk-taking and pushing the boundaries of their chosen art form. The awards are named in honor of Gilda Snowden (1954 – 2014), who was one of the 18 inaugural artists to receive a Kresge Artist Fellowship in 2009. Snowden served as Interim Chair and Professor of Fine Arts at the College for Creative Studies, where she taught painting for more than 30 years.
Gilda Awards are chosen from the pool of Kresge Artist Fellows applicants. There is no separate application for the Gilda Award.
"Winning the Gilda Award not only provided much needed financial resources so that I could support my full-time artistic practice," says 2018 Gilda Award recipient and multidisciplinary performance artist Aja "Salakastar" Dier, "it also affirmed that the work I do is valuable and necessary in the landscape of this city, this nation, and the world. Being an independent artist in Detroit (or anywhere for that matter) can be an arduous path. This award came at a challenging time in my career where I was experimenting with new forms and was unsure how the risks I was taking in my work would be received or if I could continue my work here in Detroit in an authentic way. I am so honored to carry on the legacy of Gilda Snowden in making work that is brave, honest, raw, human, original and authentically Detroit." 
Artists are strongly encouraged to attend an applicant workshop, designed to help artists submit competitive applications to Kresge Arts in Detroit as well as other sources of support for creative careers. Visit kresgeartsindetroit.org for full details and to RSVP.
Work samples and application strategies: Tuesday, Nov. 12, 6 p.m.-8 p.m., Museum of Contemporary Art Detroit (MOCAD), 4454 Woodward Ave., Detroit 48201
Writing artist statements and résumés: Saturday, Dec. 14 11 a.m.-1 p.m.,  Downriver Council for the Arts, 81 Chestnut St., Wyandotte 48192
Application questions and answers: Thursday, Jan. 9, 6 p.m.-8 p.m., Ant Hall,  2320 Caniff St., Hamtramck 48212 
Since 2008, Kresge Arts in Detroit has awarded 11 Kresge Eminent Artist Awards ($50,000 each), 198 Kresge Artist Fellowships ($25,000 each), and 12 Gilda Awards ($5,000 each) for a total of more than $5.5 million given directly to individual artists.
In each category, fellows and Gilda Award recipients are selected by independent panels of distinguished local and national artists and arts professionals. Previous applicants are strongly encouraged to re-apply. New panels are convened each year, bringing fresh perspectives to the review process.
Fellowship applications are only available and can only be submitted online. The online application opens on Monday, December 2, 2019, and applications must be submitted before 11:59 p.m. on Thursday, Jan. 16, 2020. Guidelines and additional resources are available now at kresgeartsindetroit.org.
For further information, please contact Kresge Arts in Detroit at 313-664-1153 or christina@kresgeartsindetroit.org.