Kresge Artist Fellows bring 22 projects to city neighborhoods in new AXD series
September-to-December projects are successor to Kresge's successful Art X Detroit festivals from earlier in decade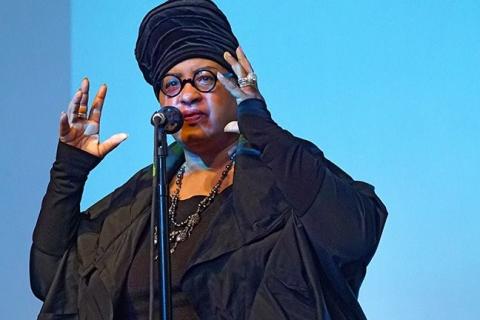 Photo courtesy the artist
With nearly two dozen exhibitions, performances and events over the next five months, Kresge Artist Fellows and Gilda Award winners will take their work into Detroit, Highland Park and Hamtramck neighborhoods s under the banner of AXD.
A successor to the biennial Art X festivals – which presented Kresge Artist Fellows mainly in Midtown venues from 2011 to 2015 – AXD projects explore the changing landscape and narrative of the city and its neighborhoods, said Cézanne Charles, the festival's curator and director.
"We are taking the energy that was almost entirely in Midtown and sharing it with neighborhoods in a creative re-imagining of what Art X achieved," said Charles. "It's a novel twist on the idea of a festival; we intend for it to be cohesive even as projects happen across several months and the breadth of Detroit. AXD amplifies the way arts and artists are engaged in neighborhoods across the city."  
Twenty-two dance, music, murals, films and mixed-genre combinations will be presented between September and December, with a kick-off celebration this Friday where participating Kresge Artist Fellows will discuss their individual projects and their work as a group as it relates to the narrative of the city.
"In AXD, the power of arts and culture to enhance identity, connectedness, and opportunity intersects with the neighborhoods that are the heart and soul of the city," said Kresge President Rip Rapson. "Bringing together two powerful streams of our work – support for individual artists and support for neighborhoods – reinforces the kind of potent alchemy essential for the city's continuing revitalization. We look forward to the conversations, innovations and collaborations that are sure to follow." 
Photo by Jayne Toohey, 2E Photography, courtesy the artists
The projects were commissioned following an open call to the nearly 200 Kresge Artist Fellows and Gilda Award winners from the first decade of the Kresge Arts in Detroit initiative. AXD, in part, serves as a celebration of that program, which annually awards $25,000 to 18 artist fellows and $5,000 to two Gilda Award winners recognized for early-career risk-taking.
Special consideration was given to artists who received Kresge Artist Fellowships and Gilda Awards after the last Art X festival in 2015.  
"The three Art X festivals from 2011 to 2015 provided opportunities for performances, exhibitions and important discussions about the role of arts in the city.  Our final festival spanned 10 days and a dozen venues, mostly in Midtown, drawing more than 10,000 participants," said Wendy Lewis Jackson, managing director of Kresge's Detroit Program.
"We felt that we needed to step back and carefully evaluate our options after the 2015 Art X, and that has led to the creation of AXD," added Jackson. "In addition to spreading the energy to include neighborhoods beyond Midtown, this gives artists greater flexibility to pursue projects that fit their vision and timetable."   
Kresge's arts efforts in the city include support for the Kresge Arts in Detroit office, which administers the fellowships and other individual artist awards. Kresge funded Art X – which was produced by Midtown Inc. – and is funding the new AXD, which is managed by the design studio rootoftwo.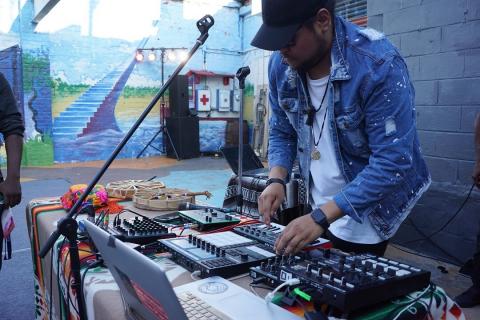 Photo courtesy the artist
Applications were chosen based on reviews and rankings by a panel that included local and national artists, arts administrators and community representatives. (See list below.) Artists are awarded $7,000 each to produce their projects. They also receive technical, promotional and other assistance through rootoftwo.
 "Our theme is Living X," said Charles, who is a founding partner at rootoftwo. "It's about now as well as our recent and distant past, and yet-to-be envisioned future. The artists are exploring the significance, ambiguity, resilience and uncertainty of this contemporary moment. That's what the X stands for."
Projects begin Sept. 6 with Robert Sestok, noted sculptor and founder of City Sculpture Park, presenting "Cass Corridor Art and Beyond." Sestok will narrate a selection of photos, slides and videos documenting the acclaimed arts movement that sprang from the Cass Corridor which is now better known by its rebranded name of Midtown. "Cass Corridor Art and Beyond" will be presented at MOCAD, 4454 Woodward Ave., on Sept. 6 at 7 p.m. Like the other projects, it is open to the public.
Other AXD highlights will include:
See the AXD website for more information, including a list of projects and a current schedule of events. Final details on a number of the presentations have yet to be finalized.
AXD 2019 panelists who reviewed applications were:
Anthony D. Stepter, assistant director, museum and exhibition studies graduate program, University of Illinois at Chicago
Pat Elifritz, curator of new media and technology, Museum of Contemporary Art Detroit
Pradeep Dalal, director, Arts Writers Grant Program, Creative Capital
Cornelius Harris, label manager, Submerge Records, founder, Alter Ego Management
Sarida Scott, executive director, Community Development Associates Detroit
Rachel Harkai, writer and 2010 Kresge Artist Fellow in Literary Arts
Njia Kai, filmmaker and cultural producer