Inyathelo stories: Nazli Abrahams
Program Director, Inyathelo
When Nazli Abrahams first interviewed for a job at Inyathelo, her future boss asked her what was the riskiest thing she's ever done.
"And I said I hopped on a plane to South Korea (in 2002) with no job and $25 in my pocket," says Abrahams matter-of-factly. She made a connection on the plane, and by the time she arrived in Seoul she already had a job lined up.
Based on that story, Inyathelo hired Abrahams in 2005 as a program coordinator for the Kresge advancement initiative.
"I had no idea what they did," Abrahams says of Inyathelo. "I understood the words but I didn't know how they all worked together." She spent hours online every night, researching advancement issues and creating a broader picture of what Inyathelo was seeking to accomplish in South Africa.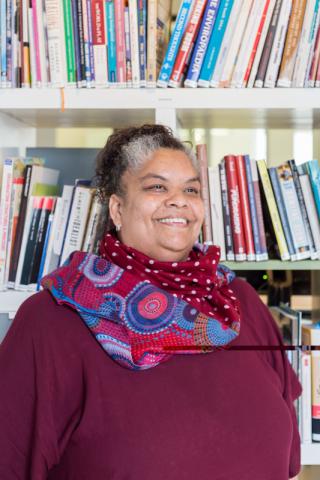 The Kresge-Inyathelo advancement partnership was just beginning, and Abrahams helped forge the way from the start. "The thing I like most about my work is … it hasn't been done before," says Abrahams. "I got to develop a blueprint for something that had never been done."
Helping South African Universities "Get It Right"
Kresge's partnership with Inyathelo stemmed from a realization that although South African universities were applying to Kresge to funding, "their applications just weren't meeting the mark," Abrahams explains. Bill Moses, managing director of Kresge's Education Program, and Shelah Gastrow, executive director at Inyathelo, "spoke a lot about how to develop capacity and build skills for people so when they do apply, they'll be able to get it right."
The program sought to increase capacity in three general areas: building individual giving in South Africa, building a cadre of advancement professionals in the country, and forwarding South Africa's philanthropy agenda.
The first Kresge program lasted for five years, introducing five South African "anchor institutions" – the University of the Western Cape, the University of Pretoria, the Cape Peninsula University of Technology, the Children's Hospital Trust and the University of the Witwatersand (which joined one year into the program) – to the concept of advancement.
The original grantees were relatively well established institutions by South African standards, Abrahams explains, as Kresge and Inyathelo sought "to see how we can make the success work."
Abrahams' job "was really to think through the pragmatics of the program and to coordinate all of the logistics and the way the program rolled out." After the grant was renewed for another five years, Abrahams moved from program coordination to program management, and eventually became the program director for the Kresge Initiative.
The First Five Years
Inyathelo's work in the initial five-year grant encompassed a wide variety of activities, and Abrahams struggles to summarize them in less than several sentences.
"We did everything from proposal writing, setting up alumni relations, and a lot of the work was about defining what those things are, first of all, and then actually working with (them).
"We did quite a bit of executive coaching of university leadership. We also developed a directors forum. … Each university had to embark on a couple of (fundraising) campaigns, and so there was the mechanics of all of that."
Inyathelo coordinated international exchanges with advancement staff, introducing them to fundraising and development concepts in other parts of the world. They also began organizing a large annual learning event and leadership retreat.
"What we really tried to deal with was to supply these universities with multiple entry points into the (advancement) work," says Abrahams.
The results of the first Kresge-Inyathelo advancement program were tangible. "When we started as a collective, (the four institutions) were raising between 72 and 80 million rand  ($5.4 million and $6 million) per annum," says Abrahams. "By the end of the five years they were raising about 580 million rand ($43 million) per annum."
But Abrahams emphasizes that the biggest changes were impossible to quantify – like the subtle and significant shifts in the way leaders began to integrate advancement into every facet of university life.
"Different leaders were able to embed advancement or at least get buy-in from their councils and other senior members of their management teams. That was a big thing," Abrahams says.
These less quantifiable changes are a source of pride for her. "The thing I've always been interested in is not just the 'how-to,'" says Abrahams. "I want people to get to the point where they start thinking about advancement very differently, and have that thinking affect how they do things."
Looking Ahead
"I think we were able to pick it up a little differently," says Abrahams of the second five-year program with Kresge. "Because then we worked with developmental universities – universities that aren't traditionally wealthy. They all serve some of the poorest students, and their leadership is coming to terms with what this is all about."
Today, South African higher education's greatest challenge is to address the needs of students who come to university without the proper tools to succeed. Advancement needs to help address this problem.
"You have young people coming to university and they've really defeated a lot of odds. They come from some of the poorest, most under-resourced schools. So they get to university and the first thing they confront is their deficiency." As a first-generation university graduate in her own family, this is a challenge Abrahams herself can relate to.
"And I think fundamentally that needs to shift, and I do think advancement has a role to play there. But how do we define it?"
The political and economic landscape is changing fast, Abrahams points out, both in South Africa and around the world. She sees the Kresge Initiative as a way for South African institutions to adapt their advancement practices to this changing environment.
"It's not just about fundraising for me," says Abrahams. "It's not just about alumni relations, communications, and marketing. But it's about how we respond to some of the bigger philosophical questions in relation to politics and leadership."