Inyathelo stories: Loyiso Nongxa
Professor of Mathematics, former Vice Chancellor, University of the Witswatersrand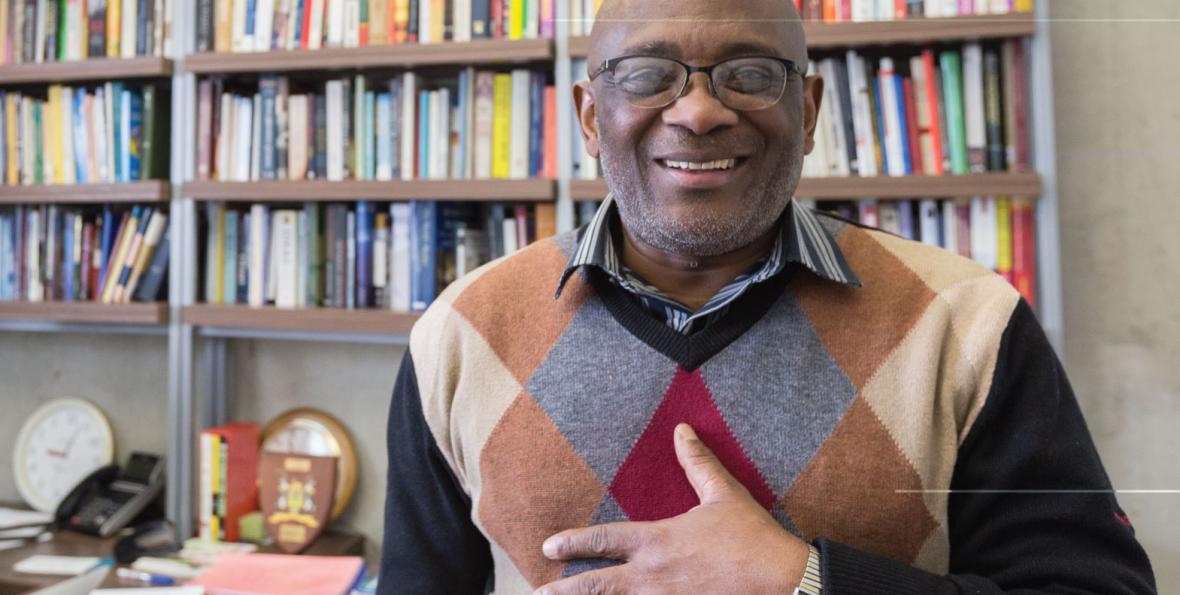 Dr. Loyiso Nongxa, former vice chancellor at the University of the Witwatersand (Wits), learned a simple lesson through his work with Inyathelo and the Kresge Foundation: When it comes to fundraising, his face mattered.
"One of the things I learned when we professionalized development was that the face of advancement for any university is the vice chancellor," says Dr. Nongxa, who served as vice chancellor at Wits from 2003 to 2013, and currently serves as a professor of mathematics at the university.
"So I was advised to spend more time than I did before, actually going out there and speaking on behalf of the university, both nationally and internationally."
Like most other South African universities at the time, Wits didn't have a standardized fundraising practice in place when Dr. Nongxa became vice chancellor. The university struggled to reach potential donors that weren't traditionally focused on supporting public universities.
"In this country, if you go to the private sector, they will tell you that they are already paying taxes…And therefore what you are asking for, whether it's a new building or new programs, they tell you that's a function of government," Dr. Nongxa explains.
Wits also faced an additional challenge. Although Nongxa was the first black vice chancellor at Wits, the university faced a perception that as one of South Africa's most prominent traditionally white universities, it didn't need financial help as it sought to transform and serve a broader student profile than it had under apartheid.
"We had a segregated university system," Dr Nongxa says, explaining the realities of education in South Africa before 1994. "Now, black people don't give to historically white universities because they see them as privileged.
"With a university like Wits, there is an assumption that it is very wealthy, and therefore you don't deserve to be supported."
During a time when higher education was rapidly changing and evolving in South Africa, Dr. Nongxa and his staff recognized the need for change.
"We'd taken a decision that in order to maximize what we felt we could get out of fundraising and development, we needed to change the way we operated a bit." Dr. Nongxa decided to take a close look at the university's advancement practices, and he went to Inyathelo for help.
A Culture of Advanacement
"Somebody advised me to approach Shelagh Gastrow, who is the founder of Inyathelo, to ask her to come and look at what we were doing and give us some advice. So out of that came a contract with Inyathelo for a year, to assist us with all the usual things that we do around advancement."
Wits was not initially part of the Kresge advancement initiative, but working with Inyathelo, the Wits staff began to refine their approach to raising money, fine-tuning messages and looking outward to overseas foundations and other private donors. Dr. Nongxa attended meetings and conferences with the other universities participating in the Inyathelo Initiative, and drew inspiration from his peers.
"I think in many ways, one (benefit of working with Inyathelo) was creating this community of institutions with the same goal of strengthening advancement. So I go to know the priorities and passions of my fellow vice chancellors. I got to know them and maybe even had a sense of pride in some of the things they achieved."
In addition to valuable consulting, relationship-building, and a shift in thinking about what advancement means, Wits' relationship with Inyathelo led to significant support from the Kresge Foundation. Recognizing the progress Wits was making on its own, Kresge invited Wits to join the initiative formerly and began to discuss other ways in which they could partner to strengthen higher education.
"At that time, one of our major fundraising projects was infrastructure. So Kresge then issued for us a challenge grant: For every X rand you raise, then they will match that. With that we put up a new building – the School of Public Health."
Dr. Nongxe describes the significance of the challenge grant, which in addition to increasing the amount of money raised, also motivated the university to get creative in its fundraising ideas.
"Something that had never happened before was where employees of the university actually donated in their personal capacity," says Dr. Nongxa. "We told them, 'Look we have this grant from Kresge and in order to gain, let's say, a million U.S. dollars, then we need to come up with X thousands of rands.' And, yeah, the staff of the university gave. They gave 10 rand, 100 rand, etc."
Kresge's infrastructure support also pushed Wits to look for new ways to engage with the city surrounding it. Funds raised during Dr. Nongxa's tenure as vice chancellor contributed to the opening in 2012 of the Wits Art Museum – a spacious museum on the edge of the Wits campus focused on promoting African art. The museum helped to revitalize Braamfontein (Wits' neighborhood), has become a major Johannesburg tourist attraction and draws visitors from all walks of life. "I'm very proud of that," Dr. Nongxa says.
Dr. Nongxa credits both Kresge and Inyathelo for introducing new concepts to the South African advancement landscape.
"Kresge could be the first such organization in South Africa that positioned itself to help institutions and NGOs maximize what they get out of fundraising," he says. "And Inyathelo was the only organization that was operating (in the advancement field in South Africa). … I think it was of great benefit to us because of their relationship with Kresge.
"I can't quantify how much we got from Kresge for buildings, but it was significant. I'm sure we would not have been able to get that without Inyathelo."