Inyathelo stories: Dr. Peter Thuynsma
Former Director of Advancement, University of Pretoria
"I feel very passionate about this thing because it was a major change to South African universities," says Dr. Peter Thuynsma of the Kresge grant.
Dr. Thuynsma, after a long career as a literature professor and fundraising consultant in South Africa and the United States, served as director of advancement at the University of Pretoria from 2006 to 2011. For him, one of the best things about the Kresge grant was its capacity to impact such a wide range of institutions.
"It was the diversity: There was the University of Pretoria, where I was, the bastion of apartheid, now making the transition; all the way to CPUT (Cape Peninsula University of Technology), with no identity, a newly created, merged institution. And we both had the same grant to do a similar thing. But we had a totally different clientele that we worked with."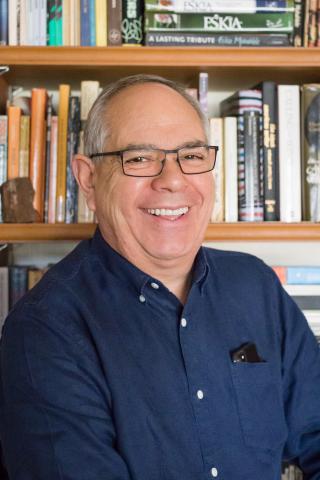 Dr. Thuynsma had been working at universities and doing fundraising in South Africa for many years before the Kresge grant. He was more aware than anyone of the inefficiencies in the process.
"We use sugar coated words, but it was haphazard. It was ad hoc," he says. "You needed money, you looked up who you knew. … You looked for a call for proposals, or you looked at your network, and that's how you did it. But there was never the fundraising cycle that you internalize.
"We didn't have principles, we didn't have a stewardship program around it, and that is because the cycle was never really followed."
For Dr. Thuynsma, who had been encouraging his clients for years to take a more strategic approach to fundraising, the Kresge was a dream come true.
"The Kresge grant systemized everything. Even if we had done it before, now it was placed in a disciplined structure. And it was so satisfying."
Transforming Fundraising at the University of Pretoria
The University of Pretoria was at a crossroads when it received the Kresge grant. As an Afrikaans-speaking, previously whites-only university that received huge public and private support under apartheid, the university was in a much stronger financial position than some of the other Kresge grantees. But things were changing fast, and some of the apartheid era support was falling away.
Dr. Thuynsma credits Calie Pistorius, University of Pretoria's vice chancellor at the time, for having the vision to go after the Kresge grant.
"Calie wasn't after the money," says Dr. Thuynsma. Dr. Pistorius had seen the potential for private fundraising while a student at MIT and Ohio State in the United States. "Calie wanted the culture. He wanted to set up the fundraising, the advancement, and to use (Kresge's) language: the advancement culture … Calie was incredibly daring."
Dr. Thuynsma was up for the challenge of fulfilling Dr. Pistorius' vision. "This was a chance to put into practice … to actually be in charge of disciplining the fundraising process. And I welcomed it."
Dr. Thuynsma took over a development staff accustomed to "desktop fundraising" – sending asks to big donors and simply waiting around for a response – and trained them to approach advancement in a more holistic way.
He instituted a "Balanced Scorecard" approach for his team, focused on the four main pillars of finance, client relations, internal systems, and learning. The team also developed a sophisticated donor database, which they never had before, and strengthened relations with university alumni.
"And then of course there was the challenge grant." Challenge grants set annual fundraising goals for the universities participating in the Kresge grant, and if they achieved the goal they received a matching donation from Kresge. "We fortunately won the challenge grant four out of five times."
Integrating Learning With Advancement
When asked to name the most impactful aspect of the Kresge grant at the University of Pretoria, Dr. Thuynsma chooses learning.
"The learning component in the Kresge grant was extraordinary for all of us," Dr. Thuynsma says. "It was in response to the need. No one knew how to do advancement, you see? There are tactics. You need to know the psychology of people. You need to know the psychology of giving, why people give. All of us from secretary onwards, all of us got to learn those things."
Staff members attended outside learning events, many of which were hosted by Inyathelo, and then conducted seminars with their colleagues about what they'd learned. Staff took turns presenting on different relevant issues at their weekly meetings. They set milestones for their progress and Inyathelo held them accountable to achieving those milestones. "I would imagine we introduced about 30 to 40 specific new things, literally coning in from a blank slate."
Dr. Thuynsma was able to add much of his own expertise, including simple concepts like: Donors give money to people, not organizations. The old desktop fundraising mentality was replaced with a clear set of professional values and a proactive, disciplined, personal approach.
"I developed my staff not only to be successful, but also to go on," Dr. Thuynsma says. "If those things are kept up, the impact will be extraordinary. Truly extraordinary."