Introducing "Mission, Money & Markets," new article series on social investing
By Kimberlee Cornett
Welcome to "Mission, Markets & Money" a new article series from The Kresge Foundation all about our social investing work. Each month through 2017, we'll share what's working – and what's challenging us – in our impact investing work at Kresge, where we have committed to making $350 million in impact investments by 2020. 
Most foundation philanthropy consists of grants, which are basically gifts of money to nonprofits so they can do agreed upon work to make the world a better place. Grants can do plenty of good and are the primary tool foundations use to achieve their missions.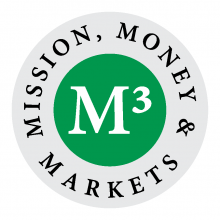 But there are ways to support worthy causes that can result in not just a positive social return but also a positive financial return, putting money back into our hands to recycle out again and again to other nonprofits that need it. At the same time, these tools help break through capital barriers in ways that grants alone can't. Using these kinds of tools – program-related investments, guarantees, equity investments, to name a few – can make more risk-adverse investors come to the table and agree to invest as well. That's what we like to call the "wedge effect" – our investments crack the door and hold it open for other investors to come in.
Through this series, we'll highlight our successes and struggles in putting that social investment capital to work alongside grants as we work toward solutions for complex social problems.
The need for this type of investment is huge, because evidence shows traditional markets don't work for the most vulnerable populations in our society. Under traditional market structures, the "trickle down" approach comes too late and too little for the communities where capital is most needed. Social investors – of all stripes – have an important role to play. They can't wholly replace the public sector when it comes to providing a sound social safety net or, say, in the funding of environmental programs. But together we can highlight, advocate for, and continue to leverage the many federal/state programs that bring private capital to bear.
There is no shortage of problems for us to tackle: increasing affordable housing; offering more responsible lending products for low-income people; investing in the social determinants of health, to name a few. In these areas and others, we at Kresge are using social investing to change outcomes for low-income people. Here are three ways we do that:
Expanding Capital Sources for Low-Income Communities: We find ways to get capital to the lenders who will invest in low-income America.
When it comes to investing in low-income communities, not all lenders are created equal. Lenders such as community development finance institutions (CDFIs), development finance agencies (DFAs), and credit unions have a unique lens on the needs and borrowers in low-income communities. They tailor products to low-wealth customers and are uniquely qualified, with the human understanding needed, to deploy responsible, financial products in these communities. To support these vital community builders, we recently launched an initiative called Kresge Community Finance, a commitment to provide up to $30 million in loans to these lenders.
As the nation faces a shortage of living-wage jobs and unequally available credit, high-capacity community lenders are essential. We're investing in the backbone of the community investment system with flexible and long-term capital in high-need communities where leaders are working to make the ground "sticky" for investment.
Investment readiness and capital absorption: We invest in practices that help communities better access and use available capital.
If you leave a spoon of honey out in the summer, you're likely to attract bees. Likewise, in a market where incomes are steady or rising, where the population is stable, and where small businesses are expanding, lenders and investors will swarm with mortgages and loans. When those trends move in the other direction, capital goes elsewhere. Having watched capital retreat from Kresge's hometown of Detroit in the decade before the bankruptcy, we began investigating a simple but provocative question: "What does it take for a city to attract and deploy capital to advance its priorities?" 
Our experience and available research provide a few guiding principles. Investors must encourage communities to work across sectors and align priorities to better target scarce public and private investment. Then together, the community must work toward building a policy environment and ecosystem that supports the realization of those goals. These are perhaps obvious steps, but sometimes, even often, they are unnatural acts for communities. To scale community solutions, projects that reflect the voice of the community must topple silos and upend status quo practices to reinvent the system of community development finance.   
In December, we invested $3 million in a new entity, The Center for Public Purpose Finance, to research and implement these principles further.
Amplifying the effectiveness of public/private partnerships: We continue to look for new ways to partner with the public sector, an essential partner for social investors.
Smartly designed public programs help create investment opportunities for impact investors by strategically using public subsidy and public revenues to leverage private investment. Examples abound. Low-Income Housing Tax Credits, New Markets Tax Credits and Historic Credits generate billions in investor equity annually, improve housing units and create jobs in low-income communities. A Department of Education $5 million loan guarantee program provides credit enhancement to lenders that offer capital to charter schools. The Department of Labor's Pay-for-Performance grants have used private sector capital to scale proven social service interventions. The Treasury Department awards grants to CDFIs to allow them to attract other investors. Revenue from health centers allows Medicaid to undergird investments in federally qualified health centers. And the Community Reinvestment Act compels banks to invest and serve low-income communities.
The bottom line: Impact investors need public sector partners and the federal, state and local level public sector needs impact investors. 
Individuals and families have been fighting their way back in America since the Great Recession. The climb has been arduous for so many; security and stability have been and remain elusive. Our job, each and every day, is to drive capital to those dark corners, to provide hope and opportunity where it is most needed.
We'd love this space to open up a conversation – tell us what you're seeing work in impact investing. And come back each month, where our team will share more about what we see from our end.
Kimberlee Cornett is the managing director for the foundation's Social Investment Practice. Follow her on Twitter @kr_cornett.