Interview with Aaron Ament on using courts to preserve protections for college students
National Student Legal Defense Network is taking on policies to help students fight back against predatory for-profit colleges
The Kresge Foundation's Education Program made a $260,000 grant this year to the newly established National Student Legal Defense Network. As the national news cycle in recent weeks has featured numerous reports related to federal rollbacks of regulations aimed at protecting students, we checked in with NSLDN's leader, Aaron Ament, to help break down what's happening in Washington, D.C., and explain how his organization is responding. 
Kresge:  Aaron, tell us how you found yourself working on protecting students from predatory colleges.
Aaron:  I'm originally from Louisville, Kentucky, and I served as assistant attorney general in Kentucky from 2010 to 2013, and then took an appointment in the Obama administration shortly after President Obama's re-election and came in as a special counsel at the Department of Education. I started out on the team that wrote the second round of the Gainful Employment Regulations that set debt-to-earning measures for for-profit and career and technical programs to ensure that students graduating from these programs earned enough money to pay back the debt they were taking out. In 2014, I became the chief of staff in the general counsel's office. In that role, among other responsibilities, I was tasked with helping to build the new Federal Student Aid Enforcement Office overseeing enforcement cases on for-profit colleges and other predatory institutions.
While serving in Kentucky, I led cases the state brought to supervise the turnaround of schools in the mountains of Appalachia and worked directly with students in some our our most economically challenged communities. I saw first-hand how students there could get trapped in the hands of recruiters from predatory schools and wanted to work on these policies on a broader level.
Kresge: Why was a team looking at this kind of enforcement necessary?
Aaron: President Obama proposed the first round of Gainful Employment Regulations around 2010. Up until that time, the for-profit sector had largely gone unregulated, and I'd say lightly scrutinized. There weren't any standards in place to guarantee these companies – some of which are getting over a billion dollars a year in federal aid from the Department of Education alone – were training people and providing the skills and education they needed to succeed. Or that they were able to get jobs to pay back their debt. You had hundreds of thousands of students finishing these programs, some with more than $100,000 in student debt just from the federal government. And these students had bleak job prospects. In many cases we were seeing, you had these schools not only not preparing them, but lying to enroll them. Seeing them as easy checks that they could cash. Promising jobs that didn't exist. Giving false promises of hope and saddling them with debt that they would have little to no prospects to repay. Talking to students across the country, the department saw the need to act to curb these abuses through regulatory proposals, and then also cracking down on the worst actors; there was a real need to kind of ramp up that work.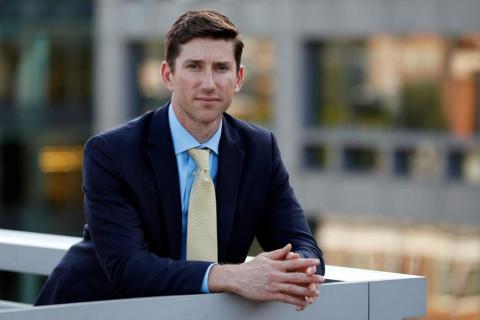 Kresge: How do you compare the kinds of regulations for-profits face versus the more traditional nonprofit colleges?
Aaron:  Good question. The Gainful Employment Regulations first enacted in 2010 set metrics that all for-profit college programs and nondegree career and technical programs at public and nonprofit universities also had to pass. They were designed to look at any "career program," regardless of whether it was at a for-profit or nonprofit. The regulations were designed to make sure students graduating those programs on average earned enough to pay back their debt. Currently in federal law, there are some provisions that only apply to for-profits. One is the 90/10 rule which mandates that for-profit colleges can get up to 90 percent of their revenue from the Department of Education each year through student aid funds, and they must come up with the 10 percent from other places. But there's a loophole. In addition to private tuition, they can use funds from the GI Bill toward that 10 percent. That's created an incentive among the large, for-profit chains to recruit at military bases and to recruit veterans coming back from Iraq and Afghanistan. It's created this perverse incentive among some of the more predatory schools to sign up veterans for programs that often have been failing them.
Kresge: What's happened to this body of work under the new administration?
Aaron: Unfortunately, all reports indicate that Secretary DeVos has not just frozen many of the investigations that have been ongoing against some of the large predatory publicly traded for-profit colleges, but also appears to be dismantling the enforcement office that was created under former Department of Education Secretary John King. Secretary DeVos has hired executives from several of the schools under investigation, including a former dean from DeVry University, with no relevant background or experience in investigations, who is supposed to oversee the investigations unit. Now, not only has that unit been effectively dismantled, but several of the investigations have reportedly been frozen. In addition, they've made no secret that their higher ed policy agenda is one of deregulation. Robert Eitel, the senior counselor to DeVos and a former executive at Bridgepoint Education Inc., is chairing the department's deregulatory task force.  The department has proposed to revoke the Gainful Employment Regulations in their entirety. They also are proposing to rewrite the borrower defense regulations, which we had published toward the end of Obama's administration. These were regulations designed to create a process by which defrauded student loan borrowers could apply to get their loans discharged and get loan relief.
The regulations, which were scheduled to go into effect last year, would create a streamlined process for students. They would allow the secretary to rely on state court findings and evidence from state attorneys general. They would create automatic closed-school discharges, meaning those students who were at schools that closed but didn't know that they could get those loans discharged because the school had closed, after three years if they didn't transfer, it would become automatic. And there are tens of thousands of students eligible for that.
The 2016 regulations would also ban the use of forced arbitration or having to sign class-action waivers. In most of these cases, students never get to see their day in court because part of their enrollment agreement, in the fine print, states they sign away their right to sue. They must go to arbitration. Secretary DeVos has proposed to scrap these provisions, and in their place, they've proposed two alternatives.
One would force students to go into default before they even make the claim, which would have detrimental consequences. The other would create a standard that the students would have to prove intent of the executives. Not just that the college published false advertisements or misrepresentations, but that executives intended to mislead them. There's little to no way for students to come up with evidence, or to have internal company emails, where they can prove intent. Unfortunately, both alternatives that Secretary DeVos is proposing would make it nearly impossible for most students that were defrauded to get relief.
Kresge:  How do they think students are going to prove intent?
Aaron:  Unfortunately, the answer is their goal is to limit student relief as much as possible. And protect the executives in these for-profit corporations.
Kresge:  What's the timeline for the Gainful Employment Regulation rollbacks?
Aaron:  The department has already proposed to revoke it in its entirety. Groups like ours along with several other state attorneys general are looking at whether they have acted in a way that's arbitrary and done a sufficient enough analysis to back up their proposal to revoke these standards. There's a 30-day public comment period. At the end of the 30-day period they will publish the final regulation. And in the preamble to that final regulation, they must respond to all the substantial comments. We'll be submitting comments, and then depending on if they stick with this proposal, we'll be looking at filing a challenge. They have until November 1 to publish the final regulation if they want the new rule to go into effect July 1, 2019.
Attend NSLDN's Screening of Documentary 'Fail State'
On Sept. 4, the NSLDN is hosting a screening of "Fail State," a documentary that outlines the for-profit college industry and its predatory behavior toward low-income students. Want to go? Go to www.nsldn.org/event and use code KRESGE to get a complimentary ticket. The event includes a reception and runs from 5:30 to 9 p.m. and will be held at Carnegie Institution for Science.
Kresge: What's your outlook on whether that's going to happen?
Aaron:  All we can really do is to show them the data analysis, and the true effects of the current rule, and how students and taxpayers will be harmed by a revocation. The department's own analysis published with this proposal shows it would cost the federal government $5 billion to revoke it. It doesn't seem like they really care too much about that. But I think most Republicans and Democrats, and Congress, and people around the country will care. But assuming they go forward and just revoke it completely, we'll be looking at options of bringing challenges on behalf of students.
Kresge:  How in particular are low-income students affected in this?
Aaron:  For-profit and career and technical programs recruit a disproportionate number of students from disadvantaged socioeconomic backgrounds and largely students of color. Many are first-generation students. Many are immigrants. The schools we've seen with huge numbers of gainful employment programs, some of whom have been shut down for fraudulent practices or have had cases brought against them like the Corinthian colleges and ITT Technical have, in their marketing materials and TV advertisements, been shown to target single mothers, students of color and people from lower-income communities.
Kresge:  One thing being proposed to take the place of some of the regulations that will supposedly hold colleges accountable is an expanded database. How would that work?
Aaron:  What they've proposed in place of the regulations is something that's already largely available. During President Obama's second term, we created the College Scorecard that produces a lot of this data. It had initially been on the institutional level, but I think they're proposing to expand it to the program level with data like job-placement rates, completion rates, all things which students should be aware of and should be informed about when they're making the decision on what programs to attend or where to enroll.
Unfortunately, all the current administration is proposing is to put data up on a website that gets very little traffic instead of requiring schools to outcome data directly to prospective students before a student makes an enrollment. Data on a website is not a bad thing. It's just not enough to protect millions of students that won't know to go to the website. Studies have shown that students are more likely to consider this data when the colleges are required to share it directly with them through an email or a handout.
Kresge: What kinds of things is the National Student Legal Defense Network working on to combat these issues?
Aaron:  We launched NSLDN, the National Student Legal Defense Network, in the fall and hired staff in January of this year to both represent students in action for loan release and to preserve regulatory protections and student policies around the areas of consumer protection and student debt. Our work on the legal front has been both challenging the current administration when it rolled back protections for student loan borrowers, representing students directly that have been defrauded in actions to get their loans released, and, from an advocacy perspective, looking at places and states where we think that we can make a difference and move the needle in an affirmative agenda.
There are several states where legislatures and governors, both controlled by Democrats and Republicans, have come forward with a real willingness to work together and help protect against some of the rollbacks at the federal level. One is Maryland, where there's a Republican governor but a Democrat-controlled legislature. We've worked there in proposing extra disclosures for students at for-profit programs and an increased student tuition recovery fund for students in programs that have closed. In North Carolina, their board of governors has passed some protections for students at for-profit and nonprofit career programs and increased disclosures as well. We're looking at other states now where we can keep developing state policy proposals that hopefully will get enacted.
Kresge:  That's an ambitious agenda for a very young organization!
Aaron:  Yes, and we've had some early wins! Within our first three weeks of existence, we obtained the first-ever restraining order against Secretary DeVos, which forced her to release the applications of ACICS, the largest accreditor of for-profit colleges, and extend the comment period. ACICS, this was the accreditor of Corinthian Colleges and ITT Technical Institute and many of the predatory for-profit colleges. It had lost its federal recognition in December of 2016. ACICS had applied for reinstatement and Secretary DeVos refused to release the application or extend the period for public comment so that people making comments could review the application. We got a restraining order over that.
Then in the last week, we brought a lawsuit in federal court in California against Secretary DeVos on behalf of the National Education Association, the country's largest teachers' union, over her delay of implementing the State Authorization Regulations. These are regulations that mandate that online college programs must get approval in states where they operate and enroll students. They may not have a physical campus or physical presence, but they still must get state authorization.
It's particularly important, I think, in this climate where the federal government's rolling back a lot of protections and oversight over online programs, but a lot of states are trying to step in. Here, we're trying to preserve that framework where states have some oversight as well over the programs.
Kresge:  Tell us about the event coming up with the movie "Fail State." Will everyone be able to watch this documentary soon – and why should they?
Aaron:  I think they're in the final stages of striking a deal to have the film on television this fall.  We hope lots of people see it. To me, it really puts faces on these stories. There's one veteran in the film who had gone overseas, I believe served in Iraq, came back, suffered from PTSD. He met a recruiter from DeVry who told him that his GI Bill fund would cover the full cost of tuition and his program. He later learned that they had taken out over $50,000 of student loan debt in his name. He had dropped out of the program, tried to eventually go back to school after getting treated for PTSD, at a community college but his GI Bill benefits had expired. Then he was kind of stuck between a rock and a hard place.
The film not only puts real stories, and real faces, to these issues – but also highlights how the work that NSLDN and so many other groups are doing has real impact on these people's lives.