Head Start's successful alums are a measure of program's success
Kresge support is one part of effort to ensure youngest Detroiters have access to high-quality early childhood education.
Back when Octavia Smith was a young mom, she remembers feeling like something had to give.
The community health worker commuted nearly an hour each way to her job on the midnight shift. When she got home in the morning, her two young children were waiting, ready to play.
Their father helped, but he worked the day shift. Their grandmother also pitched in to care for Shaina and Jewell. But usually Smith was on her own.
"As soon as I would walk in the house," Smith says, "I had to attend to them, and it was wearing me down."
So she decided to make a change.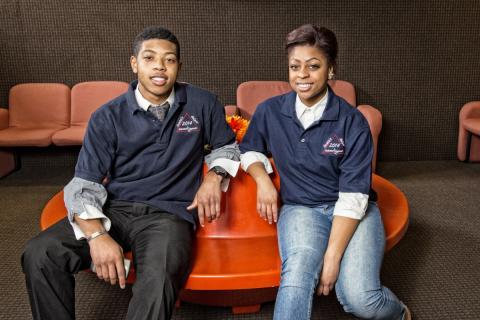 Smith found a job closer to her Inkster home and visited early childhood education facilities. As soon as she saw the Head Start program at Starfish Family Services in Inkster, she knew she'd found the right fit.

"When you walked into the rooms, they were bright and colorful. They had programs not only for the children, but also for me. I was able to take a lot of computer classes," Smith says. "I also liked the curriculum and the meals. I was so glad to find a place where I could drop them off and feel they'd be safe. And, it didn't cost me anything – just volunteering, and I do that anyway."
The national Head Start program for low-income families celebrates its 50th anniversary this year. This month in Detroit, the program is holding an enrollment campaign  to lure more families to its 60 facilities that serve more than 3,000 early learners.
"We urge Detroit parents to get their children enrolled in a Head Start program today," says Kecia Rorie, a Starfish employee who serves as deputy director of Thrive by Five, a collaborative of four social service agencies providing Head Start and Early Head Start services – as well as family support – for Detroit children.
"Studies show that kids who attend Head Start show up for kindergarten ready to learn. They have better math skills, vocabulary, social behavior and physical development. Children who attend preschool are more likely to complete high school and college than those who don't."
"We are currently recruiting throughout the entire city of Detroit," Rorie adds.  "We are reaching out to and partnering with religious organizations, social service agencies, local markets and grocery stores, barber shops and salons, just to name a few. We are also hosting events at our own sites, such as enrollment fairs and carnivals. Staff are going door to door passing out flyers and brochures and much more. It's all hands on deck until the program is fully enrolled."
Rorie and her colleagues want to see more parents and children benefit today as Octavia Smith and her children did two decades ago.
Long-term benefits
Research confirms the program is cost-effective and provides long-term educational, economic, health and law-enforcement benefits.
The preliminary results of a randomly selected longitudinal study of more than 600 Head Start graduates in San Bernardino County, Calif., for instance, showed that society receives nearly $9 in benefits for every $1 invested in Head Start children, according to the National Head Start Association, an advocacy group. These benefits include increased earnings, employment and family stability, and decreased welfare dependency, crime costs, grade repetition and special education.
Smith and her children believe that enrolling in Head Start has paid long-term dividends long after the children learned their ABCs and 1-2-3s.
Shaina Jones, 21, and Jewell Jones, 20, now attend the University of Michigan-Dearborn where Shaina Jones is an honors student and Jewell Jones is in the Reserve Officers' Training Corps. Both serve at their church and have worked on state political campaigns. Jewell Jones is running for Inkster City Council this year.
Their parents encouraged them to read and emphasized the importance of community from an early age. The Head Start education they received at Starfish built on that upbringing and became a key to their success, the siblings say.
"You're exposed to literature, networking skills, household skills – every part of life you can expose a child to," Jewell Jones says, reflecting on his Head Start experience. "You've got to learn how to get along with people."
Shaina Jones agreed.
"Head Start is good for children in more ways than literacy. It teaches you to be compatible with other children. It teaches you structure. It teaches you to be respectful. It stays with you," she said. "The impact of being in the community – you can't grow up somewhere and not give back."
Among other causes, the Jones siblings give back as volunteers with the Inkster Family Literacy Movement, Inkster Youth Coalition and Starfish Family Services.
"When I go back and read to children, I can't believe I was that tiny," Shaina Jones says.
The Joneses are among more than 32 million Head Start alumni who've benefitted from the federal program that began in 1965. Head Start provides education, health, social and other services to low-income families to ensure children from birth to age 5 are ready for school. Alumni include entrepreneurs, artists, musicians, doctors, teachers and luminaries such as basketball player Shaquille O'Neal, comedian Chris Rock, U.S. Rep. Loretta Sanchez, D-Calif., and Ford Foundation President Darren Walker.
In fact, the National Head Start Association has launched an effort to locate millions of alumni and document their experiences. The association plans to share those stories as it advocates for policy and institutional changes to expand early childhood education to all at-risk children.
Expanding access
Head Start figures prominently in a movement in Detroit and nationwide to increase access to early childhood education.
The Kresge Foundation announced in December that it has committed $20 million over five years to help ensure that Detroit's youngest children have access to high-quality early childhood education and are well prepared for school.
Kresge's commitment is part of Invest in US, a national effort President Barack Obama announced in December. Corporations, foundations and nonprofit organizations have pledged $340 million so children from birth to age 5 can benefit from early education. Kresge's commitment is through its Detroit Program, which uses a comprehensive framework to promote long-term economic opportunity in the national foundation's hometown, as part of the foundation's work to expand opportunity for low-income people in America's cities.
"Kresge wants Detroit's children – all children – to succeed in school and life," says Rip Rapson, the foundation's president and chief executive officer. "Investments in early childhood education are critically important to our youngest learners and their families. Well-prepared youngsters excel academically, are healthier and contribute more fully to society and the economic mainstream. Investing in young children holds the promise of transforming Detroit and its future."
Last fall, Kresge in partnership with the Southeast Michigan Early Childhood Funders Collaborative also announced that Head Start providers in Detroit that were successful in the federal Head Start Birth-to-Five recompetition process would receive nearly $2 million a year for two years through grants provided by the Detroit Head Start Early Childhood Innovation Fund.
The grants are part of an initiative by eight foundations: the W. K. Kellogg Foundation, the Skillman Foundation, the Max M. and Marjorie S. Fisher Foundation, the McGregor Fund, the Community Foundation for Southeast Michigan, the Jewish Fund, PNC Foundation and Kresge.
The grants went to:
Head Start agencies receiving grants are participating in a data-collection effort led by HighScope, a national leader in research-based early childhood education and evaluation, and ardentCause L3C, a data collection, analysis and communication firm.  
The Detroit agencies meet regularly to share information and outcomes and build best practices.
"Smart investments in high-quality early childhood education are proven to increase long-term school attainment and earnings," says Wendy Jackson, deputy director of Kresge's Detroit Program. "Those investments bring strong academic, social and economic benefits for the children, their families and the Detroit community as a whole."
Shaina and Jewell Jones say they wholeheartedly support this movement. They know the statistics that show Head Start alums with higher test scores, that they're more likely to become leaders, less likely to land in jail.
"It's more than just academics," says Shaina Jones. "It's a jump-start. It's a small investment for a huge return."