First class of The School at Marygrove is welcomed with pom-poms waving, sounds of Motown
Arrival of 120 9th graders marks major step P-20 cradle-to-career campus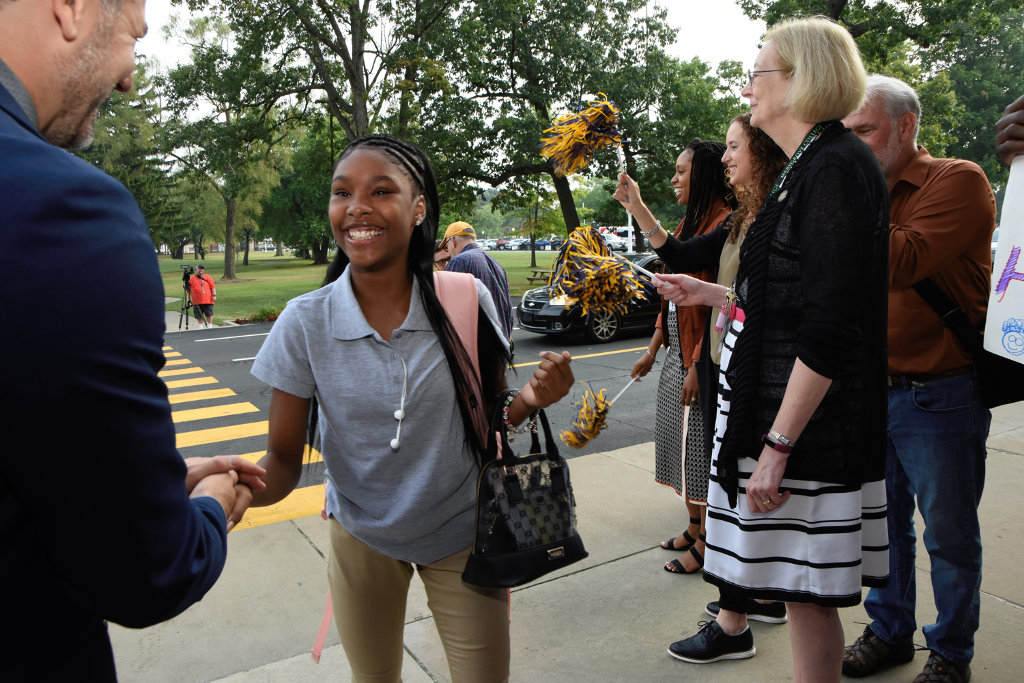 Just shy of a year ago, partner organizations gathered at the Marygrove College campus to announce a new cradle-to-career educational partnership including a state-of-the-art early childhood education center, a new K-12 school and the introduction of an innovative teacher education training modeled after hospital residency programs.
This week, the vision became a reality for 120 ninth grade students as they climbed the steps of Marygrove's Liberal Arts Building. Motown music blared. Officials from partner and supporting organizations – including Detroit Public Schools Community District, University of Michigan, Starfish Family Services, Marygrove College, the city of Detroit, and The Kresge Foundation – cheered and waved pom-poms to welcome students.
And the principal of The School at Marygrove, Nir Saar, had a warm handshake for each young person on their first day of school in what had been college classrooms, now renovated to accommodate high school freshmen.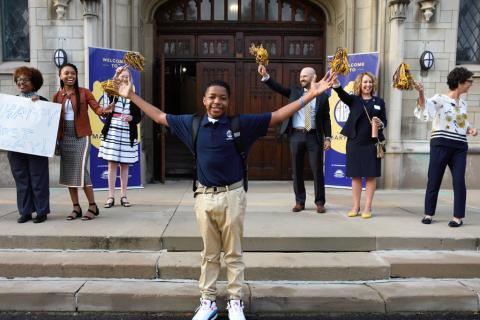 Grades will be added incrementally over the coming years until The School at Marygrove is a full K-12 institution and part of a P-20, cradle-to-career campus. It will encompass prenatal to Pre-K, K-12 to post-secondary graduate, as well as wrap-around services and community engagement programs. At full capacity, the school will serve roughly 1,000 Detroit children and represents a $50 million community investment on the campus of Marygrove College in northwest Detroit. This effort puts education at the heart of neighborhood revitalization in this northwest Detroit community.
The opening hardly went unnoticed by the media. The Detroit Free Press previewed the opening with a front-page story headlined: "'ELEGANT PLACE TO LEARN': New high school at Marygrove boosts engineering, social justice." The article touched on the school's unique features, including its curriculum, which combines engineering and social justice, and the University of Michigan School of Education's teaching residency, in which graduates of the U-M's education program will teach with support and supervision modeled after medical residencies.
TV, radio and online media came to the campus on opening day, in part for the opportunity to to walk through the new building with Detroit Public Schools Community District Superintendent Nikolai Vitti as he talked with students and teachers.
Vitti touted the positive aspects of The School at Marygrove. For instance, while this is one the district's examination schools where acceptance is competitive, prospective students living near-by receive extra consideration; 60 percent of the inaugural class is from the surrounding neighborhood, he said.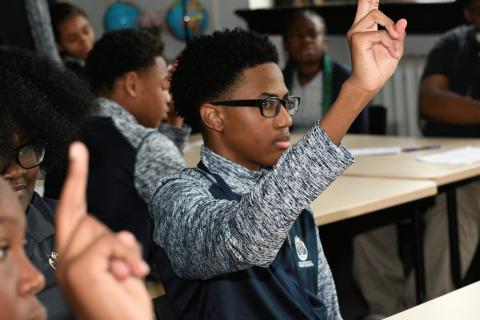 Vitti said that in working with Detroit Public Schools Community District, Kresge and University of Michigan had given the district a vote of confidence. 
The choice, said Vitti, was "a big acknowledgement for us that we could be trusted to get this right. Obviously, as you walk through the hallways you can see that we have gotten it right."