Eminent Artist Gloria House honored for lifetime commitment to art, activism, education
Kresge Foundation President Rip Rapson cited 2019 Kresge Eminent Artist Gloria House for her decades of commitment to art, activism and education in an event formally presenting her the Eminent Artist award at the Charles H. Wright Museum of African American History.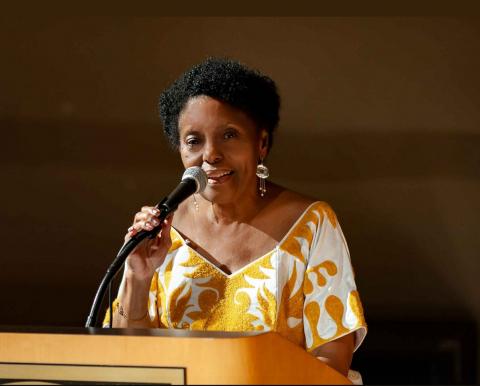 While many in her generation worked to change America in the 1960s, House is among those who have "sustained an engagement with that vision for a lifetime," Rapson said. A poet, but also an educator and activist, House was part of the Free Speech Movement at the University of California, Berkeley and the civil rights movement in the Jim Crow South, Rapson noted.
"She did not withdraw into apathy or cynicism or take the posture that she had done her share," said Rapson, during the program at Detroit's Charles H. Wright Museum of African American History. "For Gloria, the work is never done."
Rick Rogers, president of the College for Creative Studies, also lauded House. The Kresge Arts in Detroit office, which administers the Kresge Eminent Artist program, is part of the college.
"Her work is an invaluable literary gift," said Rogers, "but it's also an indispensable quest for equity, understanding and a more just society."
The program, on March 29, included the premier of a video about House commissioned by the Kresge Arts in Detroit office.
House maintained her activism in a number of issues after moving to Detroit in 1967, from opposition to police brutality to the antiapartheid movement to the founding of African-centered schools in the city. Her career as an academic has included professorships at both Wayne State University and the University of Michigan-Dearborn.
She has published four books of poetry ­– Blood River (1983), Rainrituals (1989), Shrines (2003) and Medicine (2017) under her chosen African name, Aneb Kgositsile – and has been deeply involved in Detroit's pioneering African American publishing houses, now merged as Broadside Lotus Press. (Lotus Press was founded by poet Naomi Long Madgett, one of four past Eminent Artists in the audience for the event.)
In accepting the award, House said that following such role models as W.E.B. DuBois, C.L.R. James and Grace Lee Boggs, she believes poetry should be "measured by relevance and applicability to critical social issues and the betterment of human conditions."