Detroit Future City framework offers a roadmap for jobs, strong economy and community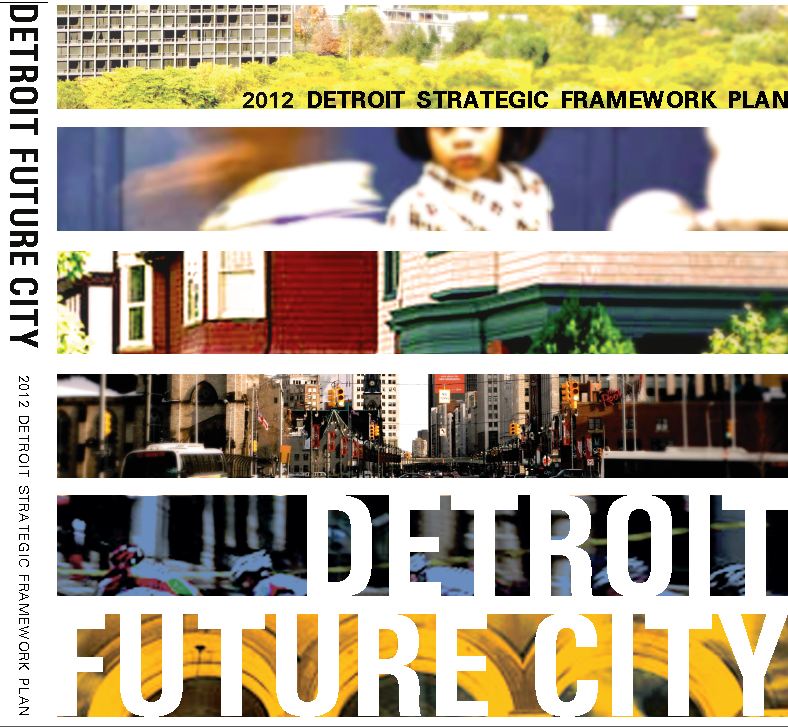 This week, a comprehensive planning effort for Detroit reached a milestone with the release of a strategic framework dubbed Detroit Future City.
The product of an effort set in motion by Detroit Mayor Dave Bing, the framework identifies assets that the community can build on and highlights opportunities for creating jobs, fostering economic growth and ensuring vibrant, healthy neighborhoods.
The work was informed by a civic engagement process that saw some 150,000 Detroiters take part in community discussions and other outreach activities. Their aspirations are reflected in the pages of the 357-page document now available online and at Detroit public libraries.
The Kresge Foundation provided funding for the work that took more than two years to complete. The framework document was unveiled by a Bing-appointed steering committee that represented a broad community coalition.
"We're so pleased by the initial reaction to the Detroit Future City framework," says Rip Rapson, Kresge's president and CEO. "As many Detroiters know, Kresge has a long-standing commitment to the community and we've pledged to align every dollar we spend in Detroit with the framework."
Kresge is a national foundation that supports efforts to create opportunity for low-income and disadvantaged people across the U.S. It's based in southeast Michigan where its founder, Sebastian Kresge, made his home.
How to get involved
Hard copies of the framework document are at neighborhood libraries, and are available online in the kresge.org library and at the Detroit Future City section of the Detroit Works Long-Term planning website.
There will be open houses to learn about the framework Jan. 15, 22, and 29, 2-7 p.m. at Detroit Future City Homebase, near Eastern Market at 2929 Russell St.
There are already meetings being scheduled with Detroit business, faith-based and other groups. And community organizations that would like to invite a Detroit Future City representative to a meeting are welcomed to do so.
There's a Detroit Future City hotline: 800-234-7184. And community members are invited to visit the Russell Street office 9 a.m.-5 p.m., Monday-Friday, to see a Detroit Future City exhibit.

Watch a video thanking all those involved in drawing up the Detroit Future City framework.
Kresge's Detroit Program works to promote long-term economic opportunity and re-establish the city as the center of a vibrant region. In recent years, it has provided roughly $25 million a year to nonprofits whose efforts advance that goal.
The community has needed a roadmap, says Rapson. "It's been a privilege to support the 150,000 Detroiters who knew that and contributed their unique local knowledge to help a talented technical team create just that." Nationally noted urban planner Toni Griffin led that team.
For the foreseeable future, Kresge's grantmaking and investments in Detroit will be targeted toward bringing to life the innovations and ideas in this strategic framework. That represents some $150 million over the next five years.
"We hope that, with engaged community members, we can encourage others to work from this same roadmap so that Detroit gets the maximum benefit of the effort," says Kresge's Laura Trudeau who leads the foundation's Detroit Program. Trudeau also served on Bing's steering committee.
The next steps were laid out at a public event introducing the framework.
They include the establishment of a small Detroit Future City project management office and a campaign to acquaint city residents, and business and community leaders with the framework.
"I don't think there's any question that this will have real traction," says Rapson.
"This framework will be held by, stewarded, and grounded in the community. It will continue to serve the community for decades.
"There's a mechanism for implementation through a project management office at the Detroit Economic Growth Corp. These will be people who wake up every day thinking about how to put this framework into action.
"There will be resources," Rapson concludes. "We're not alone. New initiatives draw attention and capital. Success attracts capital."
The framework also suggests ways in which the public sector might redirect dollars already flowing into the city.
"We hope it will allow for better coordination of investment by the public sector, business sector and philanthropy, as well," says Trudeau.
Steering committee members also encourage community groups, block clubs and neighborhood groups to learn more and to think about the roles they can play. "This initiative will only succeed with the involvement of everyone who cares deeply about Detroit and its future," says Trudeau.