CRUO Evaluation affirms value of community-based leadership in advancing climate resilience
The Kresge Foundation Environment Program released today the Climate Resilience and Urban Opportunity (CRUO) Initiative: Evaluation Report.
In 2014, Kresge launched the CRUO initiative, a five-year, $29 million effort, with the intent of prioritizing work led by advocates and organizers in urban communities facing disproportionate environmental burdens. The Environment Program team began with one central question in mind: Would cities adopt different and more universally protective policies and practices to advance climate resilience (defined by Kresge to include climate change mitigation, adaptation, and social inclusion) if organizations deeply committed to equity were resourced to fully participate in the policy-formation process?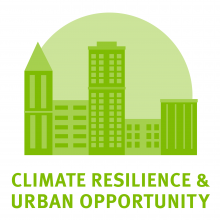 "The CRUO evaluation affirms the significant value that community-based organizations grounded in equity bring to climate-change work," said Shamar Bibbins, Sr. Program Officer, Environment Program. "The organizations achieved meaningful policy wins in their local communities and regions and at the state level. Collectively, they contributed to a shift in how climate-resilience work is framed – they expanded the range of issues recognized as relevant to climate resilience and elevated the profile of equity within the climate resilience field."
Visit the CRUO Initiative Website to learn more.
The evaluation report identifies lessons and insights about the design and management of the CRUO initiative that the Environment Program team hopes will inform peer funders and non-profit partners involved in executing capacity building efforts and broader equity initiatives.
"We learned deeply from this work and continue to learn from our grantee partners in profound ways," said Environment Program Managing Director Lois R. DeBacker. "We hope the insights and lessons learned from this initiative will inform the work of others in the industry and inspire an increased investment in community-based equity-driven climate work."
When launching the initiative, CRUO was a new way of working for Kresge's Environment Program. The initiative was the first significant multi-year initiative of the Program, launched just months after Kresge's Board of Trustees approved a new strategic framework that laid the groundwork for the Environment Program's current goal of helping U.S. cities implement comprehensive climate-resilience approaches grounded in equity.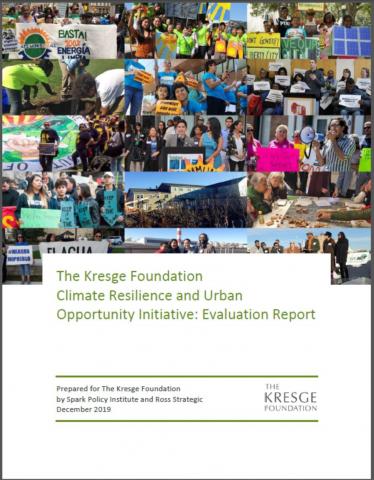 Through CRUO, Kresge sought to:
Strengthen the capacity of community-based nonprofit organizations to influence local and regional climate-resilience planning, policy development, and implementation to better reflect the priorities and needs of low-income urban communities in U.S. cities.
Strengthen the climate-resilience field by supporting new equity-centered methodologies and approaches to climate-resilience policy and planning.
In designing and implementing the multiyear initiative, Kresge intentionally:
"Flipped the frame," deciding to fund equity-centered groups to deepen their expertise on climate change rather than funding traditional climate change organizations to develop their expertise on equity.
Assembled a culturally competent implementation team, whose members brought deep knowledge and experience in advancing racial equity.
Held an adaptive management posture, ensuring the initiative team worked under the premise that if "we are asking our grantees to change, then we also must be willing to change."
Named race by explicitly addressing racial equity as core to the work.
Managed risk with regard to transparency, mutual accountability, and navigation of the inevitable power dynamics between foundations and their grantee partners.
The Johnson Center for Philanthropy also developed a teaching case of the CRUO Initiative. The teaching case provides an in-depth view into the key decision points the Foundation made through the life cycle of CRUO.
It seeks to draw insights about how a racial equity lens influences decisions over the lifetime of an initiative. This report may be of interest to those who are developing – or are involved in – racial-equity informed capacity building efforts.
Impact on the Climate-Resilience Field
Several national, field-building organizations commented directly on shifting their practices as a result of their experiences with community-based organizations (CBOs) funded through the CRUO Initiative. Here are some quotes from non-profit organizations working on climate resilience and/or equity issues at the national level who engaged with the initiative:
"We've learned tremendously from the first-hand experiences of community-based organizations, including about climate impacts, environmental injustice, gentrification/affordable housing shortages, and lack of access to economic opportunities. This knowledge has helped us to craft meaningful policy recommendations that policy makers and local advocates support, including to expand access to clean energy and transportation, improve flood protections, build resilient communities, increase infrastructure investments in areas that need it the most, improve disaster preparedness, address gentrification, among others."
"We've learned how to effectively and equitably partner with placed-based groups, lift their voices and ideas, and jointly advocate solutions."
"Working with the CRUO CBOs cohort has helped us refine our methods to better describe and communicate how communities and individual residents experience climate change and ecosystem degradation, both physically and economically."
"Based on our experience with CRUO, we intend to focus more of our efforts on direct interactions with place-based organizations as our source for on-the-ground expertise…."
Both Bibbins and DeBacker agree that a lot has changed in five years.
"The impact and lessons of CRUO as reflected in the initiative evaluation contribute to the increasing evidence of the impact that community-led and equity-centered approaches are having on shifting climate adaptation and climate mitigation policies across the country," Bibbins said. "There is a direct charge to be more responsive to and inclusive of the needs, experiences, and priorities of people of color, people with low-incomes, and other populations that have historically been marginalized and who are disproportionally impacted by climate change."