A conversation with David DiChiera
(EDITOR'S NOTE: In January David DiChiera, founder and general director of the Michigan Opera Theatre, was named the 2013 Kresge Eminent Artist. The award recognizes an exceptional artist for his or her professional achievements and contributions to the cultural community. Read the story announcing DiChiera's selection and a profile of his career. This interview was edited and condensed.)
Q: Would you talk a little bit about how the Michigan Opera Theatre has helped to change Detroit?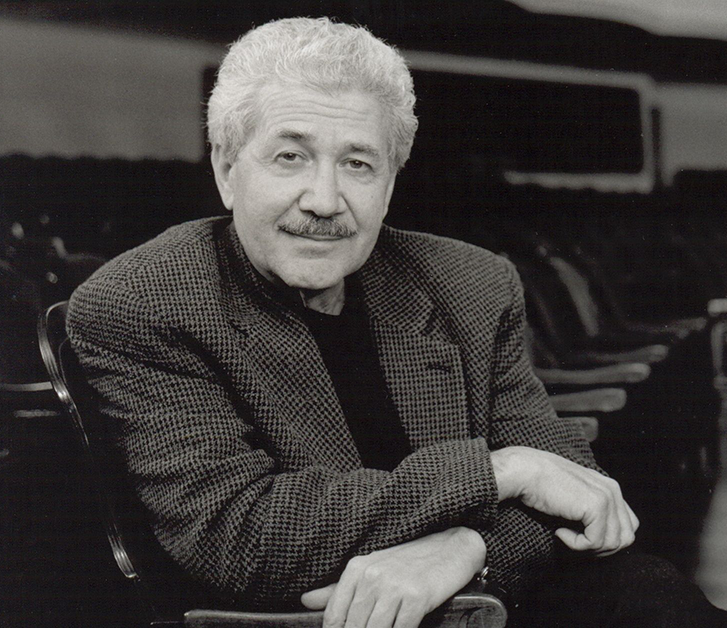 A: We started the opera company by reopening the Music Hall in 1971. It had been closed. So many things had been closed after the 1967 riots. The fact we would say we were going to plant a new institution right here was important. It was the beginning of a lot of evolution of activity here. We opened the Detroit Opera House in 1996 and within six years there were two stadiums across the street and, on the other side of us, the Boll Family YMCA and restaurants. When I look at it now, it's so much like what I had always dreamed it would be, all those years ago. There are so many young professionals now, and new restaurants on Broadway. In the summer, it's wonderful – they are all out there having lunch. All the activity! That's what I love, and what I had dreamed would ultimately happen.
Opera is just an extension of something that is everywhere in the world – that is, the combination of music and story. It's really a universal art form. I believe all arts are transformative, in terms of art, quality of life, as well as quality of community.
Over these last 40 years I've brought arts that I'm passionate about to our home here (the Detroit Opera House) and to people around the state, through extensive programs where we go into communities. So people can enjoy an art form on many levels – on a grand stage or in the intimacy of a small community center. It can take many formats. It's all about the same thing – expressing emotions through the power of music.
Q: New York is the epicenter of theater and stage. Why did you stay in Detroit?
A: If it was about the weather, I wouldn't be here. I'm a Californian. I have never really adjusted to extreme winter weather. …
(Oakland University) Chancellor Varner said to me when I came out here in April 1962, thinking I'd never want to come to the Midwest – and he showed me the campus, which was very new at that time, two insignificant buildings – he said: "You know, David, this all has to be done by people with vision. If you have that, I think you'll want to come here."
And I did. I chose Oakland University over some very established universities on either of the coasts, because I realized that at those universities, they were going to ask me to specialize in areas that I was published in. But at Oakland, I thought: I can help shape this university. And I did that for 10 years. Then I realized there was no opera company in the city, and it was missing one of its main cultural institutions. So I stayed.
I find that the community is one that you can love, because the community is all about people. There's something you think needs to be done. You cannot say, "well, I'll start this but then I'll go somewhere else where there's a better job or more money." I gave up a lot of those possibilities, because I felt this was a community that had so much potential and I wanted to be part of helping it realize some of that potential. I'm still committed to the well-being and cultural life of a great city.
Q: The Michigan Opera Theatre has championed some nontraditional work and artists over the years. Would you talk about that part of your mission?
A: From the very beginning when I started the opera company in 1971, I felt a tremendous obligation to make sure that all segments of the community felt that the opera company and Opera House should represent them. One of my primary missions was to nurture African American artists. After all, in the opera company in the city which has the largest percentage of population being African American, when they come into this house and look at this stage, I want to see them represented.
I've launched artists such as Kathleen Battle and Wilhelmenia Fernandez. A large group of African American artists have had their beginning here and gone on to have exciting careers. This culminated with the world premiere of "Margaret Garner," which reflected African American history. I think it gave a tremendous sense of pride to the African American community that an opera, which will last a century or two, is being performed in Prague, where audiences are seeing and experiencing the emotions of African Americans in America. I thought that was something so important to do.
I wanted to build bridges to a lot of segments of our community, which did not always feel they were represented in opera. They may have been represented in their homelands – like the Polish community, the Armenian community. Their operas are not seen in American opera houses. So I made a real effort to bring them into the [Detroit] Opera House and produce some of their own works, so they could feel that they, too, had a tradition that was admired and appreciated.
Q: What do you see as the future for Michigan Opera Theatre?
A: I'm excited that the Preserve the Legacy campaign helped us make sure the Opera House is sustainable for the foreseeable future by getting a handle on its debt. That makes me very excited and gives us the opportunity to look toward the future.
The future is about leadership. I know there are great, talented people, young people who will be ready to bring new ideas, new excitement to this cultural institution. I just feel there's so much happening in our city. And I'm very excited about the possibility of being far more collaborative in our community. I think that's a whole new era we need to be exploring, where we do things together that we did not do on our own. There's so much to be explored.
Q: Will you write another opera?
A: That I want to do. I'm looking for another subject that would have inspired me and that would move me like "Cyrano" did. "Cyrano" is a love story that I love so much. If I tell people how the story goes, by the time I get to the last scene I'm kind of emotionally overcome. I love great love stories. The world is all about love and it needs more of it.