Commentary: ProPublica investigation shows how Opportunity Zones can miss the mark
By Aaron Seybert
The "Opportunity Zones" provision of the Investing in Opportunity Act of 2017 is intended to encourage investors and developers to work in communities that have long been ignored and where residents urgently need economic opportunity. It does so by, among other benefits, waiving capital-gains taxes for long-term investments in more than 8,000 designated low-income Census tracts across the country. The question remains if it will achieve true economic mobility for communities.
My colleagues and I have been vocal that while this provision has potential to be a real boon to historically under-resourced communities, it could also reinforce many of the systemic barriers to economic mobility. More concerning, we will never know if this incentive is helping or hurting, because as it is built now, we won't have publicly available data to evaluate it at the transactional level.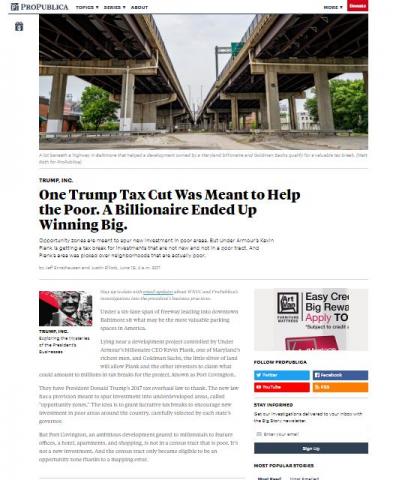 A new ProPublica investigation provides the clearest example yet of this problem. The article details how through a mix of lobbying, mapping errors and perhaps sheer luck, an affluent area of Maryland has been identified as an Opportunity Zone. The development project called Port Covington, backed by Under Armour's billionaire CEO Kevin Plank and Goldman Sachs, is geared to millennials and will feature offices, a hotel, apartments and shopping. Through sheer investigative tenacity, the reporters (Jeff Ernsthausen and Justin Elliott) were able to shed light on one of potentially hundreds (or thousands) of transactions that will use the Opportunity Zone incentive this year. Port Covington is a distressing example of what's possible, but we have no way of knowing if it represents the average, an outlier or something else entirely. 
Regardless, we know this situation never should have occurred. This area would not have qualified as an Opportunity Zone but was mistakenly classified through a digital mapping error as being an "empowerments zone," a Clinton-era program also targeted at low-income communities. This error has real consequences, as the article points out: "The Port Covington tract is just 4% black. For it to be included in the program, another community somewhere in Maryland had to be excluded. The ones that the city suggested that were excluded by the governor, for example, are 68% black and have a poverty rate three times higher than Port Covington's."
This is another sign that this incentive, as designed, has serious flaws that need addressing. This means better ensuring the areas that get OZ investments are indeed under-resourced, putting in place meaningful reporting standards and better transparency, and seeding investment in affordable housing, living-wage jobs and infrastructure and not simply the hot and trendy developments that don't need this kind of help to come to life.
Kresge has sought to push this vision by partnering with Arctaris Impact of Boston and Community Capital Management of Fort Lauderdale, providing them with $22 million in guarantee commitments. Together, these managers expect to raise and deploy more than $800 million in capital nationally into Census tracts designated as Opportunity Zones. More importantly, the fund managers have voluntarily adopted a rigorous reporting and evaluation framework and have committed to making this data public. 
Later this week, Kresge's Kimberlee Cornett will speak at the U.S. Conference of Mayors to detail how municipalities can position themselves to land solid, responsible deals with societal and racial equity in mind. Opportunity Zones should meet the needs of communities, not just provide more tax breaks for the wealthy, to be a positive force in low-income communities as intended.
Aaron Seybert is a social investment officer at The Kresge Foundation. Follow the team on Twitter @kresgesocinv.