Commentary: COVID-19 Reveals An Urgent Need To Reimagine What A System Of Health Should Be
In Health Affairs post, David Fukuzawa says it's time to change how we think about what is possible to achieve health and well-being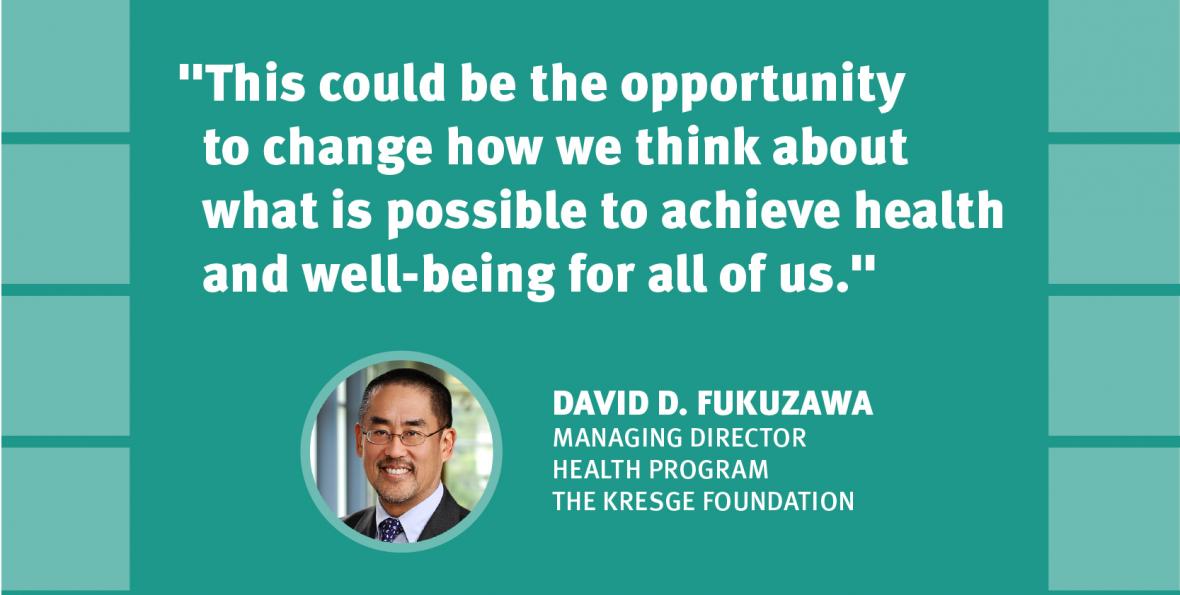 By David D. Fukuzawa
I turned my cart down the grocery store aisle and tried to stay close to one side to keep at least 6 feet away from shoppers coming from the other direction. Moments later, a man barked at me from behind his mask, "This is a one-way aisle!" I looked down and saw the arrow on the floor pointing at me, realizing with embarrassment that indeed I was going the wrong way down the aisle. After I quickly turned around and recovered from my faux pas, I thought to myself, "This is what we have to do now. Learn the new rules and signs for social distancing. We are all public health practitioners now."
We are not used to this. Despite repeated warnings from experts, including Bill Gates, about the inevitability of a worldwide pandemic, we were not ready. We have become falsely secure in the ability of modern medicine to protect us from the scourge of worldwide plagues. But even with the help of our most advanced methods and machines, many patients with COVID-19 are still dying. Our protection now lies primarily in our collective vigilance, to maintain a safe distance from each other, and in our ability to use all the epidemiological tools in the toolbox to test, track, and monitor the coronavirus, and to understand how it is transmitted and how it affects human health.
Public health matters, especially now. When we look back at this time, one of the things that will stand out is that public health leadership made a profound difference in flattening the curve, especially in states such as California and Washington, where swift action has saved countless lives.
But even the finest leadership does not compensate for significant funding cuts for state and local health departments over the years. The Trust for America's Health, for example, reported in 2019 that budget cuts have resulted in a loss of 55,000 positions in public health departments from 2008 to 2017. This also includes a loss of public health department labs, crucial facilities that could have stepped in to accelerate desperately needed testing.
A System Of Health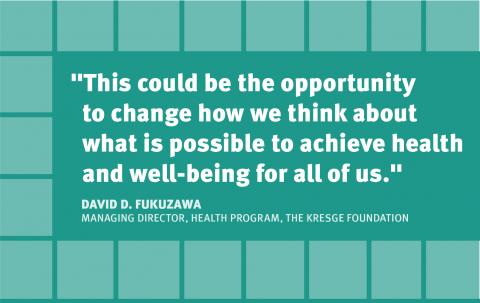 This moment has clearly demonstrated that we need a more robust public health infrastructure, from the federal level down to local government. But this pandemic also has revealed the need to rethink and reimagine what a health system—or perhaps better yet, a system of health—should be.
The crisis has shown us all too clearly that this is the time to move beyond a health system centered on delivering medical services to one that is truly centered on health at both an individual and population level. The reports we see every day about the effects of food, housing, and job insecurity, about social isolation and mental health starkly illustrate how much our health depends on where we live, the food we eat, and our social connections with other people.
In the fog of our current battle against the virus, the dim outlines of such a system are becoming clearer.
First, the historically deep boundary between health care and public health has all but vanished. There are, of course, practical and logistical reasons for public health professionals and hospitals to coordinate. But at a higher level, we are seeing broad population health prioritized over medical care to get ahead of the pandemic. The priority at all levels of government at this time is to increase testing, promulgate and even enforce social distancing, and prohibit large public events.
Why would it be important in a post-COVID-19 world to maintain this focus on population health? Can't we just go back to business as usual? The problem is that long before the breakout of this particular infectious disease, we have been struggling and failing to flatten the curve of chronic conditions such as diabetes, obesity, and cardiovascular disease. These diseases also pose a threat to an overburdened health system and drive up costs.
Equity And Fairness
Just as with the coronavirus, these diseases will not be defeated with superior medical care and technology. In 30 years, rates of adult obesity have more than doubled from 15 percent to 36 percent. This points to factors beyond how we behave as individuals to changes in our social and physical environment, such as the widespread availability of calorie-dense foods and streets unfriendly to pedestrians. When the nearest supermarket is a 20-minute bus ride away, it is a challenge to get healthy food to eat.
And in far too many places, people are having to choose between buying any kind of food and paying rent. As the number of people at risk of losing a place to live skyrockets beyond the 12 million who were already rent burdened prior to the pandemic, a re-imagined health system needs to align and integrate with multiple sectors, not just health care.
A re-imagined health system must also be grounded in values of equity and fairness. The glaring difference in mortality rates that have emerged during the pandemic are the flashing red lights that expose the deeper inequities that exist within our nation. Older adults in congregate settings, prisoners, workers in factories, and people of color are all suffering significantly higher rates of COVID-19 related deaths. People with low incomes who are still employed are often in jobs where they can't work from home, putting them at greater risk of infection.
The idea of a re-imagined system of health that is population-health focused, multisector, and integrated, and values driven is not new. It is implicit in the federal government's Healthy People 2020 framework or the Robert Wood Johnson Foundation's efforts to build a Culture of Health.
But just as the pandemic has totally upended our lives and our economy, this could be the opportunity to change how we think about what is possible to achieve health and well-being for all of us.
This blog was first published on healthaffairs.org.