Chera Reid Named Director of Strategic Learning, Research and Evaluation at The Kresge Foundation
Chera D. Reid has been named Director of Strategic Learning, Research and Evaluation at the Kresge Foundation, President and CEO Rip Rapson announced.
"Chera will lead the build-out of an entirely new function at The Kresge Foundation," Rapson said. "She will help our program teams draw lessons from their investments in the inspiring work of our grantees, be more systematic about circulating those lessons within and beyond the organization and place those learnings in service of a continual assessment of the foundation's effectiveness."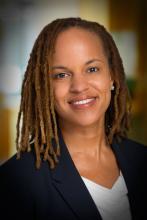 The newly created position represents a significant acceleration of the foundation's commitment to and investment in learning.
"Under Chera's leadership, Kresge will boost its ability to understand and reflect on the implications of our work, as well as our commitment to learning hand-in-hand with our peers and partners," said Ari Simon, Vice President, Chief Program and Strategy Officer. "This new position reflects a genuine desire to be transparent about our activities and priorities, to be candid with ourselves and the communities in which we work about how things are going, to hold ourselves accountable to the underlying values of opportunity, inclusion, and partnership that guide our strategies and to make better use of our knowledge endowment," he said.
Reid most recently served as a program officer for Kresge's Education Program, where her responsibilities included developing and refining grant-making strategies, inviting and reviewing funding proposals, monitoring existing grants and supporting strategic learning and evaluation activities.
Before joining Kresge in 2013, Reid worked in program development at MDRC, a national, nonpartisan education and social policy research organization that works to improve programs and policies affecting the poor. She also previously held leadership positions at New York Needs You and the Phillips Academy Institute for Recruitment of Teachers. Reid has also taught at LaGuardia Community College and New York University.
Rapson said, "Chera brings to the job exactly the perfect blend of qualities we worked so long and hard to find – striking intelligence married to balanced judgment, strong communication skills, impeccable expertise and training, a thorough understanding of our work and a deep commitment to our orienting mission of expanding opportunities in America's cities. She is the absolutely perfect choice."
Reid earned a master's degree and a Ph.D. in higher education from the University of Michigan and New York University, respectively, and a bachelor's degree in English and African American Studies at the University of Virginia. In 2011, she received the K. Patricia Cross Award for Future Leaders in Higher Education from the Association of American Colleges and Universities. Reid serves on the Postsecondary Access and Attainment steering committee at Grantmakers for Education.
Read Chera Reid's bio.