Career center opens in Detroit's North End neighborhood
Goodwill Flip the Script program to provide training, placement services
Detroit's North End community and Detroit Goodwill both got a shot in the arm Thursday with the grand opening of the North End Career Center.  
"This is the kind of facility that we need," said Mayor Mike Duggan after cutting the symbolic ribbon.
Citing improvements in the city's employment – up 15,000 jobs in two years, but not yet enough – Duggan said the center helps address the major challenge of "making sure this recovery includes all Detroiters."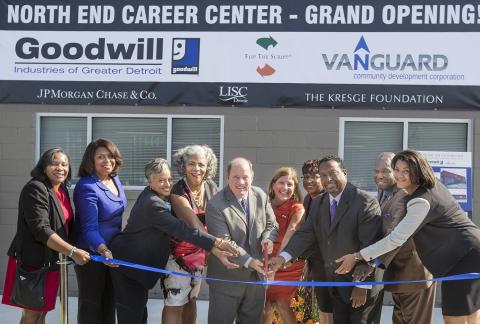 The North End Career Center will permanently house Goodwill Detroit's Flip the Script and Center for Working Families programs in Detroit's North End Neighborhood. The center on East Grand Boulevard is owned by Vanguard Community Development Corporation; its $2 million renovation has been funded by JPMorgan Chase and Kresge with financing support from Detroit LISC.
Kresge and Chase have also been supporters of Goodwill Detroit's Flip the Script – designed to put Detroit/Wayne County's at-risk men and women to work by breaking down employment barriers – since its inception in 2003.
"Here in the North End we've replaced blight with a beacon of hope," said Wendy Lewis Jackson, co-managing director of Kresge's Detroit Program. "Goodwill and Vanguard now have additional space for programming that benefits the community, Grand Boulevard has one less eyesore, and organizations across the city have one more model of positive neighborhood change. We're proud to be a supporter."
Lewis Jackson recalled seeing the shell of the renovation project and listening to the ambitions of Vanguard and Goodwill Detroit. "We took a leap of faith," she said, adding that this project "embodies the kind of work that we do at the Kresge Foundation."
More than 700 individuals will be served annually, with competitive employment placements expected to exceed 300 people per year through the support of the Goodwill Flip the Script services team in the areas of medical and hospital environmental training, welding certification and basic skills and construction training.
Goodwill Detroit's Center for Working Families program, a partnership funded by Detroit LISC and United Way of Southeastern Michigan, provides financial asset-building services including coaching, planning/budgeting, income supports, and workforce and career development opportunities.